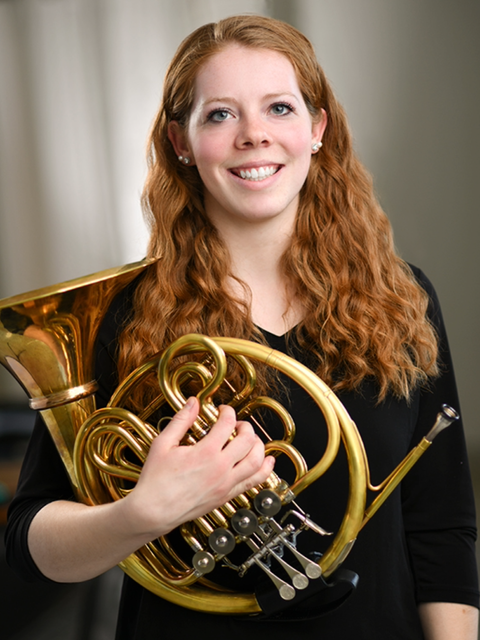 Aisling O'Sullivan Goel holds a Master's degree from the University of Minnesota, and a Bachelor's degree from the University of Cincinnati College-Conservatory of Music (CCM), studying with Ellen Dinwiddie Smith and Randy Gardner, respectively. While at the University of Minnesota, Aisling was featured as a soloist in Britten's Serenade for Tenor, Horn, and Strings, and came second place in the inaugural Andrew Howell Memorial Horn Scholarship Competition at CCM.
Aisling is the Third Horn of the Bloomington Symphony Orchestra and enjoys freelancing in the Twin Cities area. She has performed with the Minnesota Orchestra, CAYO (Cuban American Youth Orchestra), and the Compass Rose Brass Ensemble. Summer music festivals include the Texas Music Festival, the Chautauqua Institute, Sewanee Music Center, the Bay View Spectrum Brass Seminar, and Kendall Betts Horn Camp. She was selected for a fellowship with the National Repertory Orchestra in Breckenridge, Colorado, in 2020.
Aisling maintains a private studio in the Twin Cities, and worked as the Operations Manager for MYS (Minnesota Youth Symphonies) for two years. In addition to playing horn, Aisling enjoys rowing at the Minneapolis Rowing Club and gardening.
---