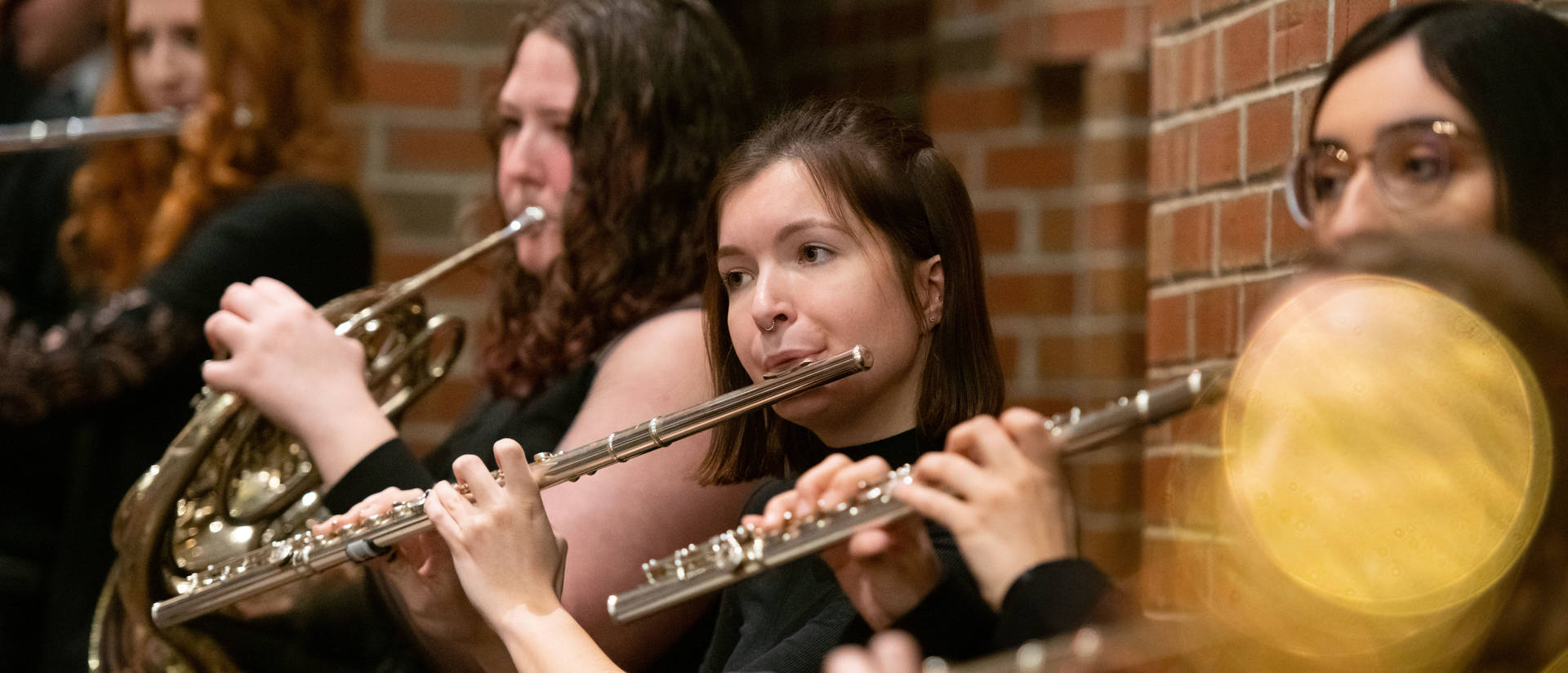 Explore wind and percussion at UWEC
The wind and percussion area at UWEC provides rare opportunities for undergraduate students, whether you are pursuing a major or minor in music or just following a passion.
The Wind Symphony, Symphony Band, University Band, four jazz bands, Blugold Marching Band and Blugold Athletic Band provide many options for students who want to be part of a band. Chamber music is also available to students, including the Contemporary Music Ensemble, woodwind and brass quintets, saxophone quartets and studio ensembles. A full guest artist series, which recently included a saxophone quartet, a flute trio, a trumpet soloist, composers, conductors and more, offered masterclasses and performances for students. The wind and percussion area, with the help of students, hosts numerous festivals every year for wind players from elementary age to adults, such as High School and Middle School Honor Bands, Single Reed Day and Trombone Symposium.
The wind and percussion faculty are active performers in events ranging from recitals to Broadway shows to professional orchestras. Students receive weekly individual lessons and a studio class in which they perform for their peers. The faculty are active with student-faculty summer research projects. In the last couple of years, projects have addressed topics including the creation of percussion show arrangements, a comparison of marching band traditions, and the arranging of wind band and orchestral scores for reduced instrumentation for winds. Percussion students have access to multiple practice rooms dedicated to percussion instruments. With all of these experiences, recent graduates have gone on to serve as orchestra and band conductors and teachers in the schools, to form successful private studios, to pursue degrees in top graduate programs, to perform in professional ensembles and more.
The music department offers a unique setting where I get to work alongside faculty and students on a regular basis. From daily rehearsals to weekly lessons to student and faculty recitals, I've been surrounded by excellent musicians that have helped me grow both as a performer and a person.