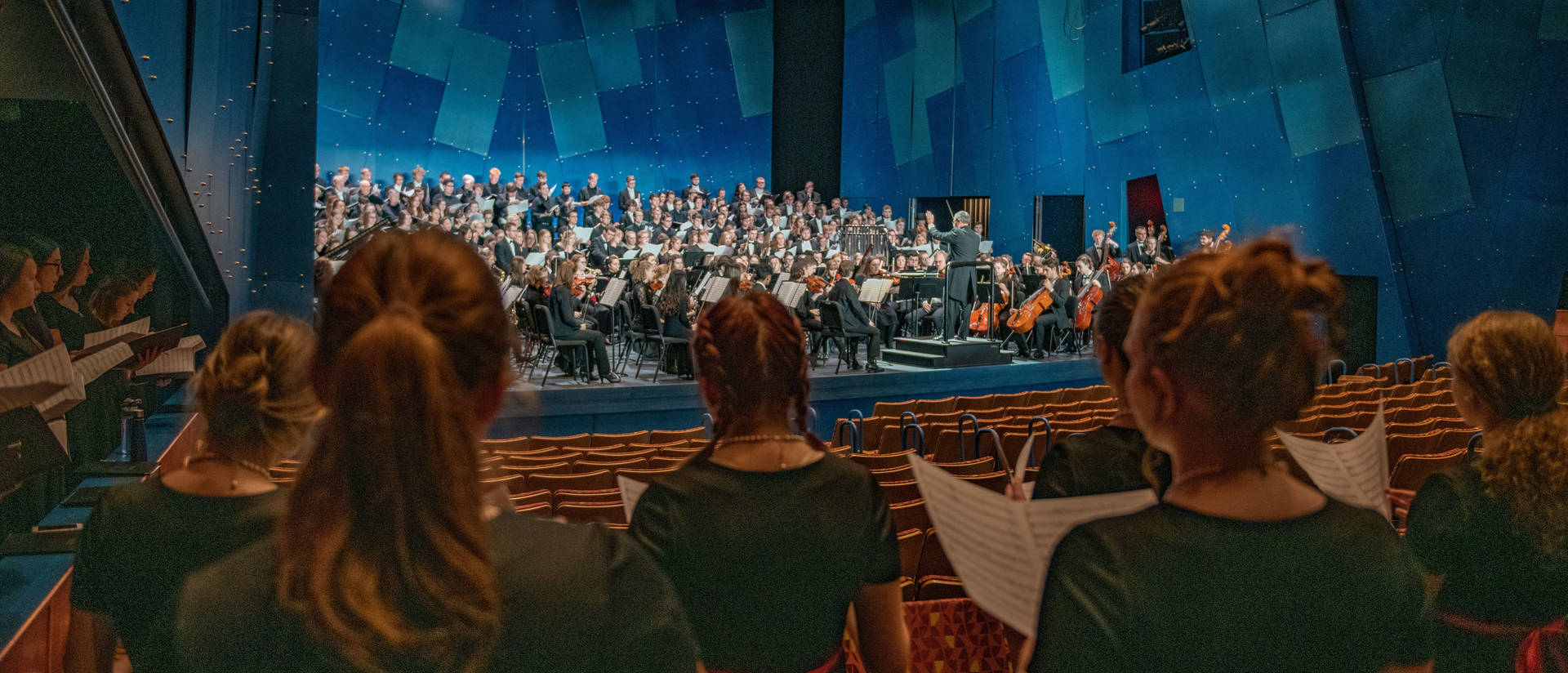 The Department of Music and Theatre Arts offers a wide variety of ensembles to meet the musical and artistic needs of all students at UW - Eau Claire. The performance ensembles are open to all university students, regardless of major. The ensembles at UW-EC will push your creative boundaries, facilitate collaboration with experts in your field and connect you with students who share your creative passion.
How do I get involved?
Everyone, including non-music majors, are welcome to audition for any ensemble. Please view the individual ensemble pages below for specific audition directions.
Bands
Our award-winning bands put your musical talent and Blugold spirit on display. Play in packed venues, march at football games, and travel across the nation performing at regional, national, and international events. Whatever Wind Band you choose, you'll find an excellent way to share your talents and get involved in the university community.
Wind Symphony
Symphony Band
University Band
Jazz Ensemble
BluGold Marching Band
BluGold Athletic Band
Choir
Be prepared to sing your heart out! Our choirs are the heart and soul of UW-Eau Claire and perform often. A plethora of different venues await you in local, regional and national performances. Your time practicing, traveling and performing will help you discover your own unique sound and build relationships that last a lifetime.
Concert Choir
Women's Concert Chorale
The Singing Statesmen
Symphonic Choir
Women's Chorus
Chamber Choir
Orchestra
Push your creative limits as you and your fellow orchestra musicians practice and perform a variety of works from the seventeenth century to today. The results of your efforts will be nothing less than inspiring and moving.
University Symphony Orchestra
University Baroque Orchestra
Chamber ensembles
Because of these groups' small size, you'll develop close personal relationships with your fellow performers and instructor. The music created by chamber ensembles is heartfelt and full of special meaning for both performers and their audiences.
BASSically Brass
Trombone Choir
Brass Ensembles (trios, quartets, quintets)
Contemporary Ensemble
Clarinet Ensemble
Saxophone Quartet
Woodwind Ensembles (trios, quartets, quintets)
Percussion Ensemble
Piano Ensemble