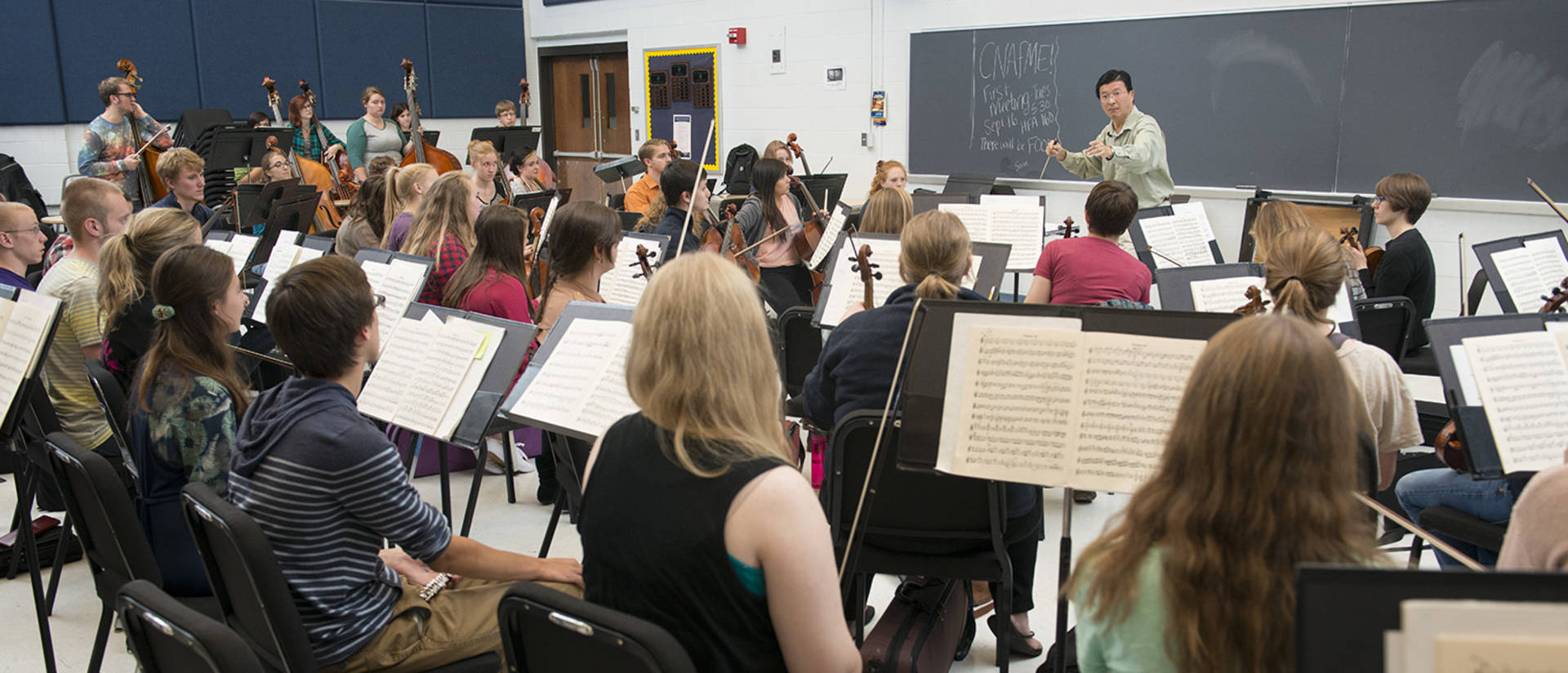 Discover music and theatre arts at UW-Eau Claire
UW-Eau Claire is one of the few universities in the region that combines music, theatre and dance within a single department, allowing for wonderful collaborative experiences for its students. Examples include students composing music for theatre productions, future educators conducting musical theatre productions and student actors taking voice lessons. Explore the areas in the performing arts where your passions lie!
Composition, Theory, History
Do you have an interest in developing your voice through music composition? Are you interested in exploring musical worlds as diverse as Mozart and Beyoncé? Learn more about courses and experiences that await you in music composition, theory and history.
Explore composition, theory, history
Dance
Dance draws on one of the most fundamental aspects of being human: our capacity to move and be moved. Blending physical practice and creative activity, the dance program offers the opportunity to explore yourself and various cultures.
Keyboard
Play a solo piano recital, accompany a friend for their recital, serve as accompanist for a musical theatre workshop or learn how to play the harpsichord in the Baroque chamber orchestra. If you are a piano player, many opportunities await you.
Music Education
With a long history of producing top-notch music educators and a 100% placement rate, we are proud of our music education program! Develop your skills while conducting the marching band or a choir and get real experience teaching in classrooms.
Strings
Whether you plan to be a math major or music major, playing in an orchestra or a string quartet is rewarding and a wonderful place to find your niche.
Theatre
Participate in mainstage productions as a theatre major or minor, or participate as any major just for fun! Explore your interest in any aspect of theatre from acting to directing to designing.
Voice/Opera
Whether you are interested in stepping on stage in an opera, becoming a middle school choir director, opening a private voice studio or simply continuing to sing while in a choir at UWEC, faculty are here to help you along your way.
Wind-Percussion
Whether you plan to become a high school band director, a gigger in Broadway shows, or simply continuing to play your instrument in a band at UWEC, the faculty know what you need. Along the way, you can perform in Wind Symphony at Pablo Center, be part of a woodwind or brass quintet or join the Blugold Marching Band.