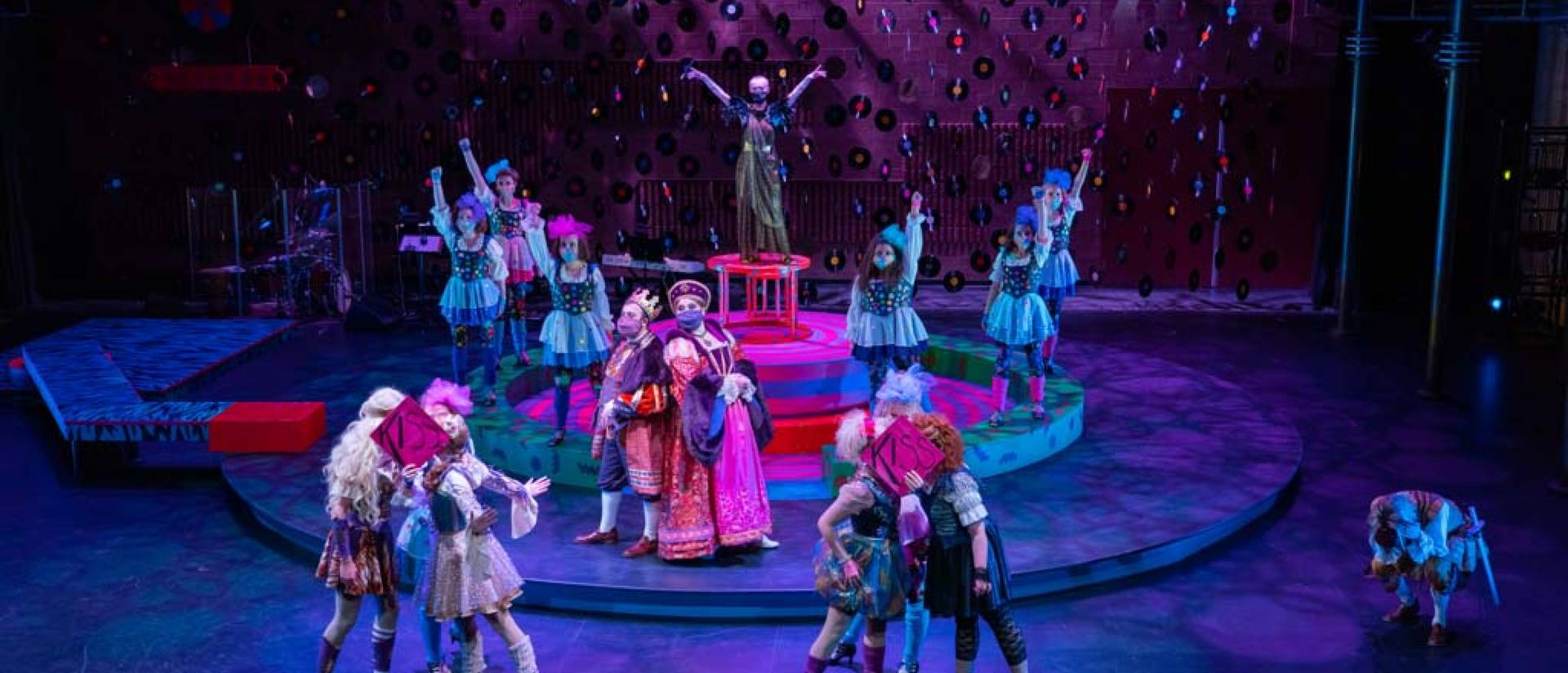 Equity, Diversity and Inclusion
Faculty across the Music and Theatre Arts Department address EDI in their curriculum in a variety of ways. Power dynamics, racism, sexism, LGBTQIA+ issues, classism, and other complex social issues are regularly part of discussions, as are examples of dance, music, and theatre from marginalized and minority groups. Students are asked to think about how racist and sexist structures have impacted the development of artistic forms, as well as about the complex implications of the history of colonialism and appropriation in the arts. Old standard terms and ideology laced with negative connotations towards race, gender, ethnicity, sexuality, and identity are intentionally being replaced with more inclusive ones. Students are asked to recognize how the arts have always been an effective voice of protest for these destructive forces, and as well as to recognize how they can engage with and create art that is inclusive of a wide variety of people.
The Music and Theatre Arts Department values diverse programming in which all students can see themselves. The mainstage theatre productions have long prioritized EDI issues whether in telling the story around marginalized female scientists at Harvard in Silent Sky or around unconditional love and acceptance no matter gender or sexual identity in Head Over Heels. Faculty and student recitals frequently highlight the work of under-represented composers, such as the 2022 First Friday Series that opened with a full program of Latin American music. Directors not only prioritize the diverse repertoire for student ensembles, but they also commission new works from under-represented composers and create opportunities for students to work with them through workshops and residencies. For the start of Asian Pacific Islander American Heritage Month this past year, a concert entitled Discovering the Treasures of Pan-Asian Music explored music from the Chinese pipa to the Korean gayageum to the Asuka Kakitani Jazz Orchestra. The Guest Artist Series with over 30 guests each year includes numerous BIPOC and other under-represented artists, such as African American Classical pianist, Artina McCain, who opened the series this year.
The Music and Theatre Arts Department strives to create an inclusive environment for all students and faculty. For the last ten years, a committee has worked to recognize and address EDI issues in the department. In 2015, faculty and students created a project entitled, "A year of Inclusivity," which sought to recognize exclusionary practices in the department and highlight contributions of underrepresented composers and other musicians in performance programming and curriculum. In 2020, a department-wide survey solicited students' concerns pertaining to issues of race, gender and sexuality, religion, and disabilities. Guest speakers have been invited to address such topics as structural approaches to diversifying the curriculum and best practices for helping students with disabilities. An interactive display in the lobby enlightens faculty and students on the work of underrepresented composers. Students regularly participate in Faculty-Student Research Projects that address EDI issues, such as, adaptation of music listening for people who are neurodiverse, racism in folk songs, and best practices for sensory-friendly theatre production. Contributing to a more inclusive department, the Madeline and Caroline Hanson Fund offers low interest loans to students for the purchase of musical instruments that do not need to be paid back until after graduation. Roundtable discussions and weekly newsletters help keep students informed of scholarships, internships, jobs, research opportunities and more, as our goal is to support all students in an inclusive manner.