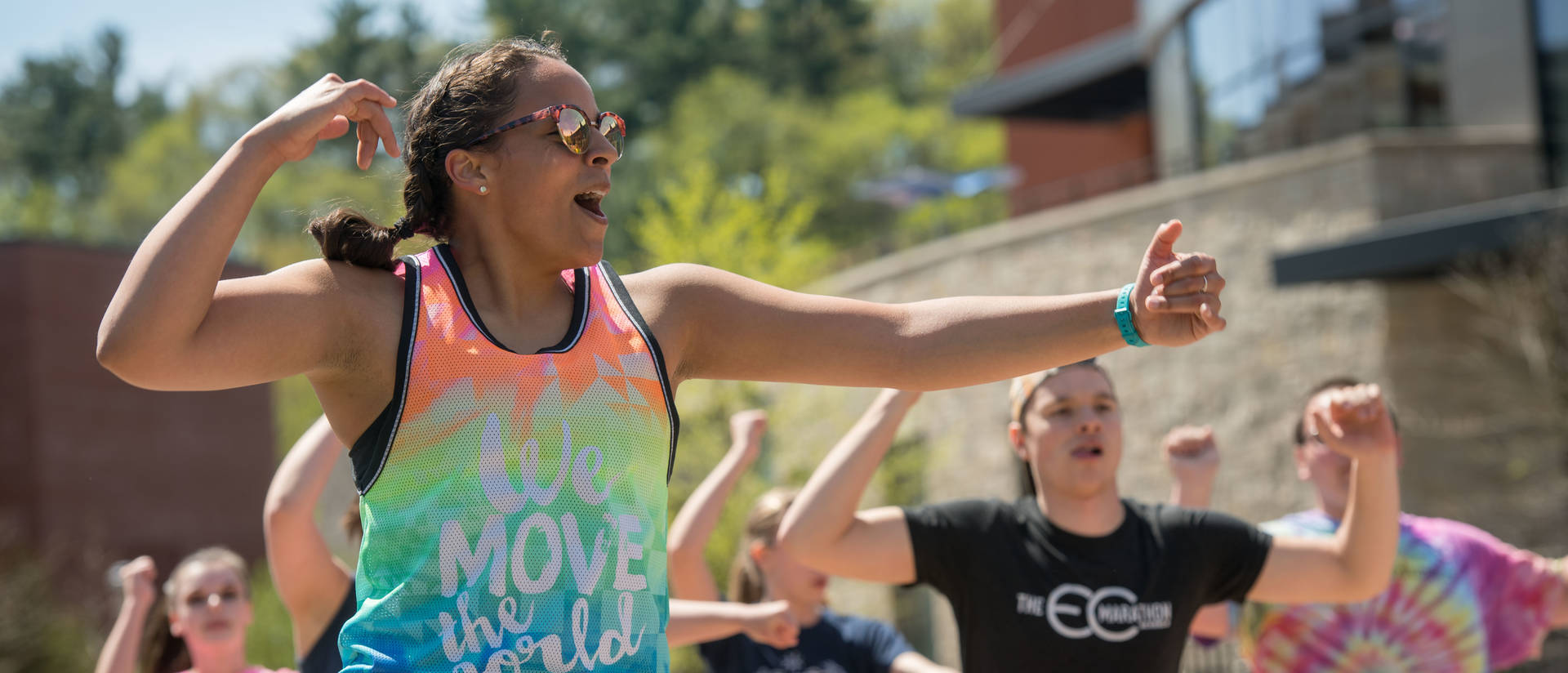 Set your fitness goals on fire
Maintaining an active lifestyle is a huge part of your experience at UW-Eau Claire. Seventy-five percent (no kidding!) of the students here are involved in some kind of recreational activity — whether indoor or outdoor, spring or fall. Recreation and Sport Operations gives you a lot of options to stay active, including great facilities and equipment and programming to support maintaining a healthy lifestyle throughout your college years.
Fitness Facilities
UWEC's fitness facilities cater to all your needs. Located in the McPhee Physical Education Center on upper campus, the McPhee Strength and Performance Center is home to 55 pieces of weight training equipment and 36 cardiovascular units. Is your residence hall located on upper campus? Our second fitness facility, the Crest Fitness Center, is located in the Crest Wellness Building. The center features a contemporary atmosphere, a scenic view overlooking the Chippewa Valley, flat-screen TVs, free weight and cardio rooms, locker and shower facilities and a massage room. Both McPhee and Crest provide any fitness enthusiast with ample offerings for the ultimate workout. In addition, Hilltop Recreation Center is available for you and your friends, where you will find the Environmental Adventure Center and Billiards Center.
In addition to the main locations of McPhee and Crest, we now have two studios in Hilltop, one for general purpose and one for cycling. AND we have a brand new bouldering wall.
Massage therapy services are also available on campus, at the Crest Wellness Center, so when you need a little muscle relief from all that exercise, or just a relaxing treat for yourself during exam times or finals, we've got your back...no pun intended.

Group Exercise
Looking for a fun atmosphere, great community and a fantastic workout? We offer 30+ classes each week that are free for students with a Blugold ID. Examples of classes include:
Barre Fit
Boot Camp
Cardiokick
Cycling
HIIT
Pilates Yoga Strength
Yoga
Zumba
Freshman Connection
The Freshman Connection is designed to help students make a smooth transition to college life while developing their leadership potential. During the program, students will create lasting relationships with future classmates, gain self-awareness, and develop a proactive approach to life. To register and for more information, visit freshman connection.
Esports
We offer a variety of Esports games that are available for recreational use, club sport use, or varsity competition. Games include, but are not limited to:
Apex Legends
CS:GO
Fortnite
League of Legends
Overwatch
Rainbow Six Siege
Rocket League
Super Smash Bros
Valorant
Intramural Sports
Are you looking to get involved on campus? Joining intramural sports teams is a great way to meet new people, to stay active on campus and to have a bit of fun. UWEC offers sporting options for all skill levels and interests, with options for men's, women's, co-rec, and open competition.
Badminton
Bag Toss
Basketball (5v5, 3v3)
Battle Ball
Bowling
Billiards
Disc Golf
Dodgeball
Esports
Flag Football
Golf
Ice hockey
Indoor soccer
Indoor Volleyball
Kickball
Outdoor soccer
Pickleball
Sand volleyball
Softball
Spikeball
Table Tennis
Tennis
Ultimate Frisbee
Yard Games
Club Sports
In addition to intramural sports teams, we also organize The Club Sports Program to give you additional opportunities to participate in activities you may be interested in without the intercollegiate competition. There are 30 Club Sports total.
Baseball
Blugold Nordic
Bowling
Cheer & Stunt Team
Dance Team
Disc Golf
Eau Claire Dodgeball
Eau Climbers
Equestrian
Esports
Figure Skating
Hwa Rang Do Tae Soo Do
Men's Hockey
Men's Lacrosse
Men's Rugby
Men's Soccer
Men's Ultimate Frisbee
Men's Volleyball
Mixed Martial Arts
Powerlifting
Table Tennis Club
Tennis Club
Triathlon Club
Two to Tango
Waterski/Wakeboard Club
Women's Hockey
Women's Soccer
Women's Rugby
Women's Ultimate Frisbee
Women's Volleyball
Environmental Adventure Center
The Environmental Adventure Center strives to give Blugolds unconventional ways to get outdoors and to stay active. That's why we offer new and exciting resources for you to enjoy.
Adventure Trips

One of the coolest offerings from Recreation and Athletic Facilities is the trips programming that takes place each semester. These excursions provide unique opportunities to enjoy and/or learn new activities at a cost that makes them hard to resist! All needed equipment and most food are included in the cost. Here are a few examples of trips we have offered:

Backpacking
Biking
Canoeing
Cross-country skiing
Ice climbing
Rock climbing
Spring Break trips
Archery

Our indoor archery range is designed to give students, faculty and staff the opportunity to be introduced to the sport of archery. Free with a Blugold ID, participants can use the equipment, range, lessons and bow storage.
Bike Program

Looking to rent a bike or bike locker? Need to get your bike or longboard serviced? You're in the right place! Current rental options include Trek and Specialized Fat Tire Bikes. Lock and helmet provided.
Bouldering Wall

The Bouldering Wall is located in the Hilltop Recreation Center and is free to students, and faculty/staff. Bouldering is a form of rock climbing that does not require ropes or harnesses and takes place on an artificial surface that is less that 14 feet high.
Climbing Wall

For climbing enthusiasts or those interested in learning, we have a fully operating climbing wall. With indoor and outdoor programs, you and your friends can sign up for classes to practice the basics, refine your skills or just have fun. Fees do apply.
Disc Golf

UWEC's disc golf course consists of nine holes that are played much like traditional golf. The course is open every day, year round. Grab your friends and have some fun!
Golf Simulator

The TruGolf Vista 12 Golf Simulator located in the Hilltop Recreation Center is available for reservation. You can choose to hit balls on the driving range or play a round of golf on one of 42 courses in our library. In addition, our Multisport Simulator is your go-to for a wide array of sports games. You can play action-packed games like soccer, dodgeball, and disc-go golf. You can even prove your shooting skills with our Western Shooting Gallery. All games offer superb graphics, ensuring a realistic experience. Bring your friends and enjoy the experience of outdoor sports, inside! Reserve and pay for a 1-hour timeslot at recservices.uwec.edu.
Ropes Course

A ropes course is a great way for participants to build problem solving, communication, decision making and trust skills as well as gain a strong sense of self worth and accomplishment. EAC offers programs for university groups and outside community members. The course has challenges ranging from 2 feet off the ground to over 30 feet.
Rental Center

Leave your outdoor equipment at home. The EAC Rental Program has everything you could ever need for your next outdoor adventure. For a small fee you can rent equipment such as tents, sleeping bags, paddle boards and bikes. The Rental Shop is located behind the Bouldering Wall in the Hilltop Recreation Center.
Sampling of recreation activities