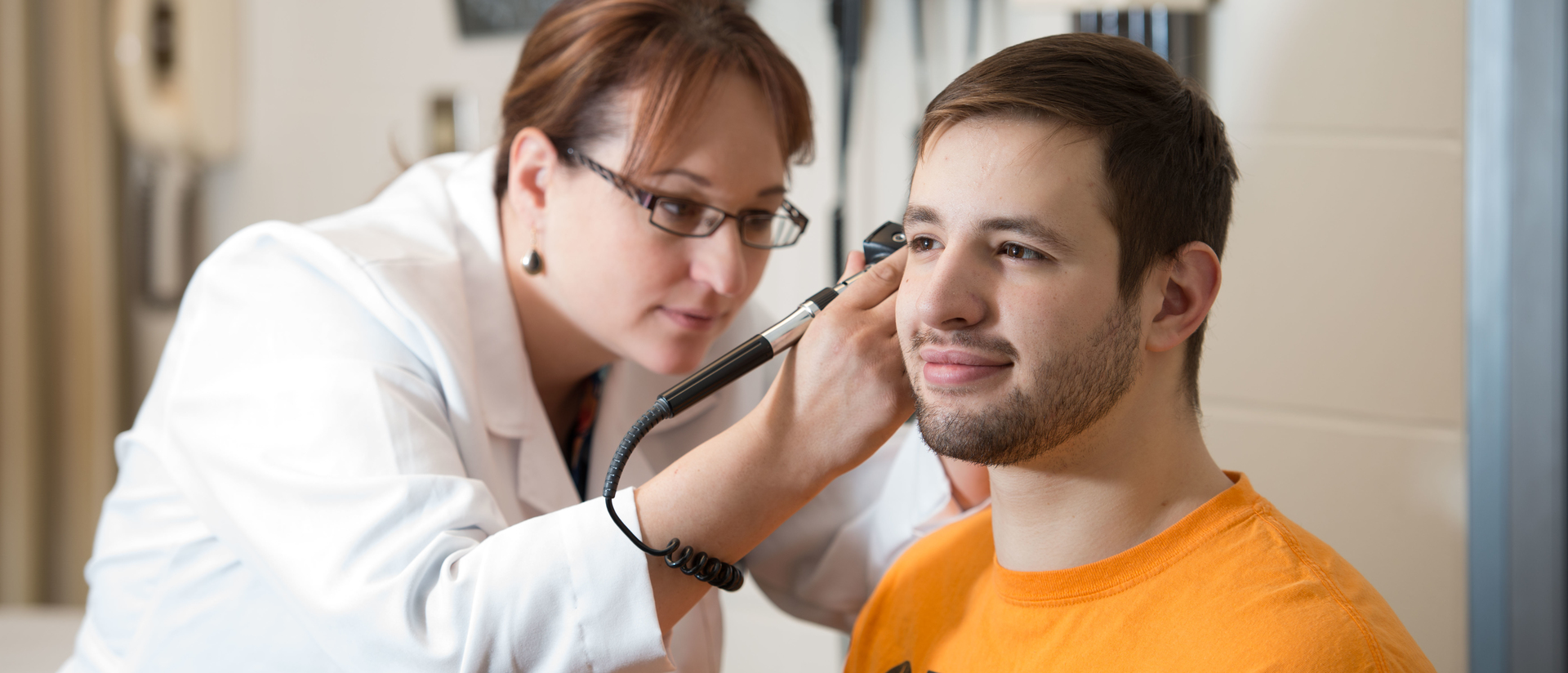 Student Health Service (SHS) offers health care services to currently enrolled students. Most services are at no charge as SHS is funded primarily by student segregated fees (part of tuition). SHS provides high quality, accessible, and affordable health care, along with promoting health advocacy and educational services for the campus community.
Learn About SHS Services
Clinical Services
Student Health Service medical clinic is conveniently located on upper campus amongst the residence halls. We are open Monday through Friday and accommodate most MD, NP, PA, or RN visits the same day. Appointments can be scheduled in person, by phone, or with our convenient online scheduling.

Several of our services include:
Illness and Injuries
Mental Health Evaluation and Treatment
Sexual Health/STI Screening
Women's/Men's/Trans Health
Contraceptive Management
Medications (Limited)
Laboratory Services
Immunizations and Allergy Shots
Physical Exams & Travel Consults
Minor Surgical Procedures
Health Promotion
The Health Promotion Office is an advocacy and educational resource for Blugolds located on lower campus. We facilitate programs and initiatives that foster and promote campus health and well-being. In addition, we have the Student Wellness Advocacy Team (SWAT). SWAT is made up of students who educate their peers on health and wellness topics through fun programming.

Some programs and initiatives are:
Nutrition Topics
Sexual Health and Communication
Tobacco Cessation
Smoke-Free Campus
Wellness/Stress
Women's Health
Alcohol Topics
Rest Nest
Suicide Prevention and Research Collaborative (SPARC)
Parent and Student Frequently Asked Questions
At Student Heath Services we are here to ensure your student's success and well-being. We offer quality health care at low to no-cost. As you explore UWEC, you may be curious about how this all works. Below you'll find information on our most asked about topics.
Confidentiality

For students who have reached the age of 18, we are legally required to keep their medical information confidential. We cannot provide parents with any of their student's health care patient status or information/records without signed consent from your student. Signed consent can be found at the following link: Authorization for Disclosure of Medical Records. Please be aware the signing of the disclosure does not ensure complete access to your students health information/records. In the case of a medical emergency where there may be an issue of harm to self, harm to other and/or of life or death, we may contact you without the consent of your student.

Health Insurance

Student Health Service is funded primarily by the student segregated fee, which is paid along with each student's tuition. Most office visits are provided without additional cost to the student. Small fees may be charged for some visit types, lab work, medicine, procedures and supplies.

Student Health Service staff work to keep prices affordable on a student's budget. We do not bill insurance; we are able to provide a receipt which can be submitted for reimbursement*. Your student has the right to ask the cost of an service before receiving it. Fees are preferred to be paid at the time of service, but payment may be paid within 30 days of service before a late fee is charged. Student Health Service accepts cash, check, credit, debit, and the Blugold card. You will not know about charges incurred here unless your student, notifies you about these charges. They are responsible for getting their bill paid.

*Not all insurance companies will pay for services received; please contact your insurance company regarding reimbursement for services. If needed our Tax ID number is 391805963.
Labs, Imaging, & Referrals

Student Health Service offers numerous in-house laboratory testing, many results patients will know within the day of their appointment. We work closely with a reference laboratory to offer more complex testing. Most in-house services are only $10/test. We do not have radiology services available onsite. Imaging orders (x-rays, ultrasounds, CT, MRI, etc.) can be completed through local hospitals and clinics in the area. These hospitals and clinics may be out of network for your student so it is important for your and your student to become aware of insurance coverage in the Eau Claire area. Please send your student with a complete copy of their insurance card.
Prescriptions

Student Health Service does not have a pharmacy onsite. We however have a small dispensary for common medications that can be prescribed directly to your student. Some medications include antibiotics, anti-depressants and contraceptives. The medications are typically $15/prescription. If requested, written prescriptions can be provided for medications not available at the clinic or medications that can be covered by your students' pharmacy insurance. If your student already has an ongoing prescription that is filled regularly, please have their prescription transferred to a pharmacy in Eau Claire. Pharmacies in and around Eau Claire are listed here.

Please remind your student to bring a list of current medications and dosing schedule to their first appointment at SHS.
Chronic Medical Condition Care

In an effort to help prepare you for a successful transition to college, we would like to facilitate care of your ongoing/chronic health concerns. We can also help to coordinate specialty care in and around Eau Claire. Your success on campus and with academics are directly related to your health and wellness.

UW-Eau Claire Student Health Service requests you obtain and submit the following information pertaining to your health concerns.



Health summary letter that includes diagnosis, health history, and treatment(s) obtained from your primary provider or specialist;this includes expected follow-up appointments and goals of care.
Current prescriptions including dose and frequency of use.
List of specialist provider/clinic contact information including name of provider and clinic, address, phone, and e-mail.
Copy of current insurance card.
List of providers/clinics located in Eau Claire area that are "in-network" and would be covered by student's health insurance.
Schedule a wellness visit with Student Health Service early in semester to review chronic medical concern(s).


Several examples of ongoing/chronic health concerns include (but are not limited to): anxiety, depression, eating disorders, ADD/ADHD, diabetes, cancer, asthma, valvular heart disease, inflammatory bowel disease (Crohn's, ulcerative colitis, etc.).
Employment
Student Health Service hires students to become an integral part of Student Health Service. As a Student Nursing Assistant (SNA), individuals will work directly with medical assistants, nurses and providers (MD/PA/NP). Primary duties will be obtaining vital signs, reviewing allergies and medications, taking a brief history and other clinical duties. If you are looking to study in the medical field, this opportunity can be very beneficial in gaining real-world experience.