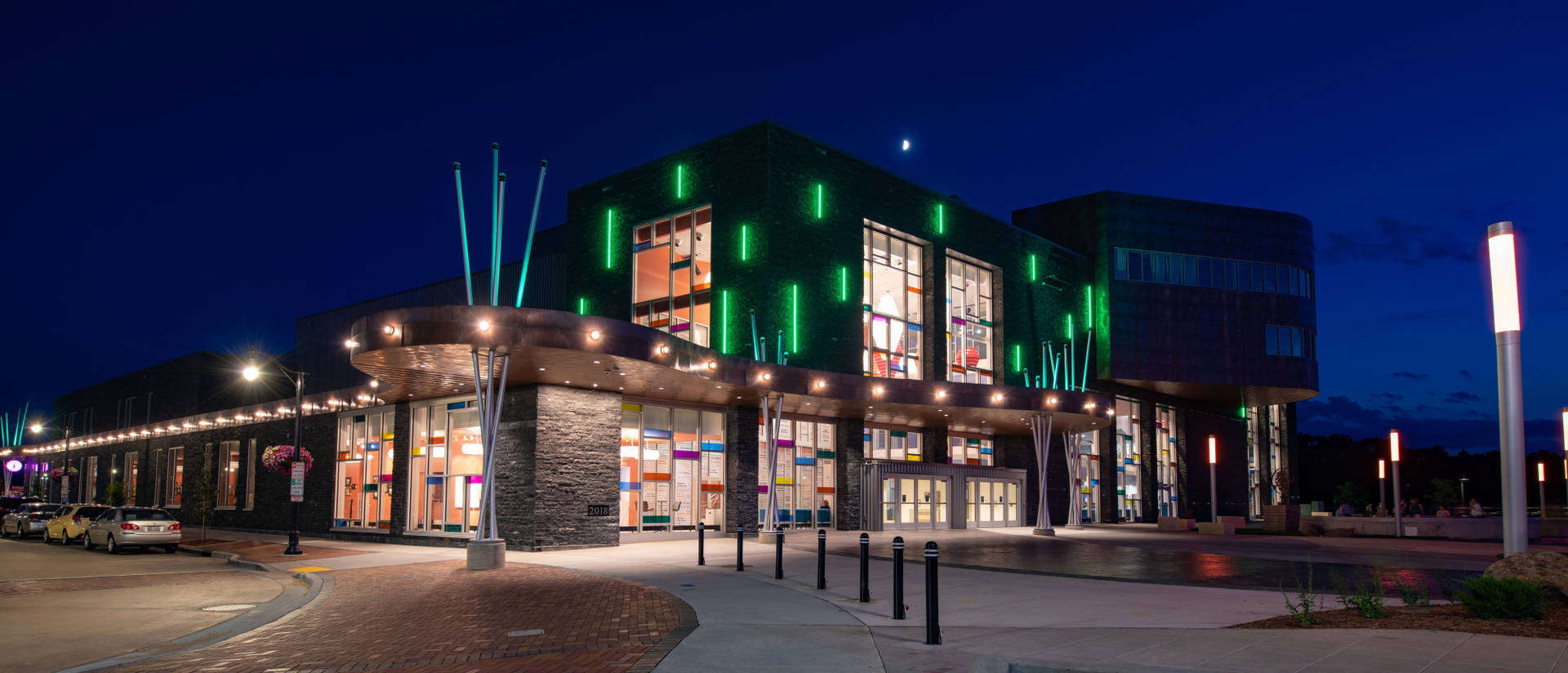 A world-class campus and community partnership
The Pablo Center at the Confluence sits on the banks of the Chippewa River in the heart of downtown Eau Claire. This $51 million building is a state-of-the-art venue for visiting shows and provides new rehearsal, teaching, and performance space for students in the Music + Theatre Arts program at UW-Eau Claire. We look forward to our partnership with Pablo to give all students and community members the opportunity to explore award winning entertainment in a one of a kind facility that incorporates Eau Claire's beauty and history throughout.
At the University of Wisconsin-Eau Claire, the arts have been an integral part of our academic and cultural life since our founding more than a century ago. Through our distinctive programs in theatre arts, music, and art & design, we continue to cultivate high-caliber performers and creatives.
As a founding partner in Pablo Center at the Confluence, UW-Eau Claire offers students instruction and performance opportunities in this state-of-the-art space that helps shine a brighter spotlight on talented Blugolds — and allows them to stretch their creative wings even further. An added bonus: This beautiful facility is located only a few steps from the student apartments at Haymarket Landing in downtown Eau Claire and less than a mile from our main campus.
UW-Eau Claire students have learning and performance opportunities throughout the Pablo Center:
Jamf Theatre

The Jamf Theatre is the largest flexible theatre in the Midwest and one of the five largest of its kind in the nation. Among U.S. universities that offer undergraduate theatre programs exclusively, UW-Eau Claire is the only school to have a flexible performance space of this kind. With this blank slate, Blugolds are able to let their creativity flow and push design boundaries — resulting in unforgettable experiences both for them and their audiences.
RCU Theatre

Three times the size of downtown's old State Theatre and twice the size of UW-Eau Claire's Gantner Concert Hall, the RCU Theatre opens up amazing opportunities for new shows and cherished annual performances, such as the UW-Eau Claire's Holiday Concert, in the heart of downtown. Theatre arts students as well as Blugolds in university music ensembles perform in this beautiful venue that serves as both a concert hall and theatre space.
Art Galleries

Just inside Pablo Center's southeast entrance and running the full length of the first floor is the Graham Avenue Walking Gallery for display of wall art by an ongoing rotation of featured regional artists, including UW-Eau Claire students. Likewise, Blugold art students are among those whose works, including wall art and sculptures, are featured in the James W. Hansen Gallery, also on Pablo Center's first floor.
Access to Regional Arts Groups

Pablo Center helps create an atmosphere where Blugolds can easily connect with creatives from the Chippewa Valley. This is possible because the offices of community and regional art groups are co-located in the facility.
Clearwater Recital Hall

Blugold faculty showcase their skills and entertain the public in a space that is deserving of their talents. Make sure to stop in and catch a performance of the faculty recital series in this top-floor venue with a view.
Costume Shop

Theatre students have access to a dedicated costume, millinery and wig instructional space that replaces UW-Eau Claire's cramped and outdated former costume shop in the basement of the the university's old Kjer Theatre. The new shop includes private fitting rooms, separate laundry and costume-distressing rooms, a dye vat for custom dyeing of fabrics, embroidery machines and ample costume storage.
Light, Sound and Video Projection Lab

This lab is equipped with technology, grids and more so Blugolds can test out and perfect their lighting and sound design ideas before running them in the main theatres. UW-Eau Claire offers the nation's sole undergraduate-only theatre program with a lab like this — meaning Blugolds are getting practical experience sooner than others in this field.

As if this lab needed to do anything else amazing, Blugolds also can bring their lighting designs to life by programming and running in real time the lighting elements found outside the Pablo Center on the building itself as well as on surrounding bridges and the arts center plaza.
Scene Shop

Blugolds who are passionate about scene design have a dedicated space equipped with advanced technology including an in-house paint booth and welding and CNC machines. This new shop, one of the largest in a performing arts center in the Midwest, is overseen by UW-Eau Claire theatre program staff and replaced outdated on-campus facilities.
Recording Studio

Eau Claire has always been a city that loves music, and Blugolds play an important role. This state-of-the-art studio, equipped with top-of-the-line Focusrite RedNet technology, can record live music and distribute audio between all rehearsal and performance spaces through the arts center. Also, planning is underway for a new recording certificate program through which UW-Eau Claire students will hone their skills in this space alongside both seasoned UW-Eau Claire faculty and local award-winning recording artists.

Learn more about UW-Eau Claire programs in music and theatre arts and art & design.
Pablo Center at the Confluence is open for business!