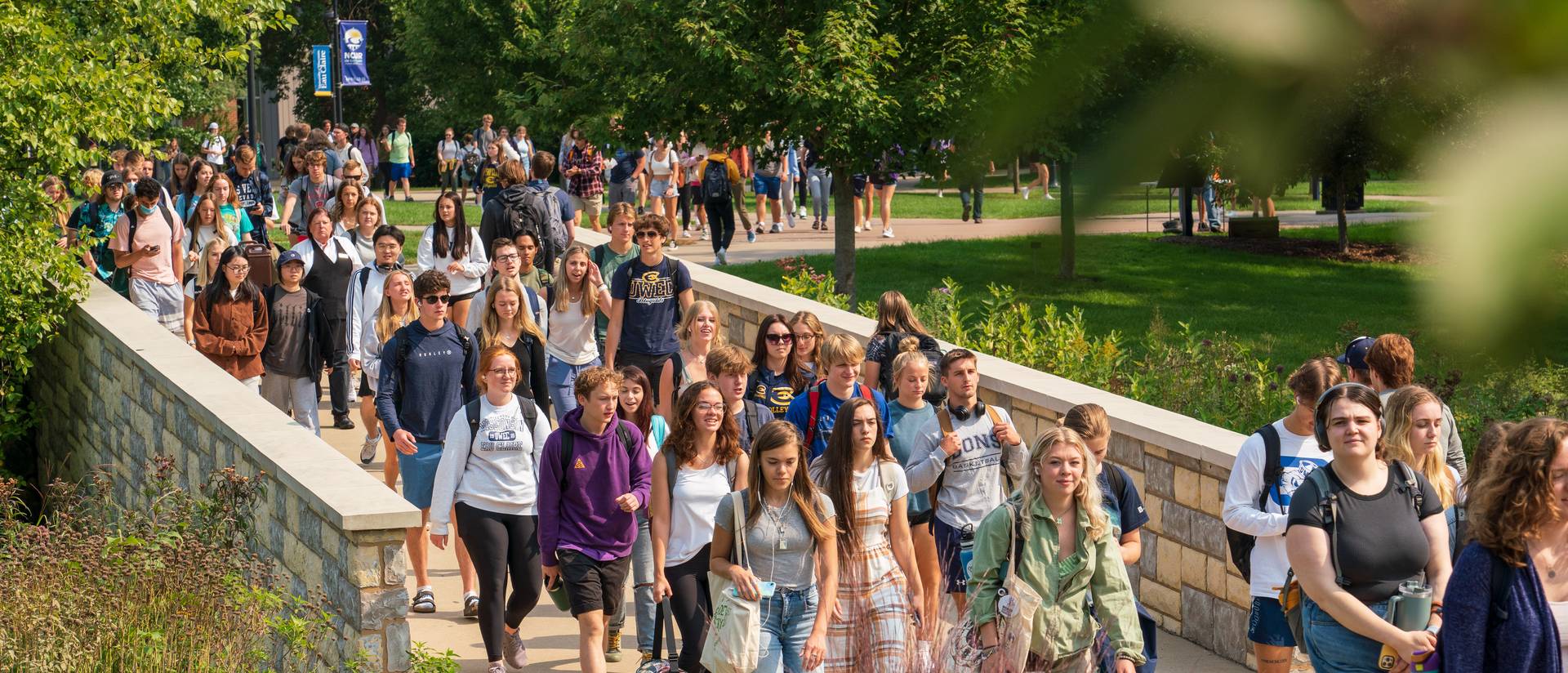 How can we help you today?
Please use the information below to contact various areas of UW-Eau Claire. For general questions, contact the UW-Eau Claire Service Center.
UW-Eau Claire Service Center
Campus Information: 715-836-INFO (4636)
Email Address: campusinfo@uwec.edu
Admissions Street/GPS address:
UW-Eau Claire
Office of Admissions
Flesch Family Welcome Center 102
127 Roosevelt Avenue
Eau Claire, WI 54701
Admissions Office Information: (CST)
Phone: (715) 836-5415
Fax: (715) 831-4799
Email: admissions@uwec.edu
Hours: listed below
Contact Department
To contact a specific department, please go directly to the department site for specific contact information. You can search for the department you want by using the search bar at the top of the page.
Contact Administration
To reach the Chancellor, Provost, Vice Chancellors, or other administrators, please visit the Chancellor's Staff page.
For Media Inquiries
If you are a member of the media wanting to speak with someone on campus, please contact University Communications.
Contact University Centers (events, meeting rooms, dining, etc.)
Contact University Centers to book an event or talk to someone about the use of our public facilities.
Other Contacts
Blugold Central
Blugold Central is a one-stop-shop for students at the University of Wisconsin-Eau Claire. Services provided include financial aid and paying for college, paying UW-Eau Claire bills, parking, adding and dropping classes, Veteran services, continuing education and more.
Phone: 715-836-3000
Email: blugoldcentral@uwec.edu
Office Hours: See below
Human Resources
Find employment and benefits info and other staff tools. Contact HR Staff.
Schofield Hall 220
Eau Claire, WI 54702-4004
Phone: (715) 836-2513
Fax: (715) 836-3051
Email: humanresources@uwec.edu
Registration & Transcripts
Want to ask about courses? Need to request your transcripts? Find all that here.
Email: blugoldcentral@uwec.edu
For questions about transcripts:
Email: transcripts@uwec.edu
Phone: (715) 836-3000
Campus Directory Search
Search for faculty and staff in the Campus Directory.