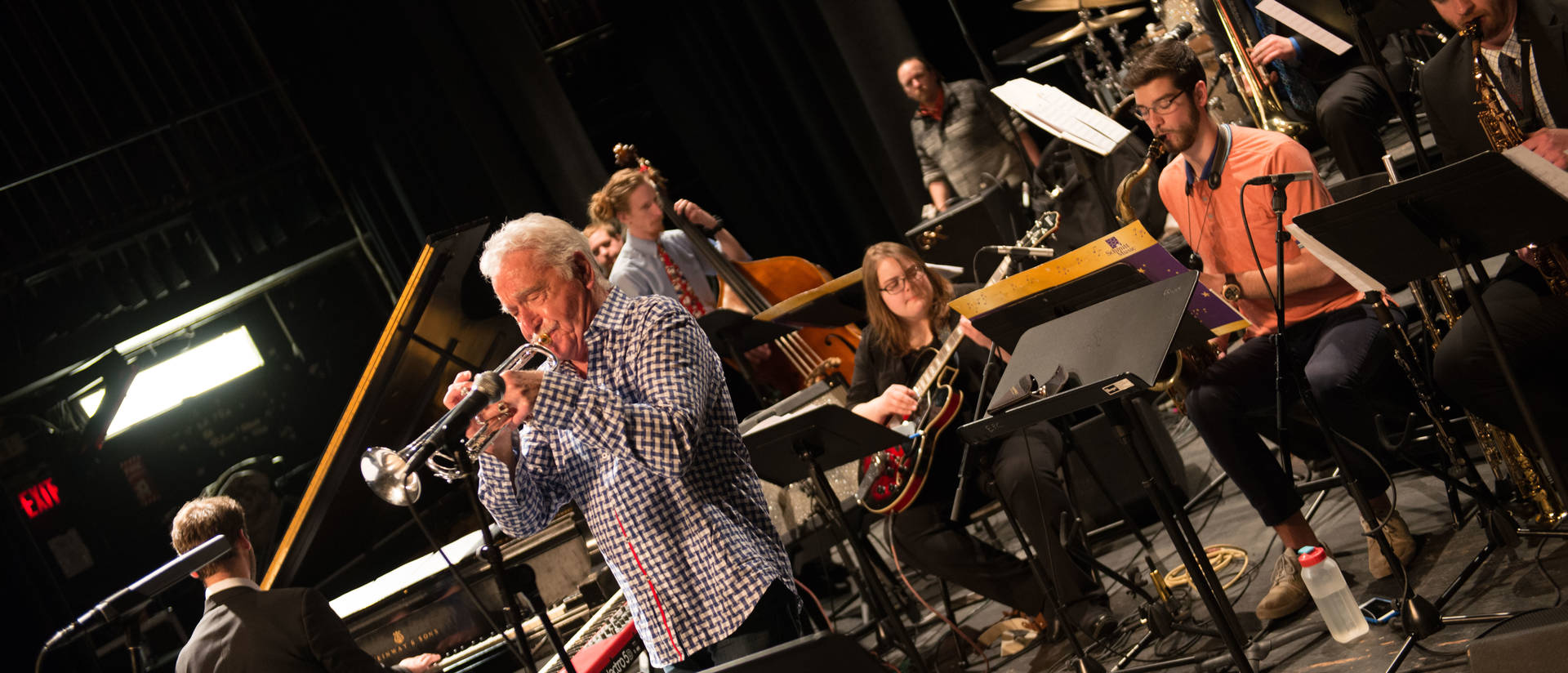 We bring the world to you
When we say our Blugolds have a global experience, a big part of that is the world-renowned guest artists who visit as part of music and theatre arts. The extra bonus is that the entire campus and the community are all able to attend their performances. The lessons learned in master classes are invaluable to music, theatre and dance students, who take away tips about the art as well as the industry. These are things that can't be taught in typical classrooms.

Just a few of our 20-21 guest artists


Abbott, Chip Chip Abbott is an NYC based director and choreographer on Broadway.
Brower, Angela, Lucas Meachem, and Carol Vaness All three artists have performed in the Metropolitan Opera in New York City as well as at many other international opera houses.
DeCesare, Nina Nina has played bass in the Oregon Symphony and just recently joined the Baltimore Symphony.
Jarka, Käthe Jarka is an active and committed teacher of the Alexander Technique and has a teaching practice in New York City and the Twin Cities.
Lindroth, Scott Scott Lindroth is a composer and educator at Duke where he teaches music composition, theory, computer music, and other music subjects.
Marcano, German Dr. German Marcano is among the most important cellists in the Latin American music scene.
Nova, Jim Jim is part of the Pittsburg Symphony and will provide insight into how to prepare for and take professional orchestra auditions.
Pennock, Shawna Dr. Pennock has presented lectures on how to engage saxophone settings in a classroom setting and has experience working with students of all ages to address various aspects of saxophone fundamentals and techniques.
Stone, Mollie Mollie Stone is internationally renowned for her workshops on Black South African choral music.
Wilkinson, Mark Mark Wilkinson is an award-winning director of multiple films including the documentary American Tap.


yMusic Residency
During the 2018-19 academic year, UWEC's Music Department hosted a year-long residency with yMusic, giving Blugolds multiple opportunities to work one-on-one and in groups with the team of accomplished musicians. Throughout the year, yMusic members worked closely with five UW-Eau Claire composition students, each of whom wrote a piece that was recorded in the state-of-the-art recording studio at Pablo Center at the Confluence.
Who's who in music and theatre?
Here is a look at some of the guest artists from past academic years.
Pilobus Dance Theatre
Sylvia McNair, opera
Pianist Joel Hastings
Alum/Composer-Performer John Raymond
Milwaukee Ballet
Omar Guey, violin
See the master calendar for all upcoming guest artists.