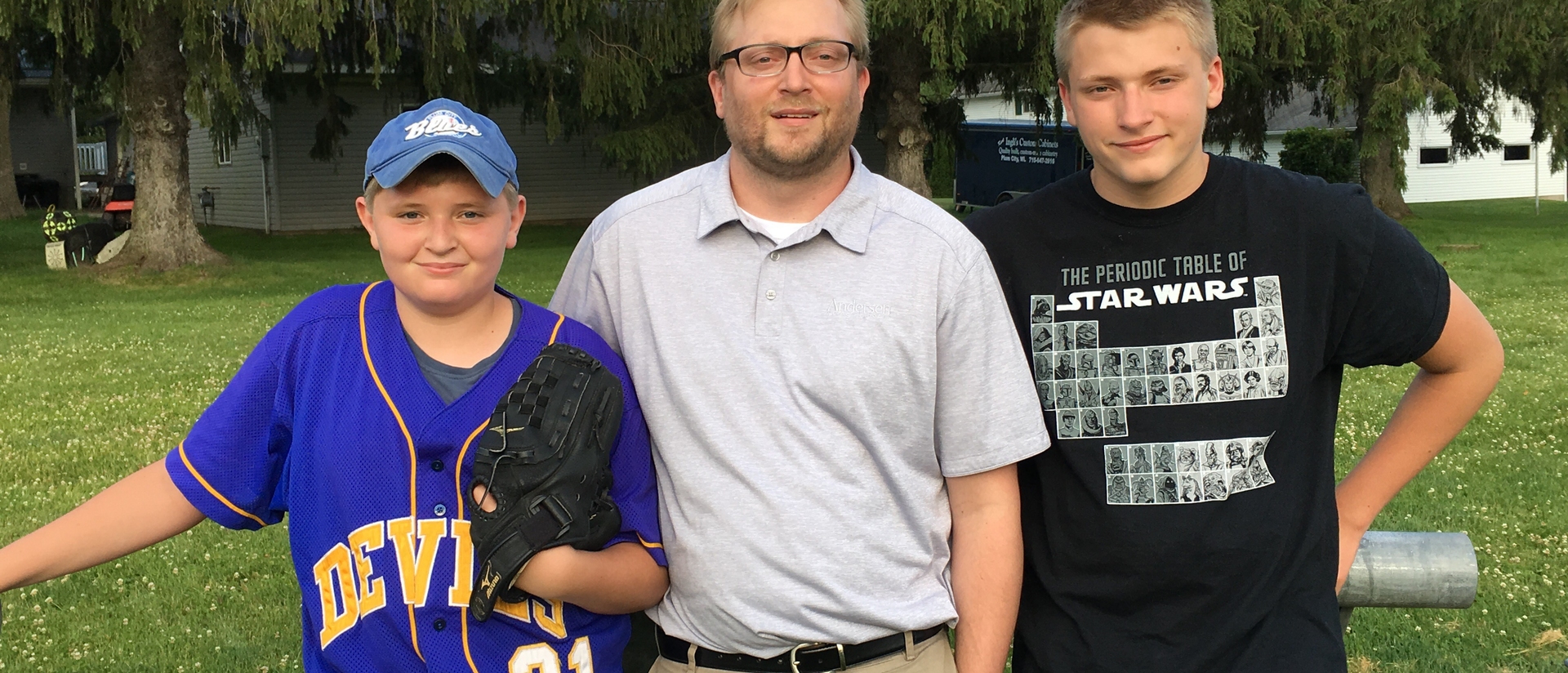 Great career outcomes ahead
Materials science and biomedical engineering is a field with vast opportunities for Blugold graduates, and the doors just keep opening. Materials science has been an exciting degree for several years, and the addition of the engineering component makes it even more so. The job growth and placement in this field are among the highest offered on campus, and the acceptance rate for our graduate school applicants is 100%.
Our talented and hard-working alumni know first-hand the value of a UWEC materials science and biomedical engineering degree and they like to spread the word. Sometimes that starts right at home, like for 2014 graduate Jason Luhmann, pictured above. Jason has his two sons enrolled in Blugold summer STEM camp, and hopes they too might join this exciting field some day.
Typical job titles
Materials engineer
Process engineer
Quality assurance
Research and development
Design and manufacturing
Technical journalism
Forensic science
Technical sales and marketing
Production management
Graduate studies
Employers of recent graduates
3M Corporation, Maplewood, MN
Phillips Medisize, Menominie, WI
Cardinal Glass, Menomonie, WI
Polymer Technology Company, Menomonie, WI
Kohler Company, Sheboygan, WI
Fiberstar Bio, Eau Claire, WI
Preco, Inc., Somerset WI
Interfacial Consultants, Prescott, WI
Andersen Corporation,
Pharmaceutical Product Development Inc., Madison, WI
After talking with Dr. McEllistrem, I realized that the Materials Science and Biomedical Engineering department would be a good fit for me. The interdisciplinary nature of Materials Science really spoke to me, especially the training involved on the numerous and valuable instruments found in the Materials Science and Engineering Center.
Ours grads have what employers need
Blugold MS+BME grads possess a set of technical skills unrivaled by the competition. However, is a broad base in "soft skills" that take a candidate from valued technician to valued team member. Those assets include:
Strong analytical skills
Clear writing skills
Inventive critical thinking
Effective partnership in a team setting
Intuitive problem solving in a lab setting
Self-directed and self-teaching
Broad grad school options, like alumni at:
Oxford University, Cambridge, UK
Washington State University
University of Michigan
Northwestern University
University of Massachusetts, Amherst
Purdue University
University of Oregon
University of Iowa
University of Wisconsin – Milwaukee