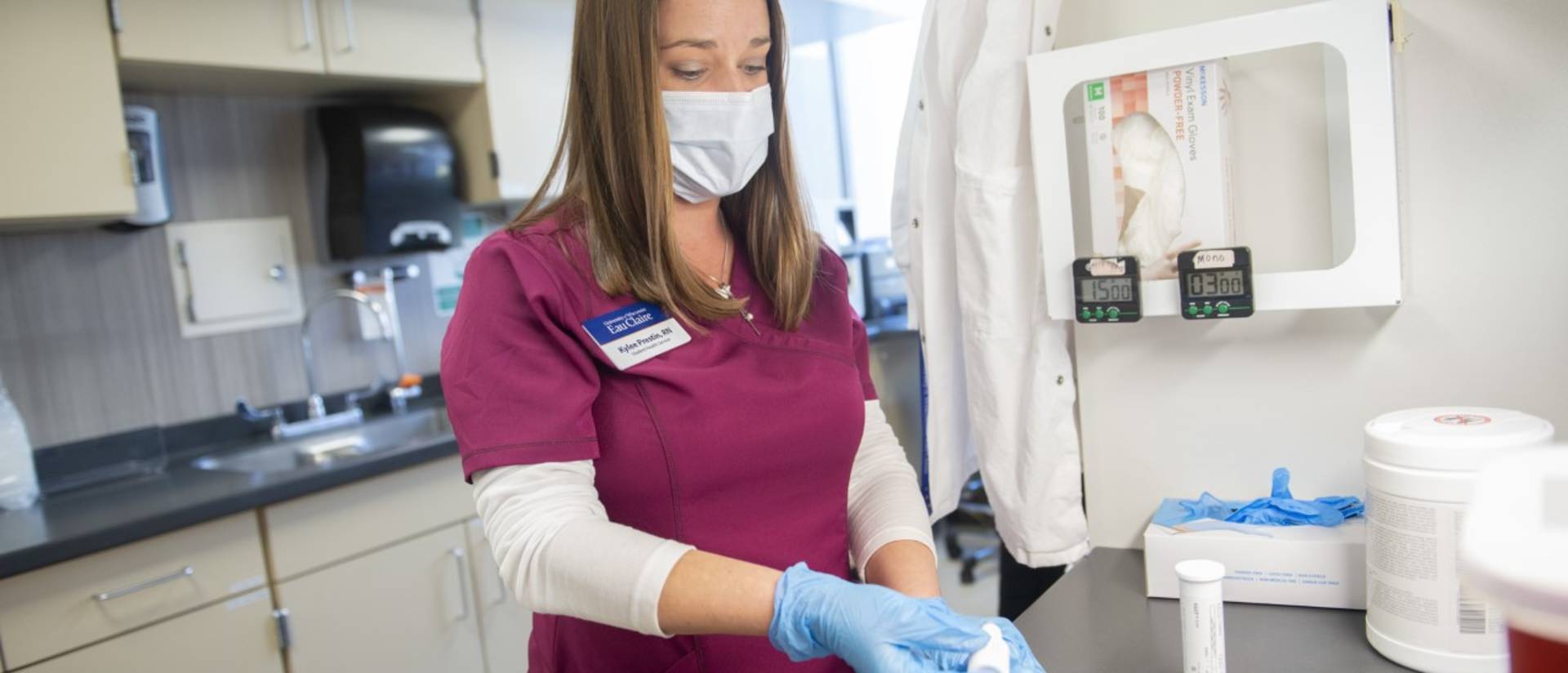 Affordable supplies and services
Student Health Service works hard to keep prices affordable for students. Most office visits are provided with no out-of-pocket charge as appointments are primarily funded by the student segregated fee. This charge is included in each student's tuition bill, and only students currently enrolled in classes at UW-Eau Claire are eligible to receive health services. An exception is made for students who are not enrolled for classes during the summer session but who will be in Fall classes — they may use the services at the clinic but will pay a $10 fee for office visits.
To pay your bill online please click on the pay option below.
Services provided
Below is a list of tests, examinations, etc., that you can schedule at the clinic. If there is a fee for the service, you will find it in the list lower on this page.
General Medical Evaluation for Acute Illness and Injuries

We diagnosis and treat:

Injuries
Respiratory problems and infections
Eye, ear, nose, and throat problems
Skin rashes and acne
Bladder and kidney infections
Stomach/abdominal pain and diarrhea
Mental Health

We offer a wide range of mental health-related services including initial mental health evaluations, ongoing care and evaluation, medication initiation and management, and facilitation of as related-campus services like counseling, Dean of Students office, Services for Students with Disabilities.

Service include treatment of:

Anxiety
Mood Disorders including Depression
Eating Disorders
Panic Attacks

Take Kognito - An interactive role-play simulation for students that builds awareness, knowledge, and skills about mental health and suicide prevention, and prepares users to lead real-life conversations with fellow students in distress and connect them with support.
Trans-inclusive Healthcare

Pelvic exams
Testicular exams
PAP smears
Hernia exams
Breast exams
Evaluation of menstrual irregularities and/or pain
Diagnosis and treatment of yeast infections and other vaginal infections
Contraceptive information, exams, & counseling
Diagnosis and treatment of sexually transmitted infections (STI's)
Pregnancy tests & counseling
Pre-Exposure Prophylaxis for HIV (PrEP) Consultation
Free gc2b chest binders (available in the Campus Closet Brewer Hall rm 271)
Gender affirming hormone therapy
Physical Exams

Most commonly we perform these types of physical exams:

Athletic
Employment
Police Academy
Post Office
Cruise
Peace Corps

If you have a question about a certain type of physical exam or the cost please give us a call at 715-836-4311 for more information.
Contraceptive Management

You can purchase the following contraceptives* at Student Health Service. We provide counseling and education for each option.

Hormonal methods of contraception

Oral contraceptive pills available at SHS
The patch and ring (prescription can be written)

Depo Provera
Intrauterine Devices (IUDs) - Kyleena, Mirena

Can now be done at Student Health Service with active Family Planning Only Services Plan

Emergency Contraception

*External Condoms are provided for free at Student Health Service or the Office of Health Promotion (Schofield 26)

*Some contraceptives may be covered at no cost to students under the Family Planning Only Services program. Please go to the FPOS webpage or review the information on the Insurance tab.

If you need to purchase birth control pills or receive a Depo Provera injection at Student Health Service and you received a contraceptive exam elsewhere, you will need to have the doctor or nurse practitioner who performed your exam complete a Contraceptive Approval Form.
Sexually Transmitted Infection (STI) Screening

We perform the following STI tests:

Chlamydia
Gonorrhea
Syphilis
Trichomonas
HIV
Hepatitis B
Herpes
HPV

The following sexual health supplies are available for free at Student Health Service and the Office of Health Promotion (Schofield 26)

External Condoms (available at both)
Dental Dams (available at the Office of Health Promotion)
Internal Condoms (call the Office of Health Promotion [715-839-5110] to see if they are available)
Travel Consults

We provide consultations for study abroad students or students taking trips to foreign countries. This consists of travel precautions specific to the country of travel, immunization recommendations and prescribing of prophylactic medications if needed. Forms for medical approval to travel can be completed during the visit as well.
For more information on Travel - check out our Wellness Resources page under Travel Health.
Call us today at 715-836-5360 to set up a Travel consult with one of the MD/PA/NP's at Student Health Service.
Minor Surgical Procedures

We perform many common minor surgical procedures such as:

Minor suturing of lacerations
Mole removal
Ingrown toenail removal
Abscess drainage
Gender Affirming Hormone Therapy

Counseling
Hormone injections
Smoking/Tobacco Cessation

Our staff is available to help you quit smoking or using other tobacco products. We will help you make a personalized quit plan (including medications as appropriate) and follow up on your progress.
Immunizations and Allergy Shots

Tetanus/diphtheria (Tdap & Td)
Influenza vaccine (usually available starting in September)
HPV vaccine
PPD for TB testing
Allergy shots ordered by your allergist
Laboratory Services

Laboratory tests performed at our clinic:

Urinalysis and urine culture
Complete blood count (CBC)
Mononucleosis test
Hemoglobin and hematocrit tests for anemia
Strep throat tests
Blood sugar
Yeast and bacterial vaginosis infection tests
Urine pregnancy tests

Other lab tests are sent out to a reference lab for variable fees.
Fee schedule
Below you will find the out-of-pocket charges that students can expect to pay for some visit types, lab work, medicine, procedures and supplies.
Procedures & Lab Tests

We are currently in the process of switching labs. The below-listed prices may change with our new lab.

| | |
| --- | --- |
| Name | Fee |
| Ear Irrigation | $15 |
| Excision, benign lesion | $30-$50 |
| Foreign body removal (skin) | $30-$50 |
| Minor surgical procedures | $30-$50 |
| Suture removal | $15 |
| Partial toenail Removal | $50 |
| Wound Care | $5-$10 |
| In-house lab (per test) | $15 |
| STI — chlamydia | $10 |
| STI — gonorrhea | $10 |
| STI — combo CT/GC | $20 |
| Rapid HIV | $10 |
| QuantiFERON Gold | $50 |
| Rapid Influenza (Flu) | $10 |
Blood Titers (Immunity Status)

| | |
| --- | --- |
| Name | Fee |
| Hepatitis B | $5 |
| Measles (Rubeola) | $5 |
| Mumps | $10 |
| Rubella | $5 |
| Combo MMR | $20 |
| Varicella | $5 |
Immunizations & Other Injections

| | |
| --- | --- |
| Name | Fee |
| PPD skin test | $15 |
| Flu vaccine [FREE] to students | $20 to Staff |
| HPV-Gardasil (per dose) | $210 |
| Td (tetanus & diphtheria) | $30 |
| Tdap (tetanus, diphtheria, pertussis) | $40 |
| Allergy shots — semester | $100 |
| Allergy shots — summer | $50 |
Medications

| | |
| --- | --- |
| Name | Fee |
| Most medications | $5-$20 |
| | |
| | |
| | |
| | |
| | |
Contraceptive Services & Supplies

| | |
| --- | --- |
| Name | Fee |
| ECP (Plan B) | Free |
| Depo Provera | $65 |
| Oral Contraceptive Pills | $18/cycle |
| Mirena | ** |
| Nexplanon removal ONLY(not on Family Planning Waiver) | $95 |
| IUD removal ONLY (not on Family Planning Waiver) | $60 |

**Please contact SHS to discuss cost and availability.
Physicals and Consultations

| | |
| --- | --- |
| Name | Fee |
| Physicals (includes: employment, travel, sport) | $20 |
| | |
| Mental Health Initial Consult (no-show fee: $10) | $20 |
| Initial Transgender Care Consult | $20 |