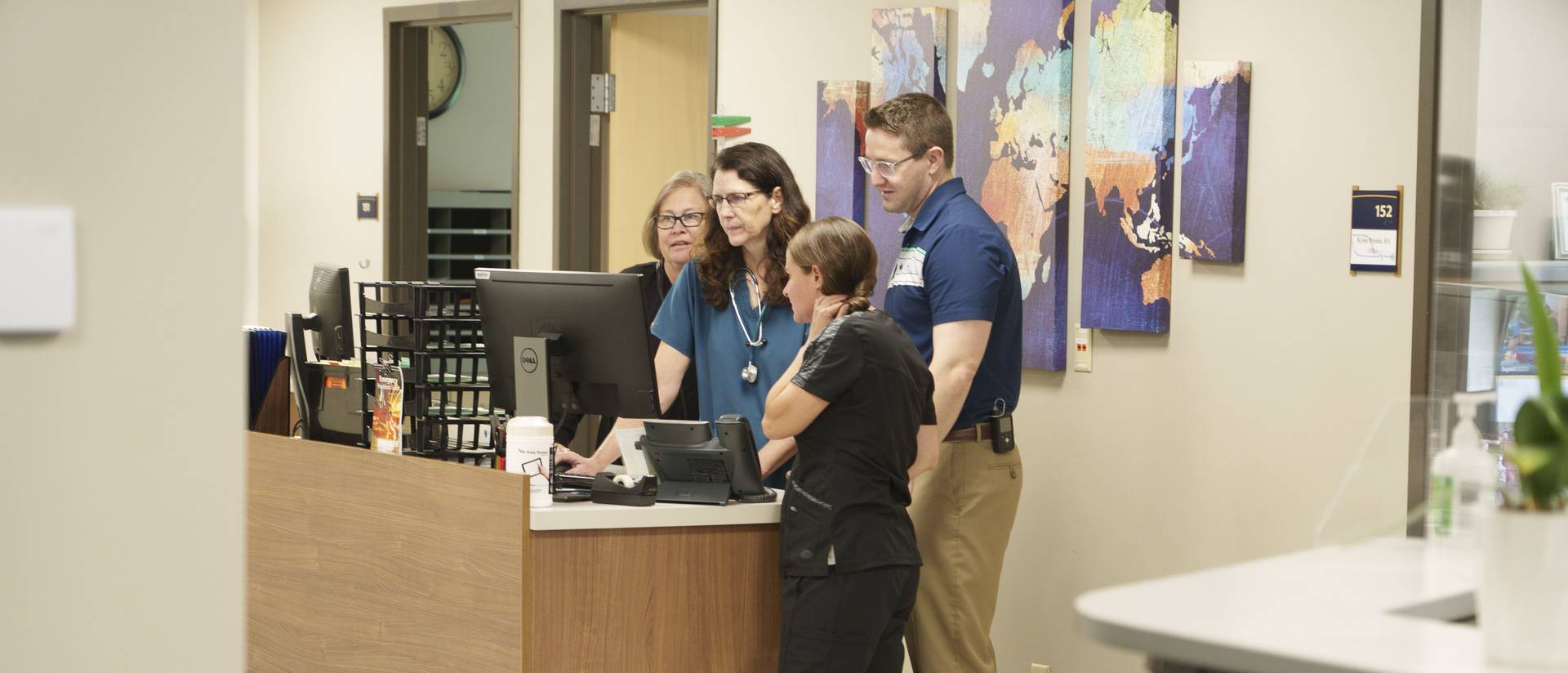 Health Resources for Students
Alcohol & Drugs
Dental Health

Student Health Service does not provide dental care on campus. Below are options for seeking dental care in the Eau Claire/Wisconsin.
Dietician

Dietician Services

SHS is currently working with Sodexo's regional dietitian, Lucas Flaherty, RDN, LDN. He is based out of Milwaukee and available for virtual consultation (at no cost to students). Lucas' approach to healthy eating does not revolve around diets or calorie counting. His job as a dietitian is to simplify the way we think about food and how to use it in the most therapeutic ways.

Please contact him at Lucas.Flaherty@sodexo.com regarding any of the following nutritional service questions/concerns:

Healthy Eating
Weight Management
Dietary Restrictions
Food Allergies
Sports Performance & Fitness
Vegetarian and Vegan Nutrition
Dining Hall Navigation
Diet Modifications/Changes
Immunizations
Interpreting Services

Interpreting services are available upon request. Staff at SHS are happy to help facilitate the use of this service.
LGBTQIA+ Health

Student Health Service strives to ensure all students feel welcome in our safe, inclusive health care clinic. We encourage students to interact with our team to help improve their overall care. We also encourage students to utilize UW-Eau Claire's on campus resources through the Gender Sexuality and Resource Center.

Trans-Inclusive Care

Gendering Affirming Hormone Therapy

If you are interested in starting hormone therapy, or have questions about starting it, please call to schedule an appointment.
Mental Health

Student Health Services:

ADD & ADHD
Anxiety & Depression
Eating Disorders
Medication Management
Mood Disorders

Additional Resources:

| | |
| --- | --- |
| Crisis Resources: | |
| Crisis Text Line | Text HOPE to 741741 |
| Mental Health & Alcohol and Other Drugs | 1-888-552-6642 |
| Mantra - Mental Health Support 24/7 | 1-888-531-2142 |
| Suicide & Crisis Lifeline | 988 |
| Northwest Connections | 1-800-552-6642 |
| Trans Lifeline | 1-877-565-8860 |
| Trevor Project (LGBTQIA+) Lifeline | 1-866-488-7386 |
| Veterans Crisis Line | 1-800-273-8255 |

Local Hospitals/ERs

Address
Phone

Marshfield Clinic - Eau Claire

2310 Craig Rd

Eau Claire, WI 54701

(715) 858-8100

Mayo Clinic Health Systems

1221 Whipple St

Eau Claire, WI 54703

(715) 834-3311

Sacred Heart Hospital

900 W Clairemont

Eau Claire, WI 54701

(715) 717-4121
Pregnancy

Campus Resources

Student Health Service | (715) 836-5360

Counseling Services | (715) 836-5521

Pregnant, Expecting and Parenting Students | UW-Eau Claire | (715) 836-2387

Pregnancy Assistance

BadgerCare Plus | Wisconsin Department of Health Services | (800) 362-3002

Helps low-income children, pregnant individuals, and adults in Wisconsin.

City of Eau Claire - Family Planning Clinic | (715) 839-6988

Healthy Beginnings Plus Program provides support and education to pregnant women, helps with health care needs, and provides information on resources and services in the county.

Eau Claire County WIC | (715) 839-5051

Provides families with healthy food, nutrition education, breastfeeding support, and access to many other health services.

Pregnancy Options and Support

Comprehensive directory of trusted and verified abortion service providers in the United States.

Adoptions of Wisconsin | (608) 821-8220

Full service, licensed adoption agency, providing adoption services throughout Wisconsin

All-Options Pregnancy Resource Center | (715) 222-0777

Support for pregnancy, parenting, abortion, and adoption.

Apple Pregnancy Care Center - Eau Claire, Wisconsin | (715) 834-7734

Offering pregnancy testing, pregnancy options, education, and support

National Abortion Federation Hotline | (800)-772-9100

Free, anonymous, unbiased information about abortion and other pregnancy options.

Pregnancy Options Workbook

Guide for those facing a pregnancy decision including adoption, parenting, and abortion.

EXHALE After-Abortion Talkline | (866)-4-EXHALE

Post abortion counseling.

Planned Parenthood - Eau Claire Health Center | (715) 833-2279

Pregnancy testing and options.

Up-to-date information on how people in the U.S. can access at-home abortion pills online.

Options for Women Menomonie - Standing With You | (715) 222-0777

Help for women facing an unplanned or unintentional pregnancy.

Eau Claire - Catholic Charities | (888) 212-4357

Licensed, accredited, nonprofit agency providing services to all faiths including pregnancy and adoption support.

Prenatal Care

Marshfield Clinic - Eau Claire | (715)-858-4500

Mayo Clinic Health System - Eau Claire | (715) 838-6100

OakLeaf Clinics - Eau Claire | (715) 836-9242

Prevea Health | (888) 277-3832

*This is not an all-inclusive list. Consider contacting your insurance carrier for in-network options that would be covered by your health insurance.
Sexual Assault

National Sexual Assault Hotline: 1-800-656-4673
Students with Disabilities

Each student will bring unique life experiences to UWEC. Some of the these experiences may be due to mental or physical disabilities. Student Health Services works closely with the SSD (Services for Students with Disabilities) Office to ensure students are allowed equal access and accommodations to meet their specific needs.
Travel Health
YOU at UWEC

UW-Eau Claire has partnered with YOU at College to offer YOU at UWEC, a unique and free web portal dedicated to student health, happiness and success. As the first technology of its kind on college campuses, YOU emphasizes individual well-being and self-awareness by dynamically serving up tips, online tools and UWEC campus resources that get you exactly what you need in the moment, 24/7/365.

YOU at UWEC can help you:

Check in with yourself and find resources to make the most of your semester.
Access tips, guidance and resources designed to help keep your academics, well-being and social connections on track in this changing world.
Address your feelings and take care of your well-being just as you would your physical health.
Navigate life and campus, on your terms.

YOU helps you, as a college student, take charge of your future in three areas: Succeed (academic and career), Thrive (physical and mental well-being) and Matter (purpose and connections). You can get started on your own journey of a healthy, happy college career by visiting you.uwec.edu

Join in and let YOU help you!