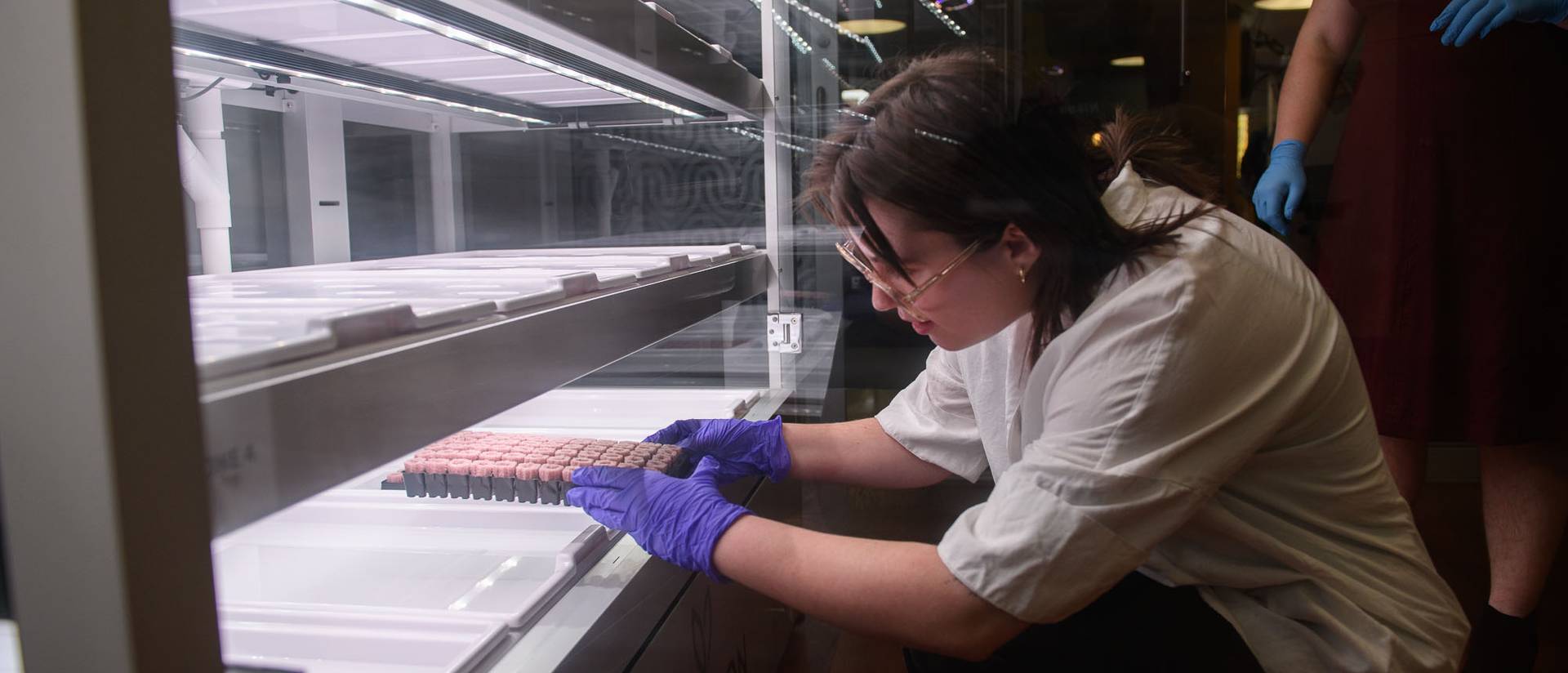 Our On-Campus Commitment to Sustainability
The administrative Office of Sustainability is working with stakeholders across campus to implement sustainability projects. Check out the subpages on the left and the dropdown boxes below to explore our initiatives:
Hydroponics

UWEC has purchased two hydroponics units to grow lettuce, herbs and other types of food, which will be split between the Marketplace and the Campus Food Pantry. While these hydroponic units won't provide enough produce to subsidize all of the food in Marketplace, they do contribute to both UW-Eau Claire and Sodexo's sustainability goals, including sourcing more food locally, reducing carbon emissions and providing healthy meal options.

The harvest going to the campus food pantry will create new access to fresh produce for students who live in food deserts and who may not be able to afford this food otherwise. Additionally, sourcing your food locally and eating vegetarian (or "flexitarian") is one of the most effective ways to reduce your personal carbon footprint!

If you're a student interested in completing your service learning by working with the hydroponics please contact us at sustainability@uwec.edu.
Nature Rx

The Nature Rx program is designed to encourage students, staff and faculty to spend more time in nature and develop a greater appreciation for the natural world. Research shows that regularly spending time in nature reduces stress and increases concentration. As little as 10-15 minutes a day can improve a person's outlook and increase their immune system function.

As part of our work, we are developing new programming to expand the scope of our campus arboretum in combination with Tree Campus Higher Education. Please keep an eye out for Nature Rx events on the UWEC calendar!
Green Week & Earth Claire

April 22 is Earth Day! The Student Office of Sustainability puts together a celebration called Earth Claire, and the Administrative Office of Sustainability organizes other events during the same week — also known as "Green Week." In the past this has included McIntyre Library's "Souls for Souls" kickoff and Makerspace events, faculty lectures on sustainability and more! Keep your eye out for events announcements and updates in the spring.
STARS Reporting

UWEC is currently engaged in the process of reporting our campus sustainability measures through the Sustainability Tracking, Assessment & Rating System (STARS). This comprehensive, best-practice report will establish baseline for us to work from as we move towards carbon neutrality, embedding sustainability in curriculum and infusing sustainability in other aspects of campus life. Our goal submission deadline is Spring 2024.
Campus Certifications

UWEC is proud to be a sustainable campus and to receive recognition through multiple certifications affirming our commitment to people, prosperity and the planet.

These certifications include our ranking as one of the country's most environmentally responsible colleges by the Princeton Review, certification as a Tree Campus USA, Monarch Waystation, and Wildlife Habitat by the National Wildlife Federation.