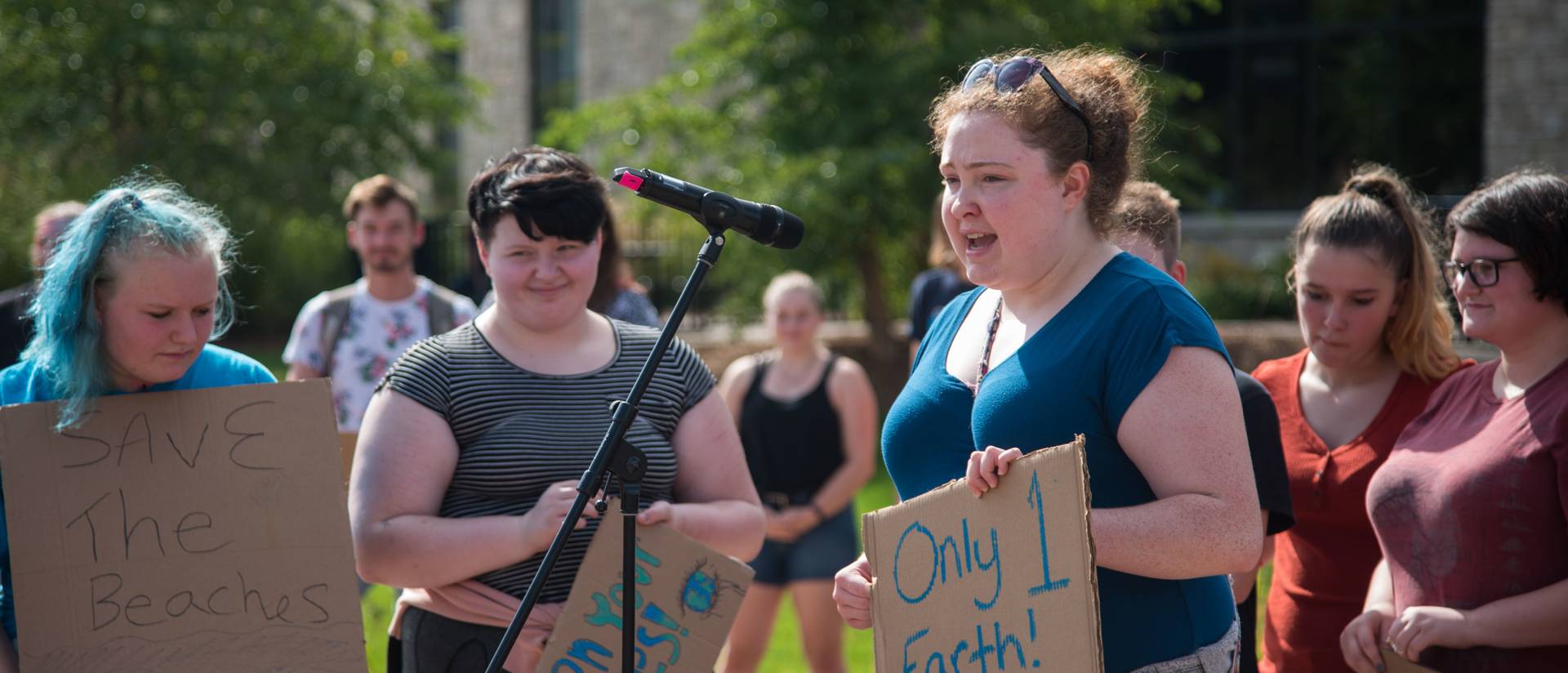 The University of Wisconsin-Eau Claire holds events during April to promote the importance of sustainability and getting students involved in new initiatives! These events provide hands on experiences for students, staff, and faculty to enjoy and learn. Green Week provides a range of fun activities during the month of Earth Day (April 22nd).
All Month

Caught Green Handed

During the month of April, the residence halls will compete against one another in a friendly competition to be declared the most sustainable hall. Students are able to earn points for their halls by engaging in eco-friendly practices and participating in sustainable events held in the residence halls throughout the month. The hall with the most points earned by the end of the month will be declared the winner!
All Week

Walk/Bike/Roll to Campus

During the week of April 17th we encourage students, staff, and faculty to walk/bike/roll to class. Using these transportation alternatives to campus will not only improve your physical and mental health, but also improve the health of the planet.

Earth Week Sustainable Challenge

Join the Administrative Office of Sustainability for a fun app-based hunt April 24th – 28th. This search and find activity is a fun way for students, faculty, and staff to get involved in our Earth Week celebrations and have the chance to win a prize. Join the challenge by downloading the "Goose Chase" app on your phone and enter code BD7GKB to begin. Earn points by completing tasks including Q & A, photo submissions, and attending Green Week events. The individuals with the most points may be eligible to receive a prize!! (Random drawing for ties) Disclaimer: the "Goose Chase" app will require participants' name. Your name will be displayed on the scoreboard and other players will be able to see your name. Please use your first and last name when entering your game name. The game opens at 8 am on April 24th and closes on April 28th at noon. Winners will be contacted on May 1st via email. For questions, please contact sustainability@uwec.edu.

Blugold Makerspace Workshops

Scrap Fabric Bookmarks: Learn how to upcycle scrap pieces of fabric, quilt batting, and ribbon into a cute fabric bookmark. This beginner-friendly project is a great way to use up leftover materials and learn the basics of sewing. Tuesday, April 25: 2:00—3:00 p.m.
T-Shirt Tote Bag: Recycle a T-shirt to make a fun, environmentally-friendly tote bag. Bring your own T-shirt or upcycle one of ours! Open to all UWEC students, staff, and faculty with your Blugold ID. Wednesday, April 26: 2:00—3:00 p.m.
Decorate a Bookend: Join us for a fun upcycling project using former library bookends! Decorate your metal bookend using paint, paper collage, or whatever brings you joy. Limited to two bookends per participant and they are yours to keep after the workshop. Thursday, April 27: 12:00 —1:00 p.m.

Soles4Souls Kickoff

McIntyre Library has once again partnered with the Student Office of Sustainability to host our 5th annual Soles4Souls new and used shoe drive!th through May 19th
Join us as we 'kick off' the annual Soles4Souls shoe drive! Any shoe, any style will be collected from April 24

Blugold Makerspace Craft Swap

Tried something new, but it's not for you? Drop off the supplies at the Blugold Makerspace Craft Swap! We're collecting yarn, fabric, coloring tools, craft supplies, patterns, and more – you may find your new favorite hobby! The Craft Swap operates on the honor system during library hours. Donations are not necessary to take an item but are encouraged. Library lower level, room 109, between April 19th- May 19th.
Thursday, April 20th, 2023

Employment and Career Paths of UW-Eau Claire Economics Alumni With Highlighted Connections to Sustainability and Equity, Diversity and Inclusivity - Main Campus

Room 1614 of Centennial Hall, with the panel from 4:15-6pm
Lily Strehlow, a sustainability specialist in Risk Management, Safety and Sustainability, and a 2020 UW-Eau Claire economics and liberal studies will be joined by Helue Vazquez Valverde, a 2016 economics and business finance graduate, and Wyatt Pajtash, a 2020 economics and geography graduate. All are welcome.

Sustainability Module Trial & Reusable Bag Giveaway- Barron County Campus

Students will be able to try out the 1st year Sustainability Training starting April 20th on the Barron County Campus

Thursdays at the U:Backyard prairie Plants - Barron County Campus

Dr. David Caithamer will be presenting a public lecture on backyard prairie plants at the Barron County campus
Monday, April 24th, 2023 - Earth Claire Celebration!

Earth Claire from 11:00 am to 4:00 pm - Main Campus

Earth Claire is a festival-like event with representation from many different environmental and sustainability-focused organizations, on-campus and from the community. There will be games, food, giveaways, music, demonstrations, and more! Basically, this will be an opportunity for UW-Eau Claire students to learn about and possibly get involved with some of these organizations, while having fun! The event will take place outside in the Campus Mall area and the rain location will be in Dakota Ballroom (3rd floor of Davies Center).

Sustainability Module Trial

Students will be able to try out the 1st year Sustainability Training starting April 24th on the UWEC campus

Campus Closet Clothing Drive - Main Campus

The Campus Closet is gathering donations of gently used clothing to distribute during the Earth Claire event. Recycling clothing is one easy way to minimize the environmental impact of manufacturing clothing. Save the planet and some money – check out the Campus Closet station at Earth Claire and pick up some free items for your wardrobe.

Campus Clean-Up - Main Campus

On April 24th, from 11am to 4pm the UWEC Grounds Department will be hosting a campus clean up in the campus mall outside of Schofield Hall. They will have a table with supplies for students and staff to come use to help clean up trash.
Wednesday April 26th, 2023

State of Sustainability: The County Materials Complex & Sonnentag Events Center and Sustainability at UWEC - Main Campus

April 26th
Presentation: 12pm-12:50 pm, Lunch provided!
Join Rebecca Rice from Greenwood Group, student experts discussing "LEED" certification, and Vice Chancellor of Finance and Administration Grace Crickette for a presentation on sustainability at UWEC, with particular emphasis on our new and future buildings.

Register for free HERE.