Explore the illustration bachelor's degree program at UW-Eau Claire
Take your artistic talent to the next level with the University of Wisconsin-Eau Claire's illustration bachelor's degree. The renowned program is designed for students pursuing graduate studies or careers in illustration.
Classes throughout the major will not only enhance your skills in illustration, painting and drawing, but also deeply broaden your knowledge and understanding of the field. Explore topics like visual narratives by using images and text within the context of contemporary illustration. Study 20th-century art and architecture. Investigate current events, news and promotional markets in relation to illustration. And identify and apply unique visual metaphors, narratives and representational vocabularies within a contemporary visual context.
Professional development and career preparation are critical focuses of the program. To ensure graduates leave with a greater level of artistic development and focus, all illustration students participate in an immersive, studio-focused curriculum. This includes an advanced illustration studio, where you'll focus on the development of a professional portfolio, including promotional materials, as well as learn about the business of illustration. A variety of lectures from renowned artists — as well as professional workshops and departmental field trips to museums and studios — will round out your education and allow you to gain new techniques and perspectives.
Prior to graduation, you'll choose groups of work to be featured in the Senior Exhibition, an impressive final-semester showcase for all art students. This leads to a complete collection of your highest quality work and will prepare you well for a career or graduate work in the visual arts.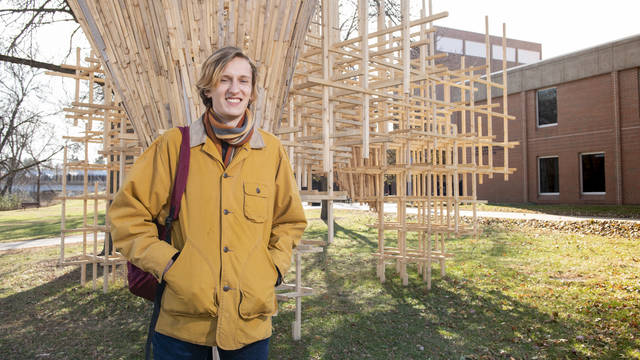 Why illustration at UW-Eau Claire?
Personalized curriculum. A variety of electives within the degree allow you to pursue multiple passions and study other areas of art that interest you. Explore courses in graphic design, typography, digital imaging and design, website development, 3D computer animation, artist books and water media. This flexibility gives you the chance to become an expert in multiple areas and opens doors to even more career paths.
Opportunities to travel. All comprehensive art majors are required to participate in a travel experience while studying at UW-Eau Claire. This could include a study abroad program, one of the department's national field trips or at least two of the department's regional field trips. Explore contemporary art and design in Minneapolis, Chicago and New York City. Or find inspiration in some of the world's art and architecture meccas, like Florence, Rome or Paris.
Art close to home. UW-Eau Claire is home to the Foster Gallery, the largest art gallery in the Eau Claire area. Art and design students can take advantage of this learning space through exhibition receptions, open viewings, installation opportunities, guest speaker presentations and the chance to participate in the annual juried student art show.
Valuable student organizations. Enhance your learning, meet other art majors and add to your resume by joining an on-campus art and design club. A popular student org for illustration majors is NOTA, or None of the Above, which is a campus literary magazine — entirely student-run — that publishes a biannual collection of the top student submissions in the categories of art, poetry and prose.
Incredible support. Here at UW-Eau Claire, you'll learn from expert faculty members with a multitude of experiences in the arts. Small class sizes allow for individual attention, with plenty of opportunities for you to learn and grow. Upon graduation, you'll have built an incredible support network of invested professors and passionate students who you can look to for mentorship throughout your career.
Connection to local employers. Annual on-campus Career Conferences and a Client Communication and Management Career Fair bring potential employers right to you. These events are excellent opportunities to network and submit your resume for current and future job openings.
Illustration program details
Program length: four years
Offered: in person
Campus: Eau Claire
This major does not require a minor.
Students majoring in this program will earn a Bachelor of Fine Arts (BFA) degree.
Student organizations
Art Student Association (ASA)
None of the Above (NOTA)
What can I do with an illustration degree from UWEC?
Graduates of UW-Eau Claire's illustration bachelor's degree are off doing some pretty incredible things. From illustrating for Orange Hat Publishing to designing for Mpls.St.Paul Magazine to freelancing for Marvel Entertainment and designing visuals for Rock Candy Games — Blugold artists are pursuing their dreams and experiencing success all over the country.
Illustration careers
Illustrator
Animator
Graphic designer
Art director
Concept artist
Fashion illustrator
Comics artist
Book illustrator
Medical/scientific illustrator
Storyboard artist
Courtroom illustrator
Having work commissioned and published are some important achievements during my time at UWEC. However, my most important achievements were the relationships I formed with fellow students and faculty members. These are the valuable resources I turn to now when I need advice, role models or someone to kick around ideas and creative progress with.
Illustration bachelor's degree program curriculum
Curriculum within the illustration bachelor's degree includes core foundation courses in art, as well as courses in art history, painting, drawing and illustration. A variety of electives throughout the major allow you to study additional areas of art that align well with careers in illustration.
What classes do illustration majors take?
Your classes may cover topics like:
3D computer modeling
Compositional principles of graphic design
Digital imaging and design
Figure drawing
Illustration narratives
Three-dimensional art foundations
Two-dimensional design
Learn more about the comprehensive illustration major in the UWEC course catalog.
Related programs at UW-Eau Claire
Thinking about a bachelor's degree in illustration? Here are other programs you may be interested in exploring.