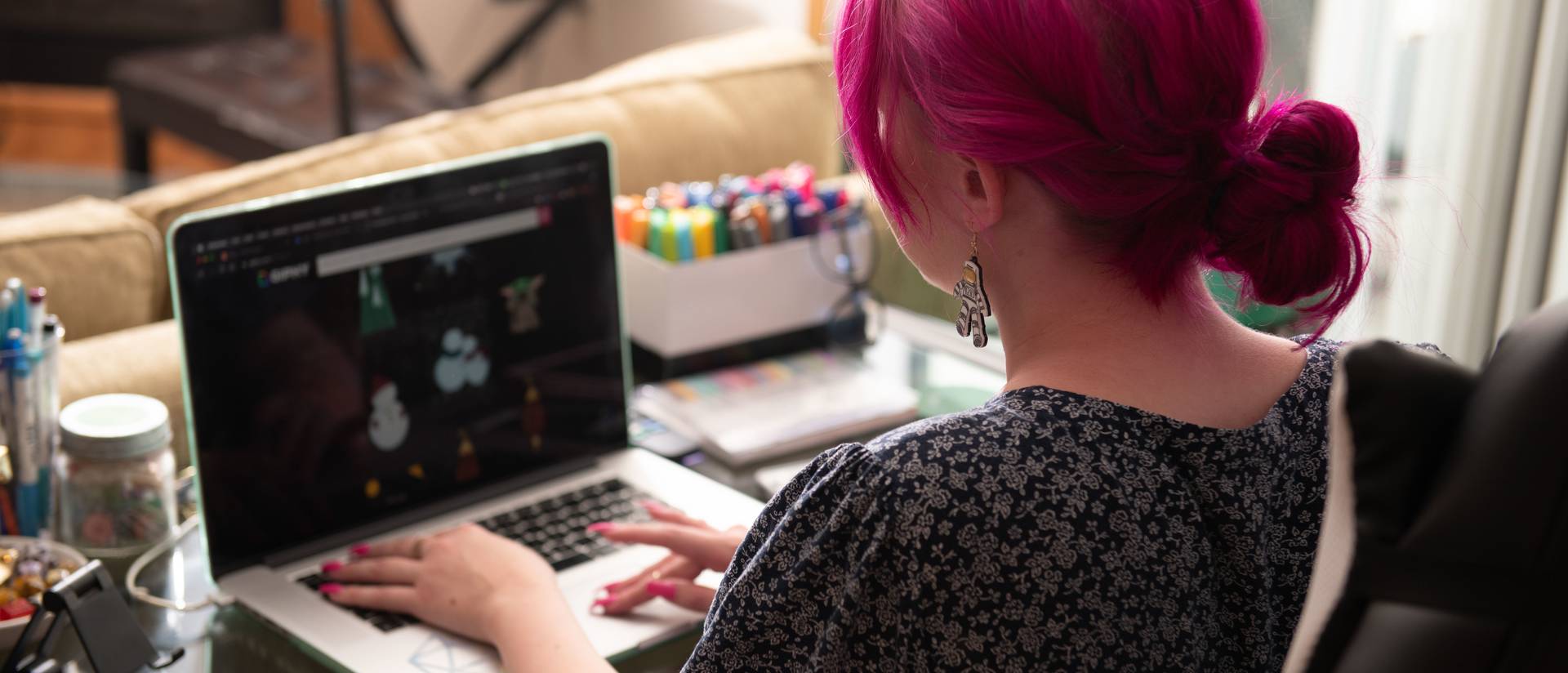 Explore the art - graphic communications emphasis bachelor's degree program at UW-Eau Claire
The graphic communications bachelor's degree from the University of Wisconsin-Eau Claire combines graphic design and communication curriculum, creating one powerful degree. This unique, interdisciplinary major will prepare you to become both a talented designer and a creative, contemporary communicator — skills that are highly sought after in countless fields and industries.
Taking courses in graphic design, communication and journalism, and computer science, you'll learn how to produce work that effectively balances information with exceptional expressive design. Coursework throughout the major will teach you the latest technologies in graphic design, how to reach different audiences, and how to best communicate your concepts and ideas to the world.
The growing major is rooted in experiential learning, with a strong focus on career preparation. Train on the same graphic and creative software found in the industry today. Gain professional experience during an internship. Help a local business during a service-learning project. Participate in collaborative student-faculty research. Or join workshops and seminars from community experts and artists in the field.
Graduates of the graphic communications degree enter the working world with a polished portfolio, real-world experience and a diverse set of skills. You may choose to pursue a career in graphic design, work in marketing, help companies build their visual identities, improve websites, manage brands — or anything else that interests you. With a degree in graphic communications from UW-Eau Claire, the possibilities are endless.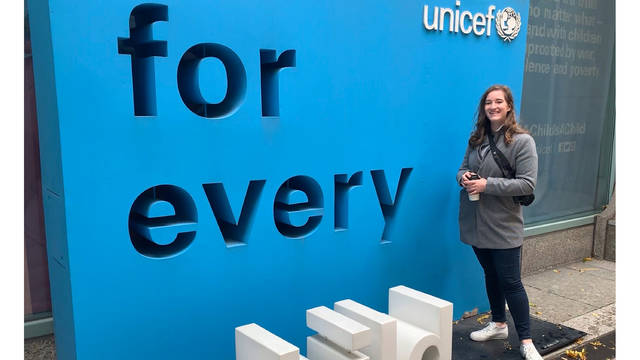 Why art - graphic communications emphasis at UW-Eau Claire?
Valuable student organizations. Numerous student clubs and organizations are available to art and design majors. A popular student org for graphic communications students is the Graphic Communications Design Club. As a member, you'll have the opportunity to broaden your professional knowledge of the design field, create strong networking connections, and participate in both community and national projects with other artists and designers.
Skill-building curriculum. A variety of electives within the graphic communications degree allows you to become an expert in multiple areas of communication and design. Explore courses in multimedia communication, webpage design, web programming and animation. Unique projects and assignments throughout the program will enhance your presentation, analytical, investigative, mathematical and problem-solving skills.
Opportunities to travel. All graphic communications majors are required to participate in a travel experience while studying at UW-Eau Claire. This could include a study abroad program, one of the department's national field trips or at least two of the department's regional field trips. Explore contemporary art and design in Minneapolis, Chicago and New York City. Or find inspiration in some of the world's art and architecture meccas, like Florence, Rome or Paris.
Art close to home. UW-Eau Claire is home to the Foster Gallery, the largest art gallery in the Eau Claire area. Art and design students can take advantage of this learning space through exhibition receptions, open viewings, installation opportunities, guest speaker presentations and the chance to participate in the annual juried student art show.
Connection to local employers. Annual on-campus Career Conferences and a Client Communication and Management Career Fair bring potential employers right to you. These events are excellent opportunities to network and submit your resume for current and future job openings.
Art - graphic communications emphasis program details
Program length: four years
Offered: in person
Campus: Eau Claire
This major does not require a minor.
Students majoring in this program may choose either a Bachelor of Arts (BA) or Bachelor of Science (BS) degree.
Student organizations
Art Student Association (ASA)
None of the Above (NOTA)
Graphic Communications Design Club
The Spectator
What can I do with an art - graphic communications emphasis degree from UWEC?
As a graduate of the graphic communications bachelor's degree program, you'll enter the working world with a diverse, versatile set of skills. You may choose to pursue a career in graphic design, printing, marketing, communications, computer science — as well as jobs that require expertise in a number of these areas.
Graphic communications jobs
Graphic designer
Web designer
Art director
Marketing communications specialist
Creative director
Marketing manager
Layout artist
Brand manager
Design manager
Graphic communications coordinator
Marketing and communications graphic designer
My interdisciplinary degree in graphic communications required me to take courses that not only pertained to my major and interests but also exposed me to many different skill sets, fields of work and ways to integrate my degree that I had never really considered before.
Art - graphic communications emphasis bachelor's degree program curriculum
Curriculum within the art - graphic communications emphasis program includes core foundation courses in art as well as courses in art history, graphic design, typography, visual identity design, visual communication design, digital design and graphic communications. Coursework will prepare you to develop creative solutions to artistic and communication challenges and increase your awareness of diverse audiences. Electives throughout the degree allow you to specialize in topics that interest you, such as brand and reputation management, web database design or digital animation.
What classes do art - graphic communications emphasis majors take?
Your classes may cover topics like:
Art of the 20th century
Drawing and composition
Multimedia communications
Principles of typography
Visual communication design
Web database design and implementation
Animation programming
Visual identity design
Learn more about the comprehensive art - graphic communications emphasis major in the UWEC course catalog.
Related programs at UW-Eau Claire
Thinking about a bachelor's degree in graphic communications? Here are other programs you may be interested in exploring.