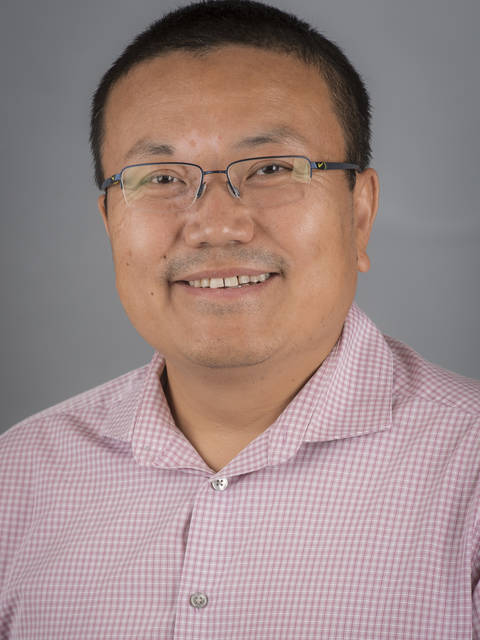 ---
Teaching Interests
Auditing,
Accounting Information System and Data Analytics,
Managerial Accounting, Internal Auditing & Control
Research and Creative Activities
Auditing and Data Analytics;
Information System Control and Cybersecurity
ESG and social responsibility
Financial Management in Tourism & Hospitality
Healthcare Financial Management
Education
Post-Doctor, Leiden Institute of Advance Computer Science(LIACS), Leiden University, The Netherlands
Ph. D., Guanghua School of Management, Peking University, China
M.S., School of Software and Microelectronics, Peking University,China
Certification
Certified Management Accountant (CMA)
Certified Internal Auditor (CIA)
Certified Information System Security Professional (CISSP)
Certified Information System Auditor (CISA)
Certified Information Security Manager (CISM)
Certified Government Auditing Professional (CGAP)
Certified Healthcare Financial Professional (CHFP)
Microsoft Certified System Engineer (MCSE)
COSO Enterprise Risk Management Certificate
COSO Internal Control Certificate
Published Research
Sun, Y., Zhang, J., Han, J., & Zhang, Q (2023) The impact of top management teams' faultlines on organizational transparency―Evidence from CSR initiatives, Business Ethics, the Environment, and Responsibility.
Huaping Wu, Yuguo Wu, Jidong Zhang, Risk assessment modeling with application in the accounting cloud-service industry, Expert Systems with Applications, Volume 229, Part A, 2023,120526,
Yin, M., Wang, L., Zhang, J. et al. The determinants of the decisions between integrated and non-integrated audits from the perspective of corporate governance. Int J Discl Gov (2023) Pg 1-11.
Zhang, J., Yin, M., Han, J.,& Ash, K.(2021). Sales Tax Nexus and Earnings Management. Tax Notes, 100 (7), 715
Yin, M., Zhang, J., & Han, J. (2020). Impact of CEO-board social ties on accounting conservatism: Internal control quality as a mediator. The North American Journal of Economics and Finance, 52, 101172.
Zhang, J., Yin, M., Han, J., & Aroskar, R. (2019). Why is the asset-light strategy necessary? An empirical analysis through the lens of cost stickiness. Tourism Management Perspectives, 32, 100571.
Zhang, J., Yin, M., & Han, J. (2020). The Effect of Financial Planning & Analysis Platform Implementation in Public Health Crisis. China Management Accounting Review, 12 (2), 120-126.
Zhang, J., Han, J., & Yin, M. (2018). A female style in corporate social responsibility? Evidence from charitable donations. International Journal of Disclosure and Governance, 15(3), 185-196.
Zhang, Jidong, Han, Jing, &Han, Jian (2016) CFO as a Strategic Partner of CEO: Relational Demography and Firm Performance. Journal of Business Management. 21.1 (2015): 59-76
Zhang, Jidong, &Han, Jing (2015) 'Adoption of Sarbanes-Oxley Act in China: Antecedents and Consequences of Separate Auditing', International Journal of Auditing Volume 20, Issue 2 July 2016,108–118.
Honors and Recognitions
KPMG Peat Marwick Professor of Accountancy 2022
Wipfli Accounting Faculty Fellow 2021
University of Wisconsin System Faculty College Achievement 2023
James R. and Vicki Lord Larson Undergraduate Research Fellowship 2023-2024
James R. and Vicki Lord Larson Undergraduate Research Fellowship 2022-2023
James R. and Vicki Lord Larson Undergraduate Research Fellowship 2021-2022
James R. and Vicki Lord Larson Undergraduate Research Fellowship 2020-2021
Student/Faculty Research Collaboration Program 2021-2022
Student/Faculty Research Collaboration Program 2020-2021
Student/Faculty Research Collaboration Program 2019-2020
Academic Staff Professional Development Award 2020
Academic Staff Professional Development Award 2022
Summer Research Experiences for Undergraduates Program 2020
Leadership Platinum Level, IMA,2016
Outstanding Services, IRF, IMA, 2015
Golden Leadership Award in IMA, 2015
Professional Memberships
American Accounting Association (AAA)
Member of ISC2
Institute of Management Accountant (IMA)
Institute of Internal Auditor (IIA)
Information Systems Audit and Control Association (ISACA)
Healthcare Financial Management Association (HFMA)
Previous Professional Experience
Board of Directors, Educational Foundation for Wisconsin Certified Public Accountants (WICPA)
Not-for-Profit Committee Members and Higher Education Committee Members, WICPA
Research Director, Institute of Management Accountant (IMA)
Board of Regents, Institute of Management Accountant (IMA)
Research Committee Member, Entrepreneurship Division, Academy of Management (AOM)
IMA's Editorial Advisory and Review Board
Board of Directors in Non-Profit organizations (Financial Committee)
Energy Commission Member, City of Rochester, Minnesota