Explore the accounting bachelor's degree program at UW-Eau Claire
Earn your bachelor's degree in accounting at the University of Wisconsin-Eau Claire. Accredited by AACSB International, our accounting program provides you with the skills, knowledge and experience needed to stay at the forefront of the industry and stand out in today's competitive job market.
Learn how to compile and analyze financial statements, evaluate a company's internal controls and produce professional communications on technical accounting issues, including regulatory reporting. Internships, study abroad, the National Student Exchange program and projects with local businesses will provide you with professional experience and the opportunity to build your skillset. You'll also gain a competitive edge through workshops on networking, interviewing, career development and business etiquette.
Preparation for the Certified Public Accountant (CPA), Certified Internal Auditor (CIA) and Certified Management Accountant (CMA) professional certification examinations is a major focus of the program's curriculum. And you will find that our expert faculty go out of their way to ensure you have what you need to succeed.
With the employment of accountants and auditors continuing to rise, now is the perfect time to begin your degree in accounting.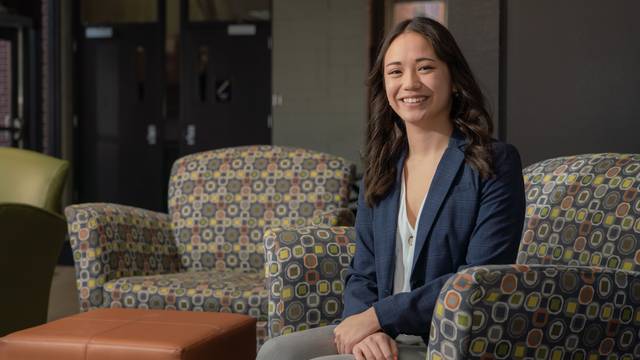 Why accounting at UW-Eau Claire?
Current, evolving curriculum. Accounting majors are forward-thinking, business-savvy individuals with a thirst for knowledge — and so are our faculty. Course curriculum focuses on ways you can stay sharp, current and on top of your game.
Access to internships. Gain valuable experience while earning credit towards your bachelor's degree with an accounting internship. Internships aid in the job search, as many companies use internship programs as an opportunity to pre-screen prospective employees. They are also an excellent way to narrow your career focus and build out your resume.
Networking opportunities. The Baker Tilly Accounting and Finance classroom, a space created specifically for accounting majors, gives you opportunities to learn, collaborate and network. Made possible by Baker Tilly and 17 UW-Eau Claire alumni, this unique classroom fosters connections to an amazing company and with other accounting students.
Relevant student organizations. There are a number of accounting- and finance-related student organizations on campus. These clubs meet regularly for learning, networking and volunteering opportunities. Make connections, hear from guest speakers and learn how to create a positive brand for yourself.
Service-learning projects. UW-Eau Claire's IRS Volunteer Income Tax Assistance (VITA) program helps prepare tax returns for people in need. In addition to helping others and gaining real experience, this volunteer opportunity allows you to fulfill your UW-Eau Claire service-learning requirement.
Connection to local employers. To help you meet potential employers and gain a better understanding of the different types of careers in accounting, we host an annual Public Accounting Career Fair — exclusive to those majoring in accounting. This event is an excellent opportunity to make connections and submit your resume for current and future job openings.
Accounting program details
Program length: four years
Offered: in person
Campus: Eau Claire
This major does not require a minor.
This program is also available as a minor. 
Students majoring in this program will earn a Bachelor of Business Administration (BBA) degree.
Student organizations
Blu'$ Gold Financial Management
Beta Alpha Psi Honorary (BAP)
Student Accounting Society (SAS)
Financial Management Association (FMA)
Accreditation information
Our business programs are among the best. We are accredited by AACSB International, a mark of excellence achieved by less than 5% of all business schools worldwide.
What can I do with an accounting degree from UWEC?
Your accounting degree from UW-Eau Claire will allow you to help both individuals and businesses arrive at effective financial solutions. Because many organizations need accountants, graduates find employment in a variety of industries and organizations. Explore careers in public accounting, financial accounting, managerial accounting, internal auditing and tax accounting.
Where are accounting alumni now?
Financial advisory, Edward Jones, Wisconsin
Staff accountant, Wipfli LLP, Wisconsin
Senior assurance associate, Crowe Horwath LLP, Illinois
Business management intern for event operations, Walt Disney World, Florida
Business technology solutions consulting associate, RSM US LLP, Minnesota
Partner, Ernst & Young, Minnesota
Accounting careers
Internal auditor
Tax consultant
Certified public accountant
Financial business analyst
Actuary
Chief financial officer
Loan administrator
Bank examiner
By simply saying "yes," I experienced many opportunities that UWEC has to offer. I started college as a student-athlete, studied abroad in England, completed an internship in my major and was president of two business student organizations.
Accounting bachelor's degree program curriculum
UW-Eau Claire's accounting bachelor's degree program pairs a well-rounded liberal education with major-specific coursework in accounting and business. Graduates are eligible to take the examinations for the Certified Management Accountant (CMA) and Certified Internal Auditor (CIA) designations. Accounting majors interested in sitting for the Certified Public Accountant (CPA) examination can satisfy the 150-hour requirement by completing a second major, adding a minor and/or completing one of the College's certificates.
What classes do accounting majors take?
Your classes may cover topics like:
Fraud investigation and prevention
Accounting ethics
Auditing
Data analytics
Financial accounting
Investment and retirement accounting
Tax accounting
Learn more about the comprehensive accounting major in the UWEC course catalog.
Learn more about the accounting minor in the UWEC course catalog.
Related programs at UW-Eau Claire
Thinking about a bachelor's degree in accounting? Here are other programs you may be interested in exploring.