Explore the business finance bachelor's degree program at UW-Eau Claire
Entrance to a growing field. Well-paying jobs. An in-demand degree. Achieve all this and so much more with a bachelor's degree in business finance from the University of Wisconsin-Eau Claire.
An excellent choice for those who have a knack for numbers, the business finance major gives you the tools and experiences necessary to become a company influencer or even your own boss. Through projects, internships, study abroad opportunities and service-learning, you'll learn to analyze risk and determine the acceptance or rejection of investments — knowledge that is crucial to a business's success.
Accredited by AACSB International, the business finance program prepares you for a wide variety of career paths. Typical positions held by finance graduates include corporate financial officers, bankers, stockbrokers, financial analysts, portfolio managers and personal financial planners.
Why business finance at UW-Eau Claire?
Intentional curriculum, informed by industry. Preparation for the Chartered Financial Analyst (CFA) exam is a major focus of the program's curriculum. Classes are taught by expert faculty, who know exactly what the workforce is looking for. And they design course projects to help you further develop communication, teamwork, technical, critical thinking and problem-solving skills — all of which employers highly value.
Paid, taken-for-credit internships. Opportunities to participate in paid, taken-for-credit internships are available to finance students. Participating organizations include companies like IBM, Merrill Lynch, Edward Jones and many more. These experiences are incredible ways to make connections, find mentors and discover what you want to do after graduation.
Involved alumni. Many business finance alumni choose to give back to current UWEC students by offering advice and resume-building opportunities. These long-standing partnerships allow current students to get an inside look at what life will look like after graduation.
A growing field. According to the U.S. Bureau of Labor Statistics, the projected growth in employment for personal financial advisors (27%) and financial analysts (16%) will be above the average growth of 11% for all occupations from 2012-2022. What does this mean for you? You'll be entering a thriving industry with the education and expertise many organizations need. Now is a great time to enter the finance industry!
Business finance program details
Program length: four years
Offered: in person
Campus: Eau Claire
This major does not require a minor or certificate.
This program is also available as a minor.
Students majoring in this program will earn a Bachelor of Business Administration (BBA) degree.
Student organizations
Blu'$ Gold Financial Management
Beta Alpha Psi Honorary (BAP)
Student Accounting Society (SAS)
Financial Management Association (FMA)
Accreditation information
Our business programs are among the best. We are accredited by AACSB International, a mark of excellence achieved by less than 5% of all business schools worldwide.
What can I do with a business finance degree from UWEC?
Techniques and best-practices learned throughout your time at UW-Eau Claire are relevant and immediately applicable to industry. And because these skills can be applied to a variety of professional fields, finance graduates have plenty of career choices — many of which pay well, too!
Where are business finance alumni now?
Credit analyst, Associated Bank, Wisconsin
Financial analyst, Ecolab, Minnesota
Staff accountant, Carson Co., Minnesota
Managing director, Sidelines Partners, Minnesota
Financial planner, Ameriprise Financial, Wisconsin
Chief managing partner, Ameriprise Financial, Wisconsin
Business finance careers
Financial analyst
Risk consultant
Accountant
Credit analyst
Financial planner
Portfolio manager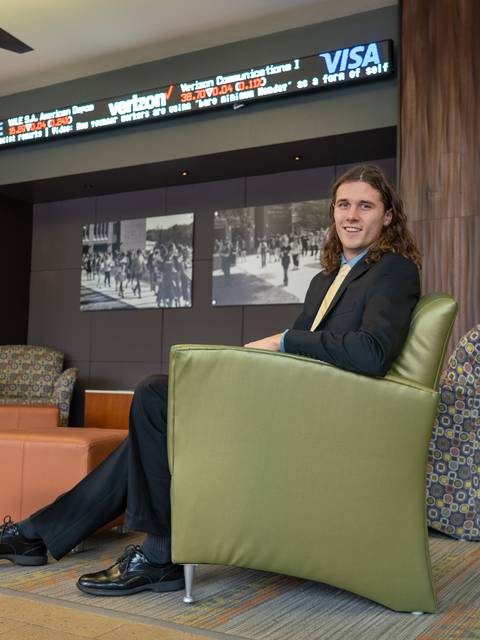 My professors' knowledge about the subjects they teach is incredible. Almost all of them had careers in business before becoming professors, so they bring real world examples to class. They've taught me much more than what's in the textbook.
Business finance bachelor's degree program curriculum
The curriculum for the finance bachelor's degree program is intentionally designed to ensure students are well prepared for the rigorous Chartered Financial Analyst (CFA) exam. The CFA is an internationally-recognized certification earned by finance professionals who aspire to be at the top of the field. Combine that certification with the highly-marketable technical skills you'll gain throughout your liberal arts education, and your resume is sure to stand out from the rest.
What classes do business finance majors take?
Your classes may cover topics like:
Corporate valuation
Corporate, partnership and other entity tax
Derivative securities
Financial markets and institutions
Financial modeling
Portfolio management
Wealth management
Learn more about the comprehensive business finance major in the UWEC course catalog.
Learn more about the business finance minor in the UWEC course catalog.
Related programs at UW-Eau Claire
Thinking about a bachelor's degree in business finance? Here are other programs you may be interested in exploring.