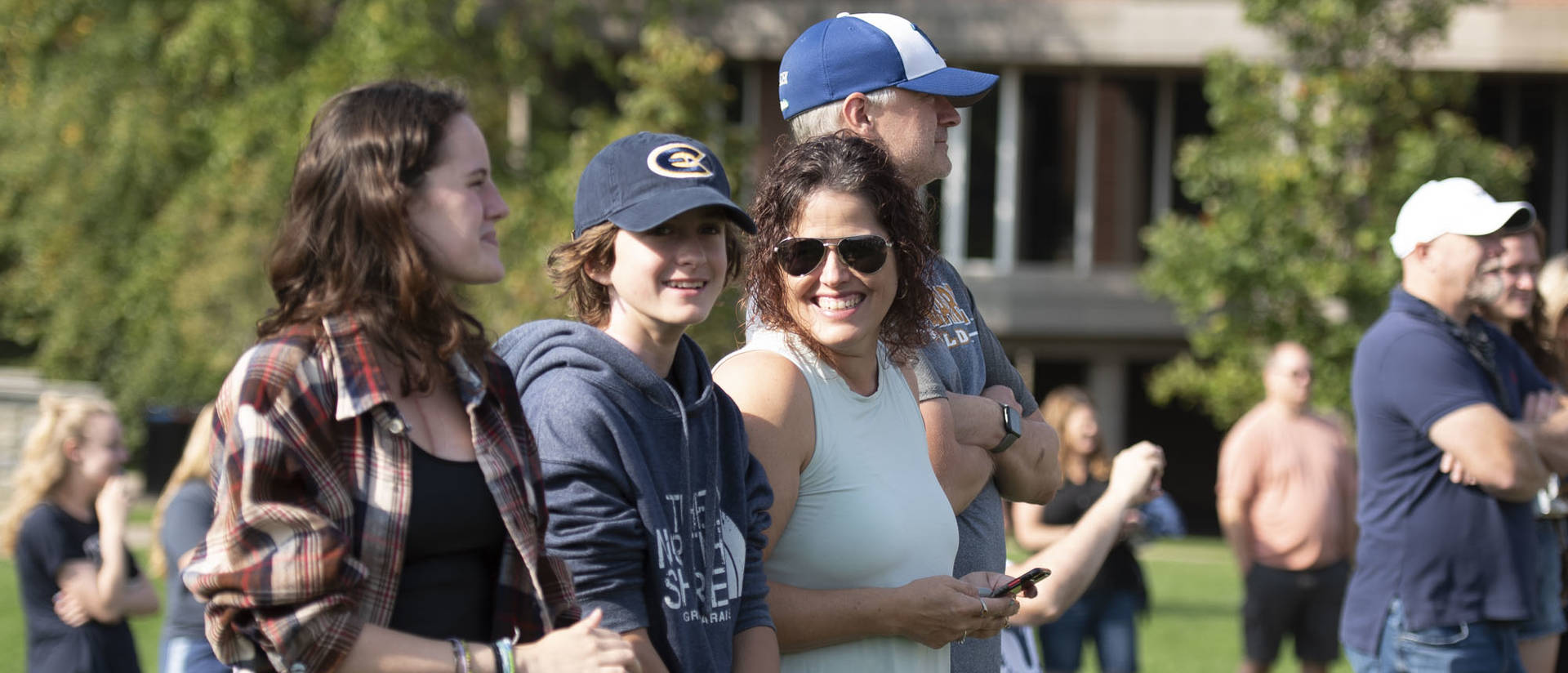 Where Blugold families come together
Your student's time away at college is full of lots of emotions—excitement, worry, hope. We want to make being a Blugold parent as easy as possible! Here, you'll find information on campus events, important deadlines and details on what UWEC is doing to ensure that your student has the best experience possible while on campus.
Watch the first Blugold Family Forum
The first virtual forum, "Addressing Loneliness & Finding a Campus Community," brought together campus leaders and current students to discuss ways students can find their campus community.
Join our parent Facebook group
Receive updates from campus and connect with other Blugold families by joining our UW-Eau Claire Parents and Families Facebook group!
Join today
Spring Semester Preparation FAQs
My student let me know they didn't do as well as they had hoped in a few classes. What are their options?

Students who think they performed poorly in a course(s) should find time to speak with their academic advisor. Their advisor can help the student decide if they will need to retake the course, or if there are any necessary Spring schedule changes due to not meeting pre-requisite requirements for a course. This conversation should happen prior to the start of the spring semester.
My student indicated they aren't satisfied with their major. How should they go about changing that?

Students who are thinking about changing their major should speak with their academic advisor about making that change.
My student told me they're having roommate issues and want to make a change. Is that possible to do for spring semester?

Students should continue to check the Housing Portal for any available openings. There tends to be some shifting that happens around winter break. If they haven't already, students should discuss their concerns with their RA or Hall Director, too.
My student is hoping to change their meal plan for spring semester. Are they able to do that?

Meal plan changes can be completed in the Housing Portal, and opened on Wednesday, Dec. 28. Changes to meal plans will be accepted until 4:00 p.m. on Friday, Feb. 3. All students who are required to have a meal plan but did not sign up will be assigned the Platinum Meal Plan the week of February 3rd.
When can my student move back into their residence hall for the spring semester?

Residence halls will reopen at 8:00 a.m. on Wednesday, Jan. 25. If students need to be back in their residence hall prior to then, they need to fill out a Break Housing request in the Housing Portal in order to have card access to the halls. Break housing is available free of charge.
My student is thinking they might need to repeat a course for a better grade. Is that possible?

Yes! Students who have earned a C- or below in a course may be eligible to repeat the course for a better grade. Because a course can be repeated only once, students will need to discuss with their academic advisers the reasons for their low grade or W in the course before attempting the course a second time. Registration for a repeated course must be on the same basis (letter grade or Satisfactory/Unsatisfactory) as the original course. For more information, check out our Repeat Course policy in full.
My student is on a waitlist for a course. What does that mean?

The Automated Waitlist in CampS allows students to get on a waitlist to potentially enroll in a currently full class. If space becomes available in the course, the automated waitlist will move students (based on the time the student signed up for the waitlist) into the course. Students moved from the waitlist to active enrollment will receive an automated message. For more information, check out our waitlist article.
My student found a different class they want to take. Are they still able to make changes to their spring schedule?

Yes! Students are able to add courses for the spring semester without approval from the instructor until February 3. After that date, students will need approval from the course instructor (or college Dean, if after February 10) in order to enroll. The last day for students to drop a course without it appearing on their transcript is February 10. We highly encourage students to speak with their academic advisor when making schedule changes!