The annual McNair Scholars' Research Symposium will take place Monday, December 4, Wednesday, December 6, and Monday, December 11. Presentations will take place from 1:00pm to 1:50 in Centennial 2920. Scholars will present their research for 7-10 minutes followed by a short Q&A. This event is open to the public. Guests are welcome to join us in person or on zoom.
Monday, December 4
John Zook is a senior communication sciences and disorders student. John is originally from Rice Lake, WI, and is mentored by Dr. Rebecca Jarzynski. Their research surrounds the beliefs and perceptions of Wisconsin schools on their role in school aged clients' individual identity development. John hopes to get master's degrees in speech language pathology and music performance, and then to continue on and earn a doctorate. John hopes to specialize in holistic human performance with an emphasis in singer's health, performance, and rehabilitation.
Jasmine Ford is from Lake Geneva, WI. She is a fourth-year communications major and has plans to graduate in the spring. She has been working on research with the chair of the communications department, Dr. Kristine Knutson. The project is titled "Stopping the Spread: An Examination of Intergenerational Transmission." In this project, Jasmine is conducting interviews with UWEC students about the communication patterns in their families and how they relate to the transmission of gendered messages that affect perception of self and others. She hopes to take this project further as she pursues graduate school, hopefully with a research assistantship.
Janee Schrader is a senior mathematics major with a minor in computer science from Eau Claire, WI. After graduating from UWEC, she plans to get a Ph.D. in mathematics and stay in academia. Working with her mentor, Dr. Carolyn Otto, she will be presenting her research titled "Pretzel Links: A Grid Diagram Approach." They established a methodology to encode and analyze pretzel links, enabling a systematic approach of their topological and algebraic properties. They will also present computational techniques for efficiently generating and analyzing invariants of these specific grid diagrams. They will present a comprehensive array of findings along with intriguing open questions.
Wednesday, Dec. 6
Zach May is a senior from Lake Geneva, WI, majoring in Spanish and Latin American & Latine studies. With help from Dr. Kati Barahona-Lopez, Zach's Research focuses on a mixed methods study that examines the extent that studying abroad and/or immersion programs support students' understanding of race, class, and gender in the United States. Inspired by his own study abroad experience at UWEC, Zach became interested in how ideas of race, class, and gender became reference points that U.S. student use to understand difference while abroad. Zach is currently applying to graduate school in the field of International Education, with the ultimate goal of building stronger pipelines for first-generation, student of color, and low-income students to participate in study abroad and immersion programs
David Evbayekha (he/him) is a senior neuroscience major with a minor in psychology from Brooklyn Park, MN. Working with Dr. Jeffrey Goodman, David will be presenting on their study that looks to see if UWEC college students who are taking psychology courses can recognize that both Janet Jackson's "Rhythm Nation" and Bruce Springsteen's "Born In The U.S.A." are protest music videos. This is the first of a two-part study on how protest-based music videos impact Americans' racial attitudes and emotions. After graduation, David will be pursuing a master's degree in clinical mental health counseling.
Zoey Rada is a senior from New Auburn, WI, studying communication sciences and disorders. With the help of her mentor, Dr. Lesley Mayne, Zoey has been researching speech-language pathologists' perceptions and use of motor therapies, including both oral motor exercises (OMEs) and nonspeech oral motor exercises (NSOMEs). At this year's symposium, Zoey will be presenting this research, titled "Motor Speech in Pediatric Intervention." After she graduates, Zoey plans on attending graduate school to become a speech-language pathologist.
Monday, Dec. 11
Amie Costello is from Balsam Lake, WI. They are a senior majoring in biology with plans to apply to post-baccalaureate research programs for next fall. After that, they plan to pursue a Ph.D. in developmental biology. Amie's project, titled "Sequencing alleles of gclm in zebrafish," is an investigation into the developmental toxicity of methylmercury. Amie and their mentor, Dr. Brad Carter, are creating a knockout line of zebrafish that has a nonfunctional gene passed down through multiple generations. Using cellular detoxification, research would be able to test how much influence the nonfunctional gclm gene has on the process that cells undergo to get rid of toxic materials. Amie's symposium presentation focuses on the creation of the knockout line through the use of DNA sequencing tools.
Chao Vang (he/him) is a fourth-year scholar from Menomonie, WI, pursuing a Bachelor of Science in elementary education. Working with his mentor, Dr. Anjela Wong, Chao seeks to better understand the relationship between Hmong women and their fathers. His presentation at this year's symposium is titled "Hmong Patriarchy: Hmong Women's Educational Experiences." After completing his bachelor's degree, Chao is planning to attend law school.
Olu Obadiya is a journalism major from Hugo, MN. With his mentor, Dr. Mary Beth Leibham, Olu is exploring immigrant optimism among UW-Eau Claire students who come from an immigrant origin. This includes an examination of how this cultural background influences performance and success in college. After graduation, Olu will be pursuing a career in content marketing, with aspirations to move into a leadership role in the future.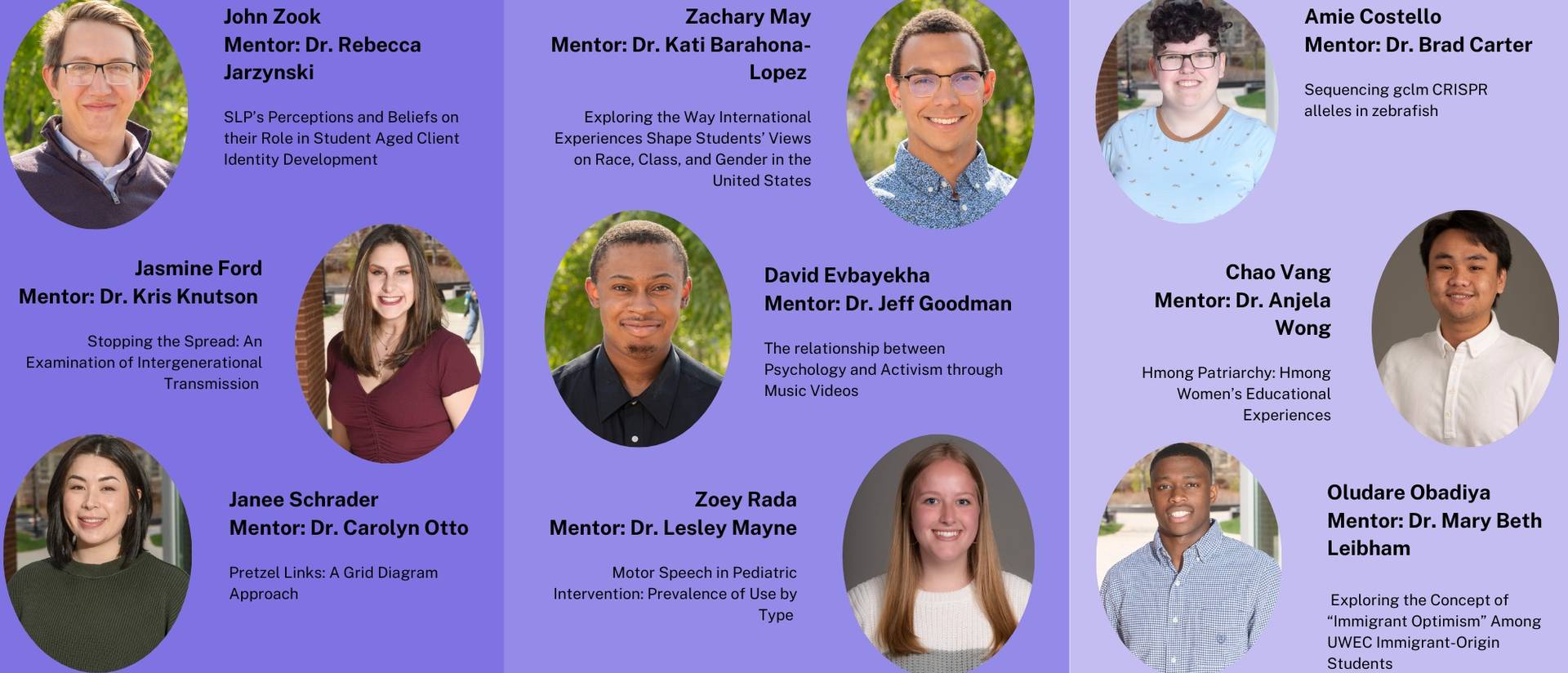 Story prepared by Beth Stein, Teryn Weinhandl, & Sierra Mulhern
Images by Alison Coughlin