In the spring of 1999, Dr. Erika Svanoe graduated UW-Eau Claire with a Bachelor of Arts in Music Education. Early opportunities to conduct and compose led Svanoe to earn a Masters of Music in Wind Conducting from Oklahoma State University and a Doctor of Musical Arts in Conducting from The Ohio State University.
As a conductor of the Augsburg Concert Band at Augsburg University in Minneapolis, Minnesota, where she also teaches undergraduate conducting, music theory, and the clarinet studio; Dr. Svanoe's educational journey has influenced and transformed her work as an educator as well. "Music and art are building blocks for creating a sense of community. Spending extensive time with your classmates allows you to socialize. Now as an instructor I'm very intentional in the purposeful building of community. Encouraging my band, especially the first-year students, to get to know one another."
Dr. Svanoe looks back at her time at Eau Claire with admiration and recognizes the foundation it provided her for those next steps. "I had incredible support from faculty during my time at Eau Claire. They were influential in me recognizing my potential. Switching roles now as an educator, I encourage my students. I can be a vehicle for opportunity, making those barriers less difficult for them." The wisdom she passes along to her students stems from the experiences she's had both academically and professionally. "I thought I would compose more. I encourage young professionals and students to be more adventurous in the risks they take and the opportunities they pursue. I wish I would be braver sooner, to put my work out there without doubters in mind. Don't be afraid to fail big."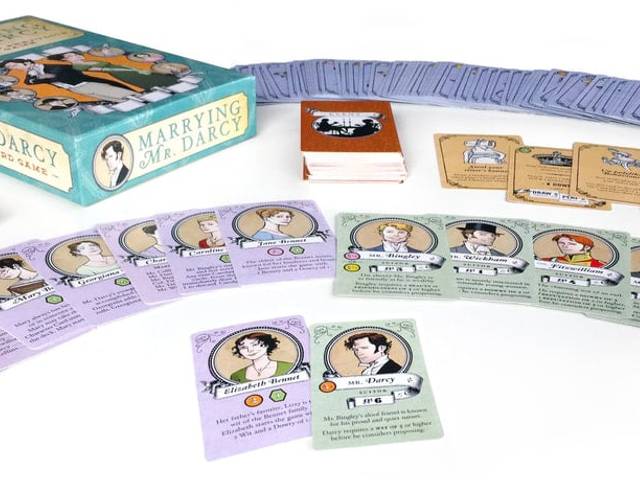 These words of wisdom are demonstrated by Dr. Svanoe herself through the creation and design of Marrying Mr. Darcy, the Pride & Prejudice card game. "The game is a great example of a why not opportunity and getting over my self-imposed barriers. I'm a big fan of Jane Austin, so there was passion there for the project." Marrying Mr. Darcy is a strategy card game where players are one of the female characters from Jane Austen's novel. You can purchase the card game here.
Outside of her role as an educator, Dr. Svanoe is composing "Symphony in Blue and Gold" for the Wind Symphony. This new multi movement work will be premiered in April in Gantner Concert Hall. This composition was written for the celebration of 100 years of bands at UW – Eau Claire on their final concert of the academic year. You can purchase tickets here.
Dr. Svanoe maintains an active schedule as a composer, writing music for band and chamber ensemble. Her first major work, "The Haunted Carousel", won the 2014 NBA Young Band Composition Contest and was featured at the Midwest Clinic and the CBDNA Southern Division Conference.
Dr. Svanoe also has a newly released album entitled, "The Music of Erika Svanoe" recorded by the University of New Hampshire and conducted by Andy Boysen. The album is now available on Spotify as well as iTunes and Mark Records. You can listen to the album here.
Additional information provided by Dr. Svanoe, visit her website