Kaitlyn Konrardy graduated with a Bachelor of Arts in Music & Voice Emphasis, as well as an Arts Administration certificate in May of 2022. The Music and Theatre Arts Department sat down with Kaitlyn to discuss her educational journey and how it has prepared her now in her profession.
"I entered my first year as business undecided. I knew the skills I had from high school, but I didn't have a clear idea of what I wanted to do. The possibility of pursuing a music minor presented itself as well. I began to do voice lessons with Dr. Mark Mowry, and he encouraged me to take the leap in pursuing the vocal performance degree." Konrardy expresses that she then began to look at what the Art Administration Certificate would look like. She participated in the New York Aspiring Artists trip to New York, which allows an inside look at performance, tech, backstage work, and administrative in the professional space. The experience highlights work in touring companies, which allowed Konrardy to recognize how much she values family and home back in Wisconsin. "I didn't envision that for myself. That's when non-profit work became a possibility."
Konrardy had much involvement during her time on campus, performing in shows like the "The Threepenny Opera" and Cabaret, completing two internships for the Music & Theatre Arts Department, and being a student manager for the Davies Center – the student hub on campus. Konrardy commends professors like Dr. Ken Pereira, with whom she worked alongside for the "The Threepenny Opera" performance. "During our class reflection, Dr. Pereira emphasized that success is discovering who you are and what you want to do with this life."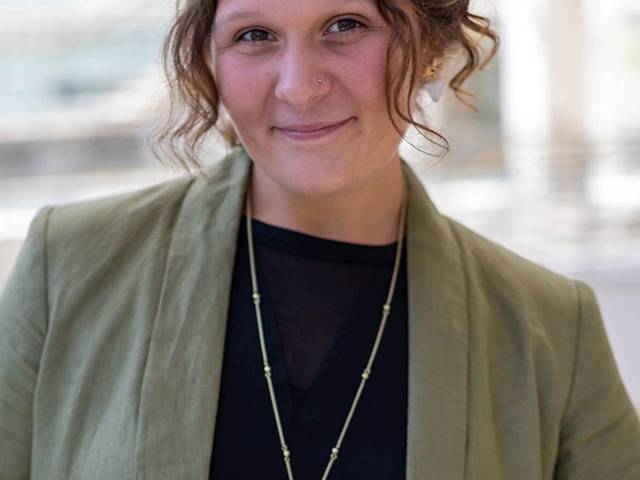 Now the Manager of Guest Services at the Overture Center for the Arts in Madison, Wisconsin, Konrardy praises her time on campus and how her education journey has prepared her in her position. "Eau Claire did an excellent job in providing a sense of responsibility and pride in a job well done. During my time as a student, I developed work ethic, grit, and resiliency." Konrardy also reflects on her decision to pursue the Art Administration Certificate specifically and notes the relevant course work. "My capstone course emphasized the importance of volunteers in the arts and my position thrives in the work of volunteers. It's an integral part of the front of the house management." Konrardy also compliments how relevant the course was to professional life. "My capstone challenged my thinking in how arts fits into the community."
Konrardy is originally from Marshfield, Wisconsin, so making the move to Madison, she expresses her excitement for what the larger city has to offer. "It's the cultural hub for Wisconsin, there's so much to do." Arriving to the city this past summer, Konrardy highlights the nature walks and entertainment centers the city has to offer.