UW-Eau Claire's Mickel Scholarship recipient this year is Anna Fregien. The Apple Valley, Minnesota native is majoring in ecology environmental biology and minoring in German. Anna has always been drawn to the university because her parents are alumni. Additionally, UWEC had her ideal major and varying musical opportunities which allowed her to explore multiple passions that do not typically overlap.
Anna has been part of the Honors Program for four years. Her impressive list of involvements at UWEC made her an outstanding candidate for this scholarship. The Ronald E. Mickel Scholarship is awarded to one student who is an active upper-class member of the Honors Program, and who has shown excellent leadership skills as well as engagement with the campus community. This scholarship is in memory of Dr. Ron Mickel, UW-Eau Claire's former Honors Program director from the inception of the Honors Program in 1983 to his retirement in 2003.
Involvements
On campus, Anna is part of the Reef Team, which is a biology club. This team goes to the aquarium on the third floor of Philips and tends to the tanks and organisms that live in them.
Anna's also had the opportunity to do research through UWEC with Dr. Nora Mitchell. Two summers ago, they started studying sunflowers together, then switched gears to a plant called Protea. Their plant pollination research project ended up taking Anna, Dr. Mitchell, and two other students to South Africa. This was a once-in-a-lifetime opportunity and was an amazing experience for Anna.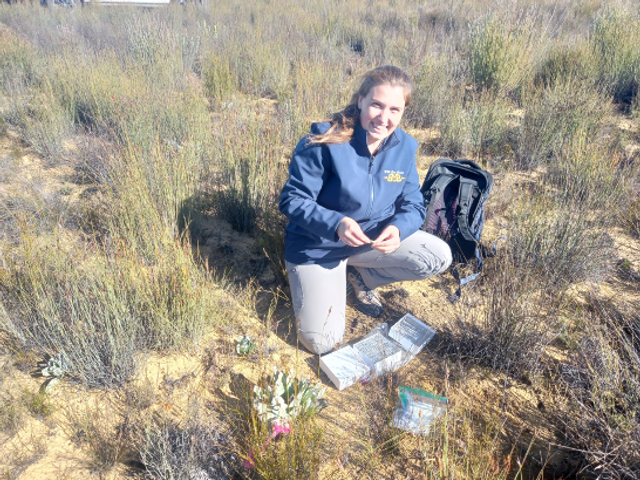 She's also a member of the Honors Student Council and a leader of Honors Helping Honors, which is one of Anna's biggest achievements during her time at this university. This student-led and designed peer-mentoring program was in the early stages of development when Anna was an incoming freshman, as she was in their first-ever class. Anna and her co-leaders spearheaded a number of revisions to the program that have allowed it to grow to serve more students and to offer service-learning opportunities to mentors. She's proud of how much it has evolved since being a part of it.
Another on-campus involvement Anna is a part of is the school's Blugold Athletic Band as a trumpet player. In addition to her on-campus leadership roles, she is the festival director for Eau Claire Jazz Incorporated. It's a nonprofit organization where she has a hand in running events such as the Eau Claire Jazz Festival.
Reflecting on her time with Eau Claire Jazz Incorporated, Anna states, "That's definitely been a big influence on me, it's a really big leadership opportunity and I've learned a lot from that experience."
Honors Impact
In and out of the classroom, Honors has impacted Anna and her educational experience. "It's definitely given me a huge sense of community throughout my time here," Anna says. She credits her discussion-based and interdisciplinary Honors classes with helping her meet and get to know a lot of other students. Additionally, attending Honors events has helped her get involved with student organizations.
Reminiscing on her years in Honors, Anna's favorite memory is from her freshmen year in the Honors Living Learning Community (LLC). The Honors LLC occupies the second floor of Brigman Hall where students who are part of the University Honors Program live on the same floor. Her favorite Honors memory was "definitely being in the Honors LLC my freshman year. It was kind of weird because it was COVID years… but we still managed to build a really good community. And all of the people who are my best friends now were on the same floor in the LLC my freshman year, we're still roommates to this day."
Anna recommends the Honors Program to incoming students because "it's a really great community and you get to meet a lot of really great people who you wouldn't necessarily meet otherwise because we're from a variety of different majors."
Future Plans
As a senior about to graduate, Anna feels she is prepared for life after graduation. With the help of the Honors Program and her leadership roles, she feels she has "gained a lot of time management skills, [learned] how to be organized and communicate with people and run events." Her honors classes have also provided her with improvements in her communication skills, both scholarly and conversational.
Her post-grad plans are not set in stone, but she's passionate about continuing her plant science research or being involved in botany. No matter what she ends up doing, the Honors program and her time at UWEC have set her up for success after graduation.