Honors students are typically high-achievers, but Douglas Swenson has taken the academic drive a step further by graduating college in only 2 ½ years. Not only will he complete his major requirements, but also has studied abroad, did research, gained leadership experience, completed the curriculum of the Honors Program, and more.
The very beginning of this journey was deciding on colleges. Swenson decided to go to the University of Wisconsin-Eau Claire because of the small class sizes. In his first honors course--Dr. Geoff Peterson's "relevant and unique" course on the 2020 elections--he found that the small class size helped him to connect more deeply to the material, the professor, and his fellow students.
Swenson completed his honors journey this semester in Dr. Anne Hlas's course on creative problem solving, where he found the opportunity to "work hands-on with peers on problems that could apply to any major." This semester, Swenson also turned his political science capstone into an honors thesis.
His thesis research originated during his study abroad experience in Spain last summer, where he lived with a host family. While on a tour, his group heard a loud bang. Everyone was worried and looked around for someone with a gun, but the guide just laughed. After that experience, Swenson reflected upon how safe he felt in Spain, even at night, and how often the international news regarding the United States would center around gun violence. Swenson left Spain determined to better understand the social, historical, and political reasons why gun violence is so much more common in the US than in Europe.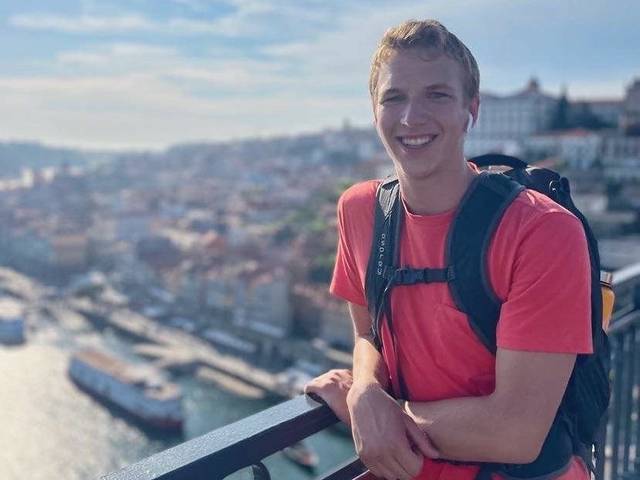 Swenson worked with faculty advisors Dr. Rodd Freitag from Political Science and Dr. Jeff Goodman from Psychology as he focused on a comparative analysis of gun ownership culture in Switzerland and the US. He grew interested in Switzerland because it has a higher rate of gun ownership than other European countries, and because gun ownership is more valued and normalized in Switzerland than elsewhere in Europe. At his thesis presentation, he answered questions about gun laws in Switzerland and potential political and cultural solutions to the problem of gun violence in the US. One of Swenson's main takeaways from the project was the way cultural practices, historical traditions, and political systems are all implicated in determining attitudes toward gun ownership.
Apart from academics, Swenson has been the President of Blugold Nordic Skiing club where he got to travel and race with others. He also was involved in UWEC Navigators Christian Ministry. He states that upon graduation he is "going to miss the community and friends in different organizations."
Currently, Swenson is still searching for jobs, with a growing interest in real estate--but he is approaching his future with openness. Despite his short time at the University of Wisconsin-Eau Claire, Doug made the most of it and will continue to seize opportunities that come his way in the future.