Sid Gross has been developing his leadership skills since he first stepped foot on campus. Crediting the Honors 100 seminar course for helping him acclimate to campus, he's now paying it forward by serving as a mentor.
The marketing analytics and information systems student said that in reflecting on his undergraduate career, he sees all the benefits of the Honors Program and is thankful to have the opportunity to share this knowledge with his mentees.
His honors courses opened up his eyes to the value of a different set of skills and he is already witnessing the benefits come to fruition. "You become confident in your ability to lead," Gross said. Throughout his role as an honors mentor, he has found it rewarding to see community begin to blossom in his class and said it's a point of pride whenever they complete another successful class.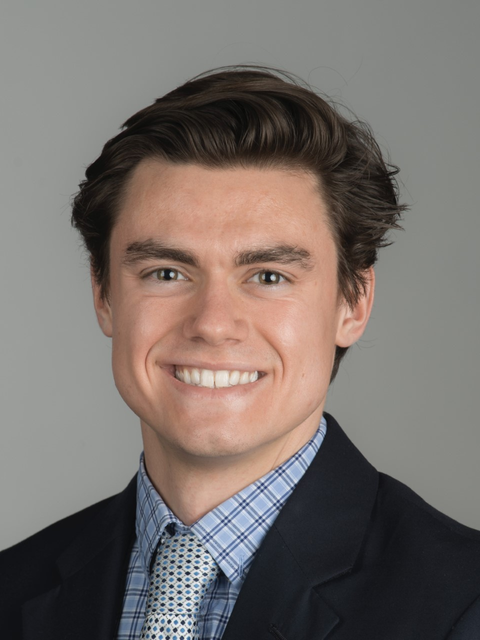 "Communication, adaptability, and collaboration," he said are the skills that helped him become a better mentor, teammate, student, and now a young professional. For the last five years, he has been an involved member of the Track and Field and Cross Country Teams. He was the recipient of the Blugold Award for the 2022 season, which is awarded to "an incredible teammate," according to UW-Eau Claire Athletics.
"The award showed me that even if I don't have the title, I can still be a leader in some way," Gross said. His teammates saw those leadership qualities and this past fall semester, Gross was voted a cross country captain and also appointed to serve on the Student Athlete Advisory Committee. He embraced this leadership role and acted as a student representative for his fellow Blugolds.
"When it comes to any sort of leadership--in anything--the most important job is making sure the new people feel welcome," Gross said.
This is an outlook he has embraced on the track and in the classroom, saying that his "number one job," is to create a space for people to feel part of the honors community, his teams, and the university as a whole.
Gross emphasized that in both the Honors Program and the teams he is a part of, "you get out what you put in." He said it was important for him to take advantage of every running season and class, and encourages incoming students to really dive into what honors has to offer.
His talents, which have been fostered throughout his time in the program and commitment to his teams, will be useful as he prepares to embark on his journey after graduating. Gross will be joining Fast Enterprises, a software provider and consulting service.
As an implementation consultant, he will be responsible for interpreting a lot of open-ended projects. Gross said he feels confident knowing he will be able to hone in on the skills and knowledge he has developed throughout his time in Honors. Specifically, he emphasized that the honors senior seminar has prepared him for his future career and exposed him to new ways he can incorporate himself into new communities.
Gross is leaving a legacy by instilling these same qualities in his mentees; UW-Eau Claire Honors is excited to see how he continues to be a leader in all of his communities.