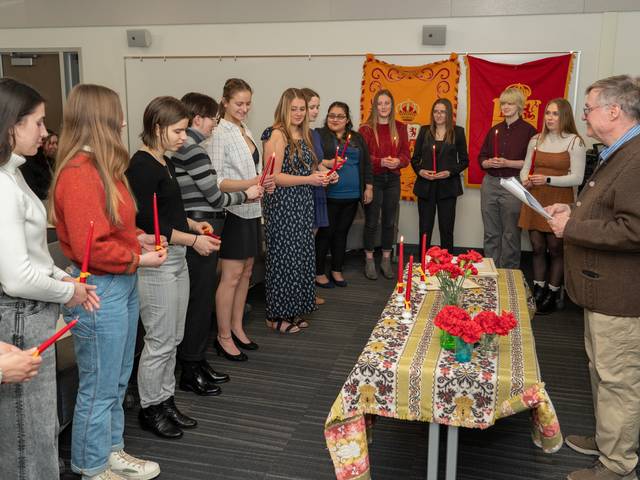 On Thursday March 16, 2023, the Delta Psi Chapter of Sigma Delta Pi Sociedad Nacional Honoraria Hispánica (National Collegiate Hispanic Honor Society) at the University of Wisconsin-Eau Claire initiated 18 new Spanish language student members in a ceremony that took place in the Department of Languages at UWEC. It was followed by a reception where families and friends of honored students were in attendance. The ceremony was co-hosted by Sigma Delta Pi Faculty Advisor Dr. Marcela Depiante and Sigma Delta Pi Faculty members: Dr. Elena Casey, Dr. Paul Hoff, Dr. Carter Smith, and Dr. José Valero.
Sigma Delta Pi's mission is:
1. To honor those who excel in the study of the Spanish language and in the study of the literature and culture of the Spanish-speaking world;
2. To foster an understanding, appreciation and respect for the peoples, cultures and societies of the Spanish-speaking world;
3. To honor those who have promoted and reinforced a better understanding of the contributions of the Spanish-speaking world;
4. To serve its membership in support of the Society's goals and ideals.
Spanish language students initiated into Sigma Delta Pi on March 16, 2023:
1. Donovan, Kelsey Lane
2. Elliot, Alexander James
3. Ford, Madelyn
4. Hemenway, Abby Rose
5. Hernandez-Cuaquehua, Mayra
6. Hoffmann, Ava
7. Jinsky, Grace L
8. Philippon, Olivia G
9. Steele, Geneva Mae
10. Storzer, Megan Elise
11. Thompson, Kristi May
12. Tiltrum, Natalie Michelle
13. Tipcke, Elise Marie
14. Torres, Sebastian
15. Villalva, Wendy
16. Voskuil, Grace Lauren
17. Young, Allison Koshiol
18. Zahn, Elizabeth M
To see the rest of the photos from the event, visit the post on our Facebook page!