After completing her Fulbright Scholar program in Malaysia from May through August 2022, Dr. Kaishan Kong, associate professor of Chinese, continued to collaborate with her colleagues in Malaysia and recently completed a global virtual exchange project to connect Blugolds with peers in Southeast Asia to enhance intercultural understanding.
In the 2022 fall semester, Dr. Kong collaborated with Dr. Kalai Vaani Rajandram, senior lecturer in the Department of Liberal Arts & Sciences at Taylor's University Malaysia, to create a global virtual exchange project that connected their students beyond the classroom walls. The purpose was twofold: it was an invaluable opportunity for students in UW-Eau Claire to extend language and culture learning beyond the national borders and build intercultural connections with peers in Southeast Asia; it was also a transformative experience for students in Malaysia to communicate with multicultural participants to become informed writers.
During this 6-week project, 40 students (20 from the Bachelor of Social Sciences program at Taylor's University, and 20 from UW-Eau Claire) conducted weekly discussions (through video recordings) to explore a variety of topics related to culture, gender, identity, and intercultural citizenship. They selected Flip (formerly known as Flipgrid), an online video recording tool, for this project. At the end of the project, Flip statistics showed that students created 95 video responses to the prompts, viewed each other's videos 4022 times, generated 118 comments, and invested over 170 hours in this virtual exchange. These statistics are encouraging as they reflect students' dedication to getting to know their partners on the other side of the world and inspire both instructors to continue the momentum of global exchange.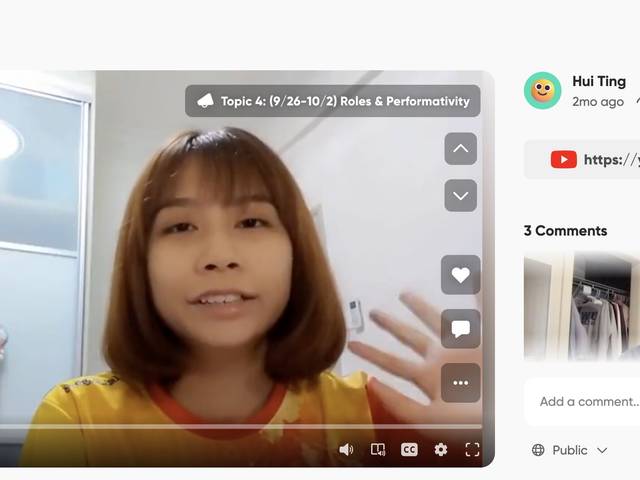 Dr. Kong and Dr. Vaani shared their project design and students' feedback at the 2022 Cultures and Languages Across the Curriculum (CLAC) Conference and 2022 Malaysian English Language Teaching Association (MELTA) International Conference, where their project received a Silver Award. The Chinese Program at UW-Eau Claire appreciates the tremendous support from the leadership team at Taylor's University, including Prof. Dr. Anindita Dasgupta, Ms. Prema Ponnudurai, and Dr. Wan Puspa Melati. More importantly, this project presents a wealth of opportunities to build relationships between students in UW-Eau Claire and their peers in Southeast Asia to enhance intercultural understanding.