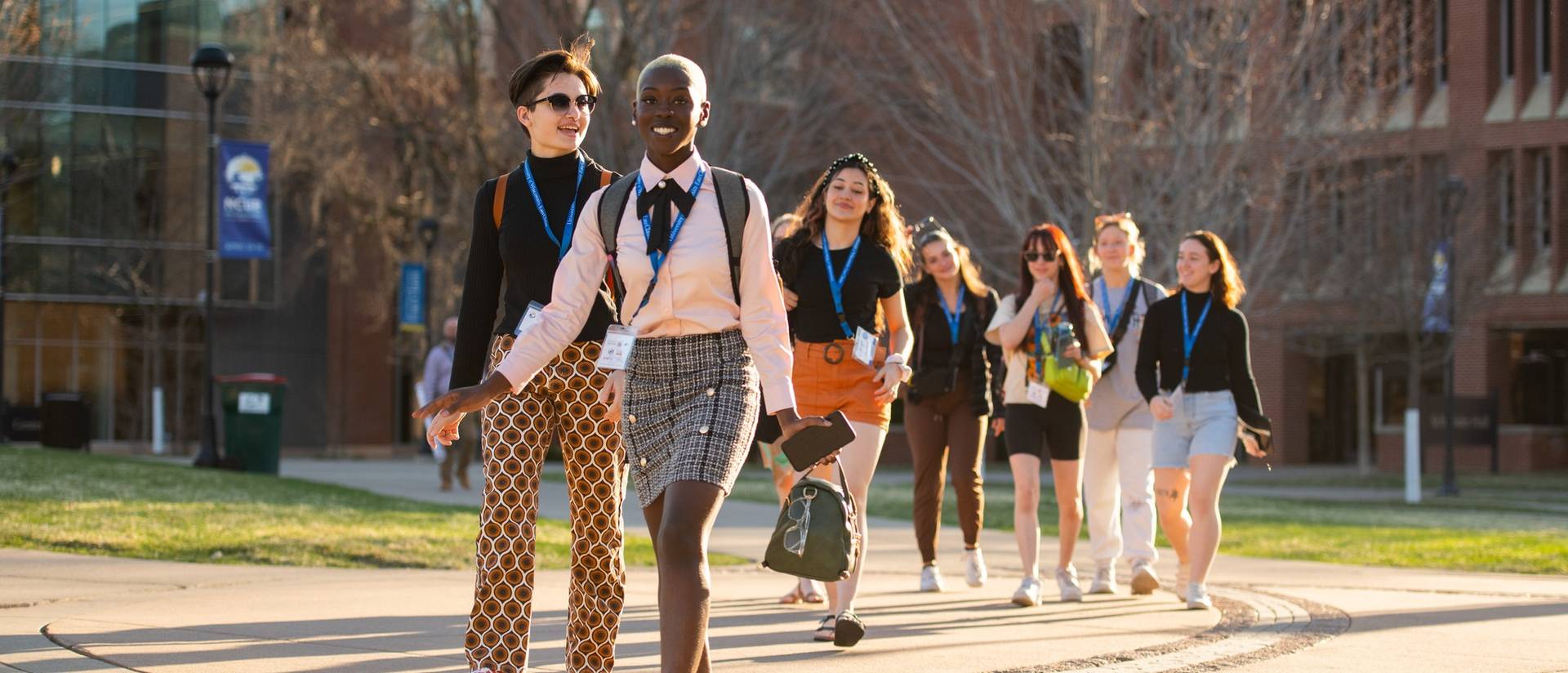 Students, faculty, guests celebrate research on national stage at UWEC
UW-Eau Claire hosted 3,600 college students and faculty members for the National Conference on Undergraduate Research April 12-15. Students, faculty and staff were able to interact and network with people from across the country, learn more about research, attend a Futures Fair with employers and graduate schools, watch great artistic performances, volunteer, and engage in entertaining activities on campus and downtown Eau Claire. Enjoy an NCUR 2023 recap below!
Plenary Highlights
We welcomed a number of notable plenary speakers to UW-Eau Claire during NCUR 2023. Please enjoy recordings of some of them below.
Fascination, Failure and Flexibility: Undergraduate Research as a Platform for Growth | Dr. Tayo Sanders
Dr. Tayo Sanders, a UW-Eau Claire graduate, is the inaugural director of the Southern Research Venture Studio, an organization focused on rapidly commercializing early-stage life sciences technology in Birmingham, Al. Prior to his current role, Tayo spent the last seven years working with investors and startups in the biotech and industrial technology space. He led due diligence on more than 15 companies, totaling over $13 million in deployed capital as a senior investment team member at the Boston-based VC firm, Anzu Partners. Tayo received a Bachelor of Science in Materials Science from the University of Wisconsin-Eau Claire and pursued a Ph.D. in Biomedical Engineering at the University of Oxford as a Rhodes Scholar.
Beyond applying classroom concepts to the real world, the research process sharpens our curiosity, hones our ability to pivot, and reminds us that failure is more common than success. This session explores how these core aspects of undergraduate research support personal and career development and more.
Innovation and Entrepreneurship to Solve Neglected Challenges in Health Care | Dr. Tim Nelson
Dr. Tim Nelson, a UW-Eau Claire graduate, is a physician and researcher at Mayo Clinic Health System Eau Claire. Dr. Nelson presented insight into how the COVID-19 pandemic affected the delivery of short- and long-term health care both at the Mayo Clinic Health System and across the entire system in the United States.
Health care is broken. That is a general perspective that is grounded on experiences from the full spectrum of participants. Technology has never been better positioned to fundamentally improve and disrupt the broken ways of the past. Building an ecosystem of partnerships is critical to define the gaps, building cross-functional teams, and solving impossible problems. Research and innovation must be coordinated and synchronized for the future of a better healthcare experience.
Unlock Your Genius through Undergraduate Research | Dr. Lisa Schulte Moore
Dr. Lisa Schulte Moore, a UW-Eau Claire graduate and 2021 MacArthur Fellow, is the Associate Director of the Bioeconomy Institute, and Professor in the Department of Natural Resource Ecology and Management at Iowa State University.
Dr. Schulte Moore shares how the knowledge, skills, and networks students build through undergraduate research provide a launch pad toward future success. She shares her path from first-generation college student to MacArthur Fellow and the stories of several amazing students she has had the honor to work with as a university professor.
Leading, Serving and Competing | Dr. Jeff Thompson
Dr. Jeff Thompson is a pediatrician, author, Executive Advisor of Practice Greenhealth, and Chief Executive Officer Emeritus at Gundersen Health System.
Dr. Jeff Thompson shared insight about how rising leaders can build a path forward to serve, innovate and lead. Included are stories of amazing women and men, as well as the systems insights they used to compete and excel.