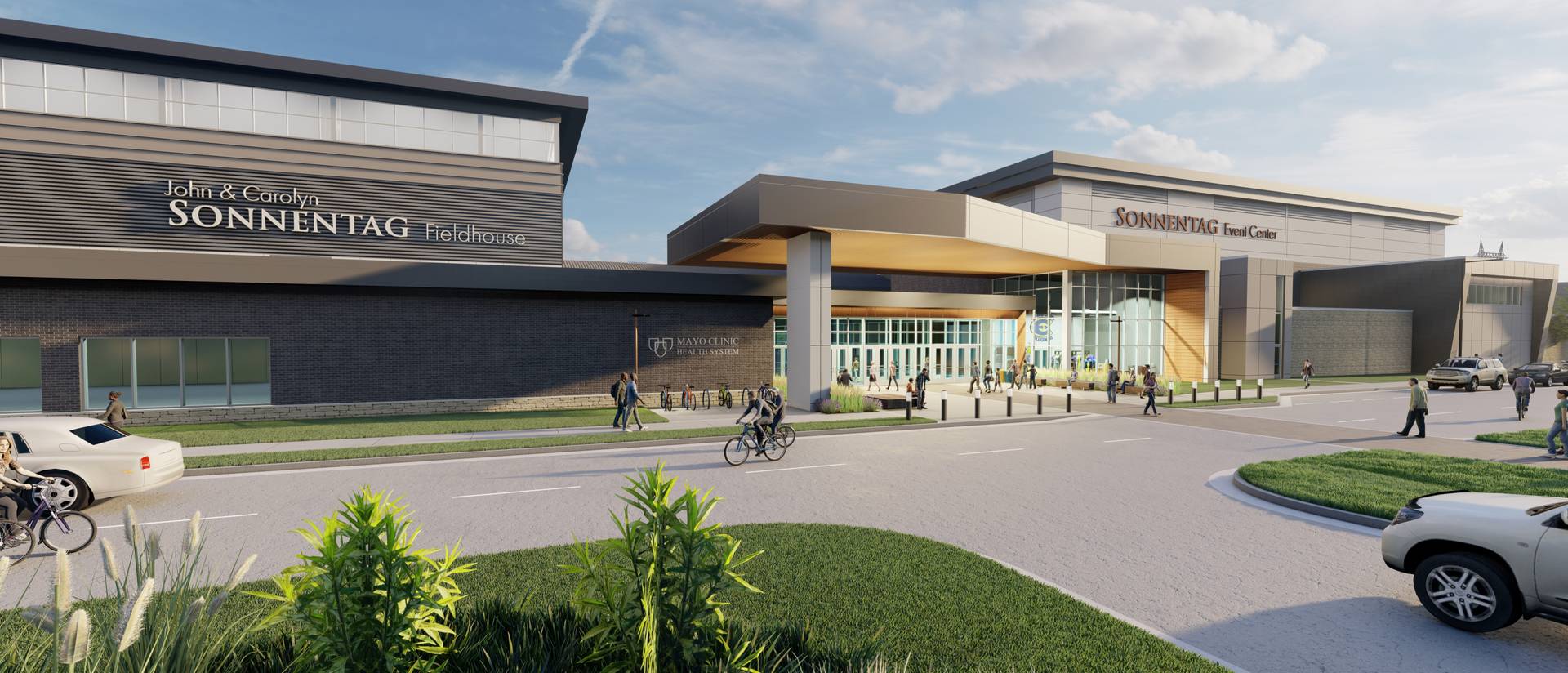 Northwest Wisconsin's Premier Event Facility
Opening in 2024, the Sonnentag Event Center & Fieldhouse at the County Materials Complex will be the largest indoor event venue in northwestern Wisconsin. Built and operated as a public-private partnership, the Sonnentag Center was first envisioned in 2014. Construction began in the spring of 2022 and will replace UW-Eau Claire's Zorn Arena.
The complex will include:
The Sonnentag Event Center, a 104,900-square-foot major event facility with a total capacity of 5,000 (seating for 3,944, standing room for an additional 1,056)
The John & Carolyn Sonnentag Fieldhouse, an 81,300-square-foot space featuring a 100-yard artificially turfed field.
The UW-Eau Claire Center for Health and Wellbeing, a 14,200-square-foot facility with a view of the Chippewa River.
Offices for Blugold Athletics
A new Mayo Clinic Health System Diagnostic Imaging and Sports Medicine Center.
Surface parking to serve the entire complex, including electric vehicle charging stations
Land suitable for expansion or development of private businesses that could complement and serve activities at the event and recreation complex.
The event center design is highly versatile and will accommodate multiple types of events and activities, including serving as a home for UW-Eau Claire men's and women's basketball games and other athletics tournaments, large indoor concerts and other entertainment or sports events. UW-Eau Claire students also will benefit from a two-story, much-needed fitness/wellness facility that will alleviate pressure on overutilized and undersized on-campus recreation and sport facilities. The convenient location also is accessible from the Chippewa River State Trail that connects to campus and a bus route to ensure access for all students.
Interested in Working at Sonnentag?
We're hiring! Watch here for information about careers.
General Manager Position

The General Manager (GM) works with the executive team and reports to the Assistant Vice President of Operations. The GM will be part of the new facility opening planning team with responsibility for overall operations of the Sonnentag Event Center & Fieldhouse, including booking and scheduling of events, building and equipment repairs or replacements, facility access and memberships, and capital improvement planning on behalf of the client. They are responsible for managing the arena, fieldhouse, fitness center, all events and programs, budget, and site operating team to client needs and CENTERS standards.

This position will be the senior site staff member and work on-site at University of Wisconsin-Eau Claire. As one of the Midwest's top public universities, UW-Eau Claire gives students a distinct advantage in school, career, and life, with dynamic and culturally diverse learning experiences and a vibrant community in which to live, learn and grow.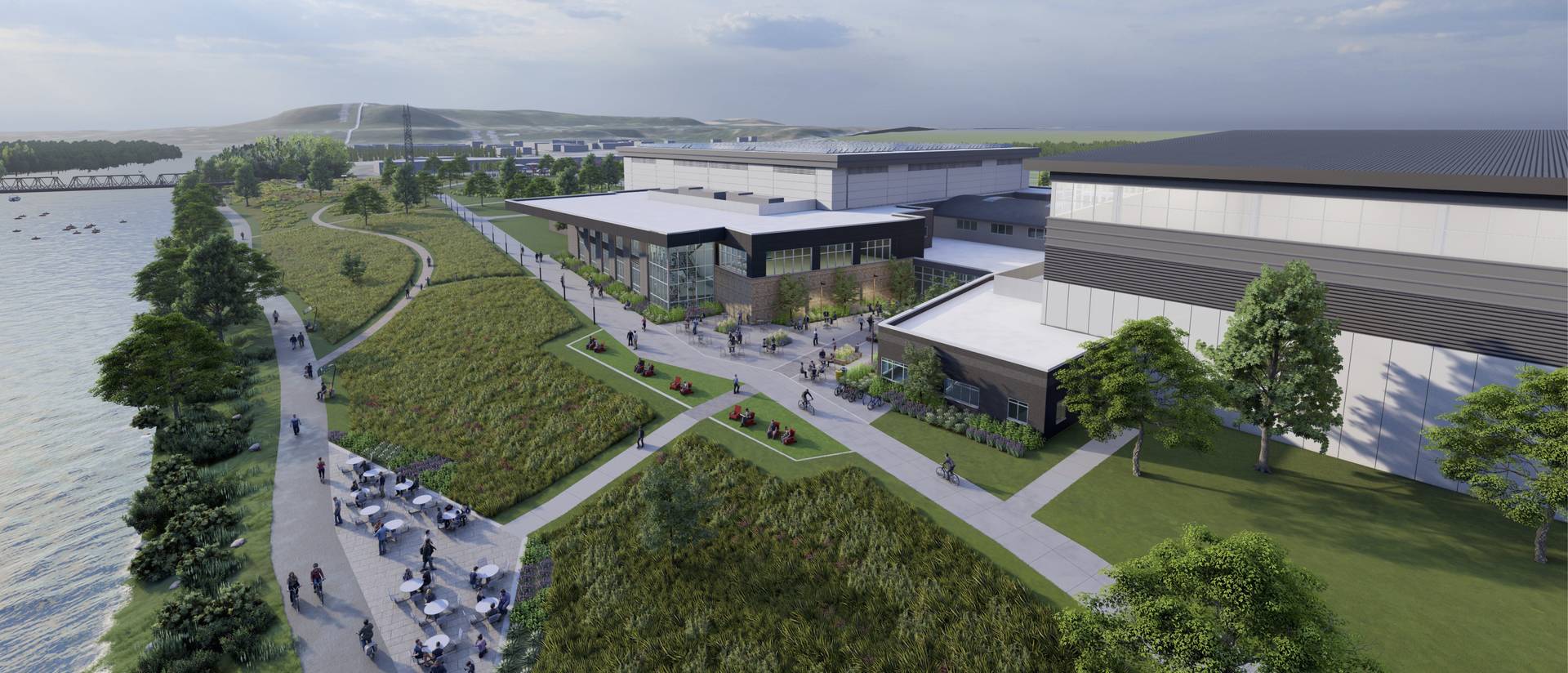 Sustainability
The Sonnentag Event Center & Fieldhouse are envisioned as beacons of sustainable design, with all components benefitting from forward-thinking construction and utility concepts.
Read more about the center's sustainable features

Here are some of the many ways an exceptional commitment to sustainability was designed into the facilities:

190 vertical geothermal wells under the parking area. The wells are 500 feet deep, and the entire well field comprises 36 miles of pipe that will provide heating and cooling for the facilities – instead of using fossil fuels.

Indoor water use is reduced 30% and outdoor water use 50% compared to a calculated usage baseline specific to the Eau Claire area. The outdoor water use baseline is calculated using an EPA or LEED (Leadership in Energy and Environmental Design) calculator. Out of the 8.6 acres of landscape area on the County Materials Complex site, about 3 acres will be irrigated (1.8 acres of irrigated lawn and 1.2 acres of irrigated planting beds), while approximately 5.6 acres is non-irrigated landscape (including 4.3 acres of native seed mix, 0.7 acre of storm water plantings, 0.4 acre of rock mulch, and 0.1 acre of non-irrigated lawn).

Heavy use of native plantings. The landscape architecture plans call for over 2,500 native plants to be planted on the site, as well as large expanses of a shortgrass prairie seed mix.

Removal of 80% of suspended solids from storm water runoff.

Green vehicle parking, which gives cleaner vehicles preferred locations in the parking lot.

10 electric vehicle charging stations.

Bike and pedestrian friendly site. Bike paths go through and around the site, connecting to Eau Claire's major bike path network. The site design also minimizes drive lanes adjacent to the building and creates landscape and hardscape features that prioritize pedestrians and walkers over vehicles. Most parking is kept away from the building.

Goals of net-zero energy and net-zero carbon. This means the complex is designed to use 100% renewable, non-carbon-emitting energy sources. All electricity is to come from an off-site PV solar farm Xcel Energy is planning in cooperation with the university, and primary heating/cooling will be supplied by a sizable geothermal system being built on-site.

The complex is an electric building with no fossil fuel consumption with the exception of the Mayo Clinic facility, which will use natural gas.

LED lighting throughout the facility.

Building automation systems provide a high level of electrical and mechanical systems control. Sensors that monitor occupancy, daylight, and carbon dioxide tell the systems when they can turn off lights and/or reduce heating/cooling.

The building envelope is made efficient by high-performance insulation, energy-efficient wall systems that reduce thermal transfer, and windows and doors with improved thermal characteristics.

Monitoring will continue after construction to understand the environmental impact of the advanced systems and to improve the systems' performance.

LEED certification is being pursued.

A WELL Health Safety Rating is being pursued based on operations, maintenance, and emergency policies that improve occupants' health and well-being.
History
The Sonnentag Event Center & Fieldhouse at the County Materials Complex has been made possible through the generosity of alumni John and Carolyn Sonnentag. The Sonnentags have committed a gift of cash and land valued at approximately $70 million for the construction of the County Materials Complex. This gift is one of the largest of its kind in state history, and will solidify the event center that was first proposed in 2014.
Read more about the center's history

The UW-Eau Claire Foundation announced in August 2014 a commitment of approximately $10 million in land and money from UW-Eau Claire alumni John and Carolyn Sonnentag and their family foundation. On Dec. 6, 2021, the UW-Eau Claire Foundation accepted a historic gift of $70 million from the Sonnentags, whose remarkable support for the project covers all the philanthropic goals for the project. The County Materials Complex will include the John and Carolyn Sonnentag Fieldhouse and the Sonnentag Events Center. The 21 acres along the Chippewa River donated by the Sonnentags had been used as a manufacturing and sales site by County Materials Corp., their third-generation family-owned concrete manufacturing business. The gift was intended to help UW-Eau Claire replace Zorn Arena and provide value to the broader community through the larger events and performances made possible by a modern event facility.

Project partners include Blugold Real Estate, Mayo Clinic Health System-Northwest Wisconsin, the City of Eau Claire, Visit Eau Claire, and UW-Eau Claire. Development efforts are coordinated through Eau Claire Community Complex, Inc., the non-stock, non-profit corporation that will build and own the complex and lease space to the key tenants. In April of 2021, the UW-Eau Claire student body voted by an overwhelming margin to ensure student access to the facility by establishing a new segregated fee dedicated to the complex's operations. The referendum supported a fee of not-more-than $90 per semester for use and maintenance of the complex. The UW System Board of Regents ratified the new fee and lease in July of 2021, clearing the way for construction to begin in the spring of 2022.

Construction on the County Materials Complex began in the spring of 2022. The Chippewa Valley YMCA, originally a partner in Eau Claire Community Complex, Inc. and the Sonnentag Complex, announced they were choosing not to participate in construction after assessing their fundraising policies in December 2019. In January 2020, the city of Eau Claire signed a letter of intent to participate in the project in conjunction with Visit Eau Claire. The project development was paused in April of 2020 as project partners focused on leading their organizations through the COVID-19 pandemic, and resumed in February of 2021.

Blugold Real Estate, a supporting entity of the UW-Eau Claire Foundation, acquired additional land adjacent to the site, which is south of Menomonie Street across from the entrance to Carson Park. From east to west, the Sonnentag Complex site now includes the former locations of Student Transit-Eau Claire, County Materials Corp. and Fabick Cat.

The donated land's proximity to existing sports and recreation facilities, including Hobbs Ice Arena, Carson Park's multiple sporting venues, and the YMCA Tennis Center, positions the Sonnentag Complex as a key development in Eau Claire's existing sports corridor.