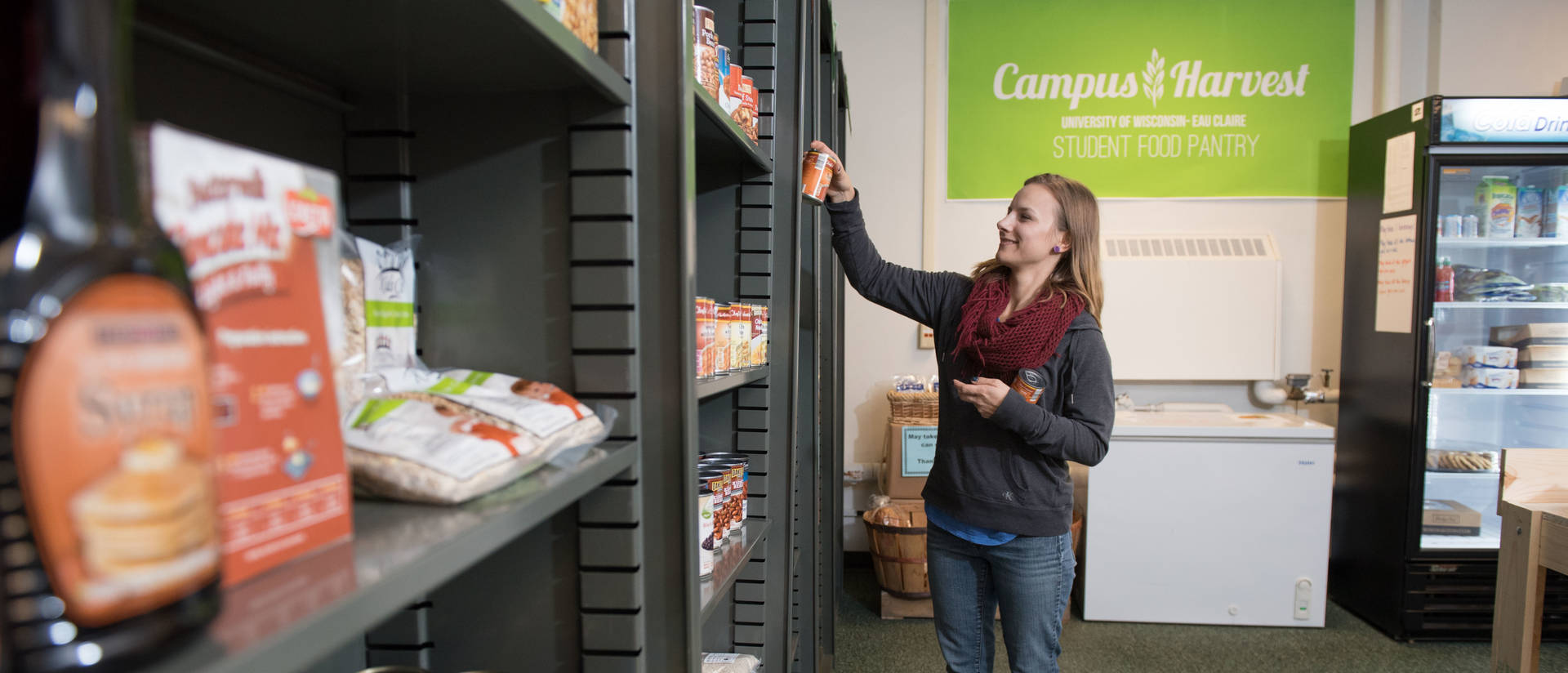 Meeting the food needs of our students
LOCATED IN BREWER HALL ROOM 49
Summer 2023 Hours: Wednesdays & Thursdays 2:30 - 4:30 PM
Opened in September of 2014, the Campus Harvest food pantry was developed to aid the high percentage of students that self-identified as in need of supplemental food assistance.
Run by student volunteers and open exclusively to University students, Campus Harvest is an easy way for our campus community to become a more unified whole. A majority of our products are collected through donations (both monetary and nutritional) from the campus and community.
Free Meals Available at Hilltop - Riverview Cafe
We are excited to partner with UWEC Dining to offer free meals for students in need. Students facing economic challenges, unemployment, inequality, violence, etc. are able to request free on-campus meals. All students (on and off campus, regardless of if you have a meal plan) can request meals. New meal requests are processed weekly. Students will be notified when meals are made available to them. Meals can only be used at Riverview Cafe in Hilltop. You will tell the cashier to use a block meal.
To request meals, fill out this form.
Become a Volunteer at Campus Harvest
Pantry staff
The face of the organization, these are the volunteers who will be completing daily operations inside the pantry during our open hours. Responsibilities include greeting and assisting clientele, stocking shelves when new food arrives, and keeping pantry records.
Requirements: Ability to lift up to 40 lbs, availability during pantry hours, confidentiality agreement
Food Delivery
This position requires the least amount of time from our volunteers but is crucial for the continuation of our pantry. When food is ordered from Feed My People, it is delivered between Brewer and Centennial on Tuesdays between 9:00 and 10:00 a.m. We rely on our volunteers to transport the food from the delivery truck to the pantry in Brewer 49.
Requirements: Ability to lift 40+ lbs.
Food Drive Assistant
When other organizations contact us about running a food drive, we want to help as much as we can. This position does not require constant hours and availability, as we will only call on you when a food drive is in the works. Responsibilities include connecting with the organization running the drive and providing assistance when needed.
Help get the word out
Another way that you can help the efforts of Campus Harvest is to assist us in our periodic advertising efforts. Volunteers are needed for work on posters, chalking, and public relations for the pantry and any Campus Harvest events, as well as contacting businesses about donations and posting flyers.
Visiting the Campus Harvest Pantry
NOTE: Students may visit the pantry once per week.
More information
For questions or more information, please contact Sarah!
Dean of Students

Student Assistance Manager

Schofield Hall 240 Complex, Eau Claire | Directions