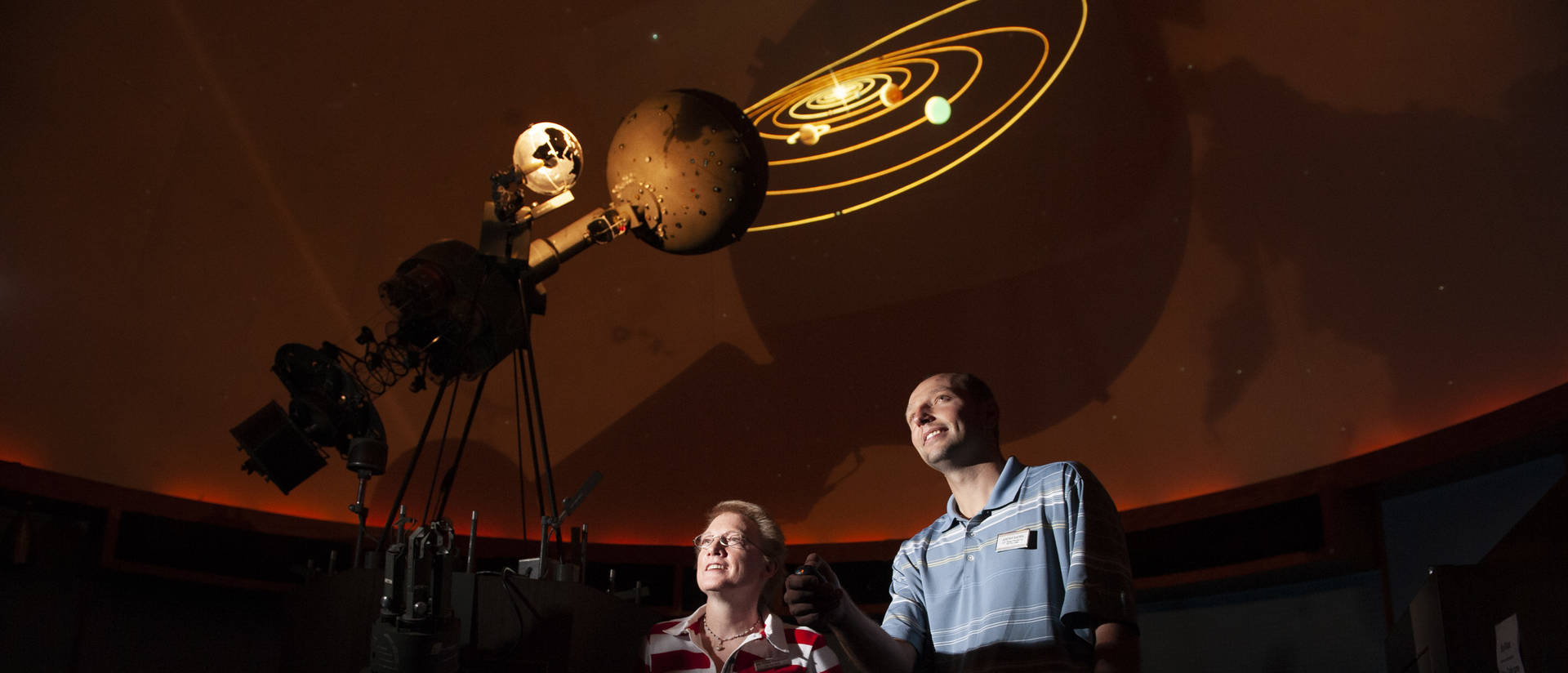 Attention: No Public Show on Thursday, March 23

Due to UWEC's spring break, we will have no public show on Thursday, March 23. We apologize for the inconvenience. Please check us out during another Thursday night public show.
Whether it is cloudy or clear, warm or cold, you can enjoy a star-filled sky in the comfort of the L.E. Phillips Planetarium, located in Phillips Science Hall. You can attend a public showing to be immersed in the night sky while learning about astronomy or book a private showing for your class or other group.
$5 Admission to Public Show

$75 45-Minute Private Show
Public shows
From February 2, 2023, through May 11, 2023, public shows begin promptly at 7:00 p.m. on Thursday evenings and typically include a 45-minute interactive presentation about astronomy with plenty of time for questions. At this time, admission of $5 per guest must be paid in cash at the door.
During summer and winter breaks, there are no public shows.
Private shows
During the 2023 spring semester at UWEC (through May 19), we are happy to announce that we are again scheduling private planetarium shows. Private shows are unavailable during the summer or fall due to insufficient staff.
Private shows usually include a 45-minute presentation and ample time for questions from the audience. They are a perfect component for a class field trip. The Planetarium seats up to 50 guests. With some planning, your group's trip to the planetarium could be combined with other science outreach opportunities at UWEC.
A single private show for up to 50 guests costs $75, while multiple shows for larger groups will cost more.
To start booking a private show, please complete the form linked below, and a representative will get back to you within a few days.
Getting to the Planetarium
The Planetarium is located at 101 Roosevelt Ave, Eau Claire, WI in the north wing of Phillips Science Hall, at the center of the James Newman Clark Bird Museum. Parking is available just south of Phillips Science Hall for public shows.