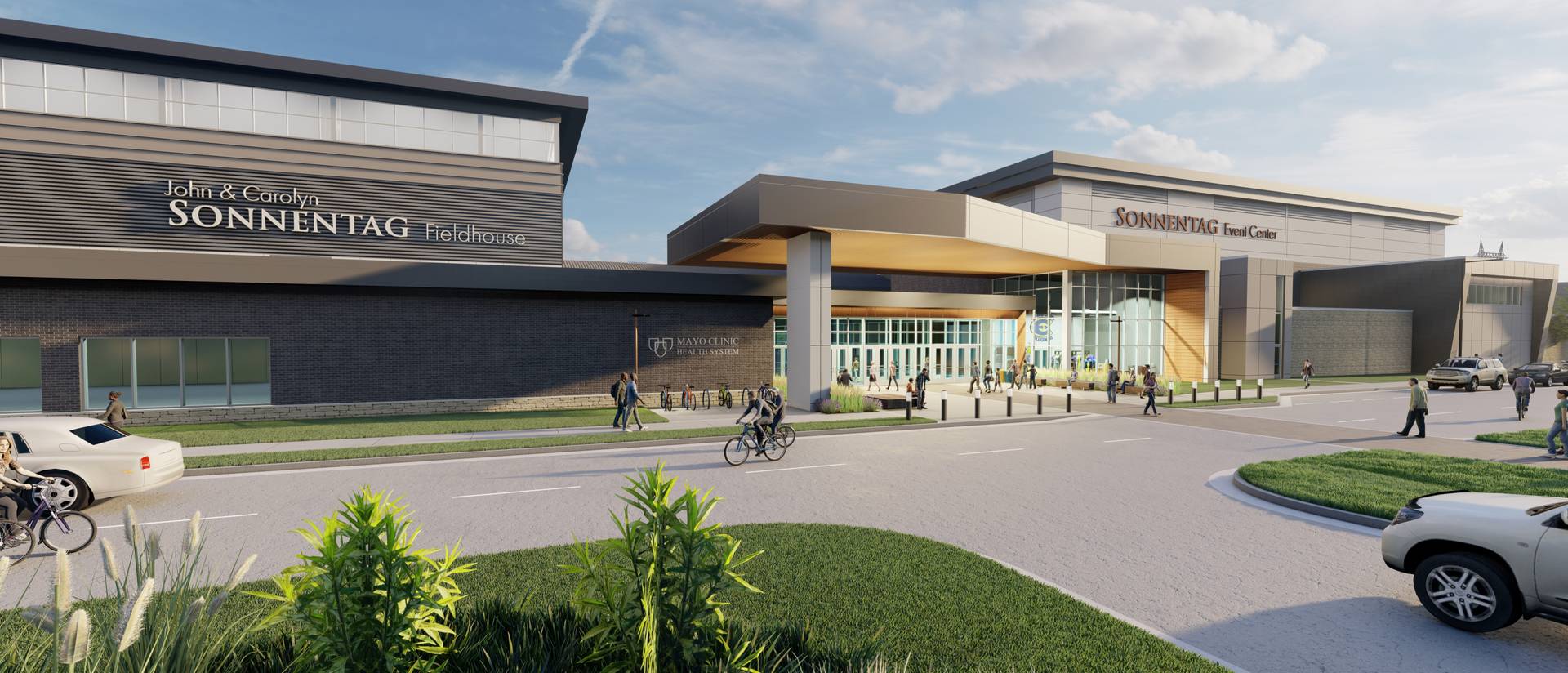 A sustainable partnership to serve campus and community
The County Materials Complex is a public-private partnership to construct a major event facility, a 24-hour fitness/wellness center, fieldhouse and a Mayo Clinic Health System sports medicine clinical location. First envisioned in 2014, construction on the complex is beginning in the spring of 2022 and will replace UW-Eau Claire's Zorn Arena to become the largest indoor event venue in northwestern Wisconsin.
The UW-Eau Claire Foundation announced in August 2014 a commitment of approximately $10 million in land and money from UW-Eau Claire alumni John and Carolyn Sonnentag and their family foundation. On Dec. 6, 2021, the UW-Eau Claire Foundation accepted a historic gift of $70 million from the Sonnentags, whose remarkable support for the project covers all the philanthropic goals for the project. The County Materials Complex will include the John and Carolyn Sonnentag Fieldhouse and the Sonnentag Events Center. The 21 acres along the Chippewa River donated by the Sonnentags had been used as a manufacturing and sales site by County Materials Corp., their third-generation family-owned concrete manufacturing business. The gift was intended to help UW-Eau Claire replace Zorn Arena and provide value to the broader community through the larger events and performances made possible by a modern event facility.
Project partners include Blugold Real Estate, Mayo Clinic Health System-Northwest Wisconsin, the City of Eau Claire, Visit Eau Claire, and UW-Eau Claire. Development efforts are coordinated through Eau Claire Community Complex, Inc., the non-stock, non-profit corporation that will build and own the complex and lease space to the key tenants. In April of 2021, the UW-Eau Claire student body voted by an overwhelming margin to ensure student access to the facility by establishing a new segregated fee dedicated to the complex's operations. The referendum supported a fee of not-more-than $90 per semester for use and maintenance of the complex. The UW System Board of Regents ratified the new fee and lease in July of 2021, clearing the way for construction to begin in the spring of 2022.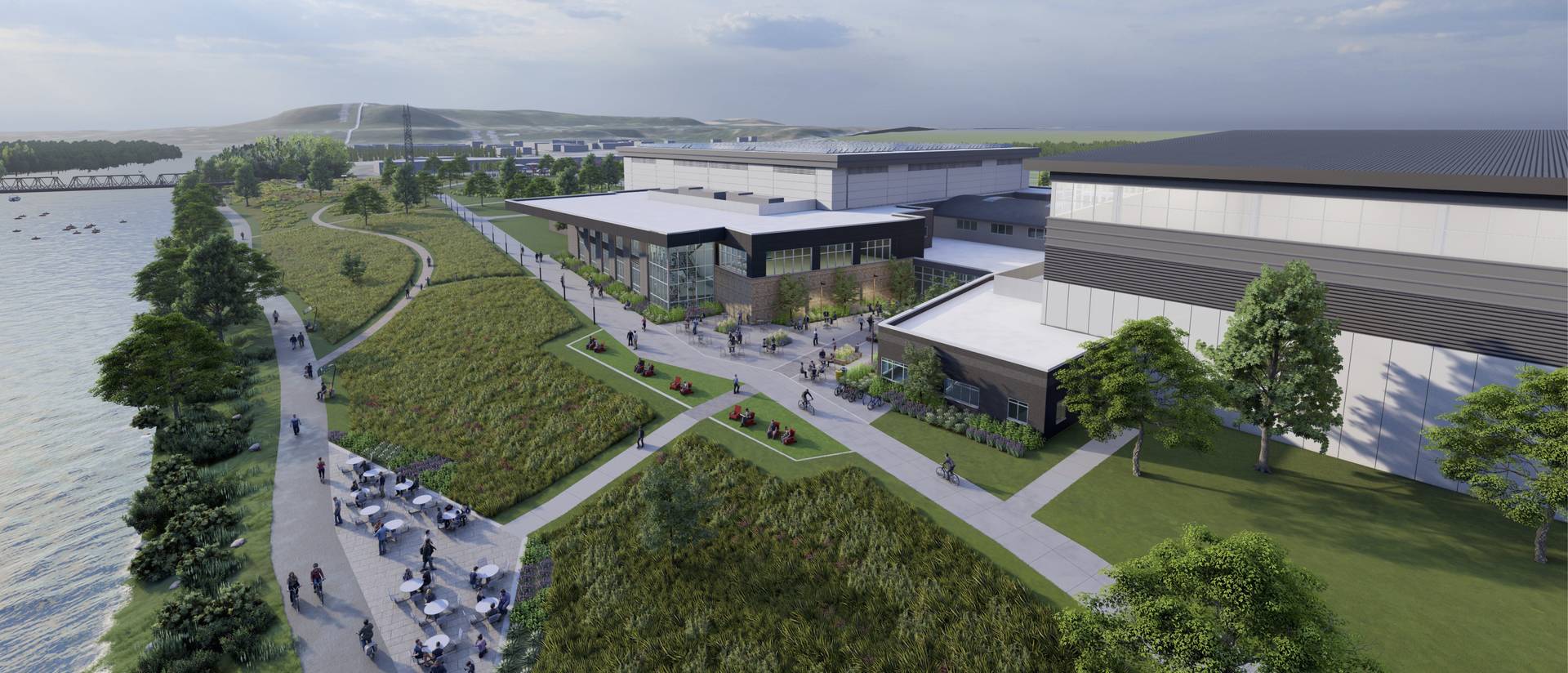 The event facility design is highly versatile and would accommodate multiple types of events and activities, including serving as a home for UW-Eau Claire men's and women's basketball games and other athletics tournaments, large indoor concerts and other entertainment or sports events. UW-Eau Claire students also will benefit from a two-story, much-needed fitness/wellness facility that will alleviate pressure on overutilized and undersized on-campus recreation and sport facilities. The convenient location also is accessible from the Chippewa River Bike Trail that connects to campus and a bus route to ensure access for all students.
Mayo Clinic Health System will construct a new clinical location as part of the complex, where they plan to offer sports medicine, human performance enhancement, and imaging services.
As currently envisioned, the complex will include:
a 172,502 square foot major event facility with a total capacity of 5,000 (3,250 fixed seats, 1,320 floor seats, and limited standing room);
two-story UW-Eau Claire wellness and recreation facilities;
offices for Blugold Athletics;
four sport courts suitable for basketball, volleyball, etc.;
a Mayo Clinic Health System clinical location offering sports medicine, human performance enhancement, and imaging services;
a 100-yard artificially-turfed fieldhouse;
surface parking to serve the entire complex, including electric vehicle charging stations; and
land suitable for complex expansion or development of private businesses that could complement and serve activities at the event and recreation complex.
The complex is envisioned as a beacon of sustainable design, with all components benefitting from forward-thinking construction and utility concepts. The major event center is being designed as a resilient facility suitable for service as a community shelter in the event of large-scale emergencies or disasters, with solar panels and storage batteries to sustain operations during power outages.
Blugold Real Estate, a supporting entity of the UW-Eau Claire Foundation, acquired additional land adjacent to the site, which is south of Menomonie Street across from the entrance to Carson Park. From east to west, the Sonnentag Complex site now includes the former locations of Student Transit-Eau Claire, County Materials Corp. and Fabick Cat.
The donated land's proximity to existing sports and recreation facilities, including Hobbs Ice Arena, Carson Park's multiple sporting venues, and the YMCA Tennis Center, positions the Sonnentag Complex as a key development in Eau Claire's existing sports corridor.
Construction on the County Materials Complex will begin in the spring of 2022. The Chippewa Valley YMCA, originally a partner in Eau Claire Community Complex, Inc. and the Sonnentag Complex, announced they were choosing not to participate in construction after assessing their fundraising policies in December 2019. In January 2020, the city of Eau Claire signed a letter of intent to participate in the project in conjunction with Visit Eau Claire. The project development was paused in April of 2020 as project partners focused on leading their organizations through the COVID-19 pandemic, and resumed in February of 2021.
For more information, contact:
Kimera Way, Blugold Real Estate Foundation, 715-836-5180
Brad Kemis, Market and Johnson, 715-832-8752