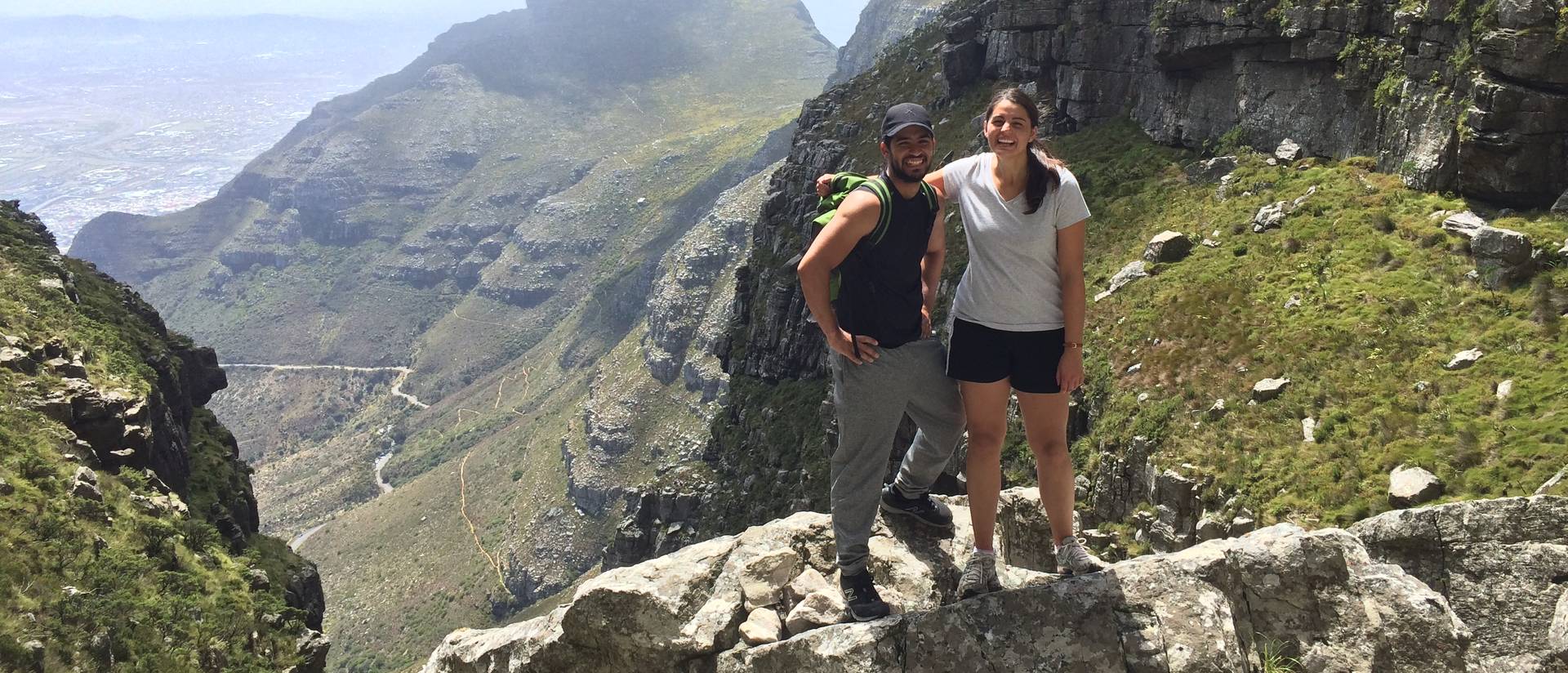 Find the internship that fits you
Our goal in the social work program is to prepare you for a career within the field. A quality field placement internship is essential to meeting this goal. Students can choose between a block placement, which is four days a week in a social work agency for a semester, or a concurrent placement, which is two days a week over two semesters. We also have several students who complete international internships each year.
Our internship program is a collaborative effort between our students, faculty mentors, and outside social work agency members. This collaboration provides an effective learning environment for you to apply the values, ethics, skills and techniques from the classroom. This experiential learning helps prepare you for your career. Whatever area of social work you are interested in, we have an internship that fits.
Social work internship placements
Adoption and foster care

In situations where families cannot, or will not provide healthy environments for children, adoption and foster care can be alternatives. Social workers are the professionals who assess whether such alternatives are necessary. They assist birth parents considering adoption as well as provide support services for raising children. Social workers serve foster parents that wish to adopt, families searching for a child to adopt, and families post-adoption. They also may evaluate potential foster families, and help them prepare for a foster child. Social workers provide services to children in foster care and children going through adoption, and they work with other organizations to ensure the success of foster or adoptive home placements.
AIDS/HIV

Acquired Immune Deficiency Syndrome (AIDS) is the last stage of HIV infection. Social workers work directly with individuals who are HIV positive as well as their families. They coordinate access to community services such as medical care, health insurance, home health care, social security, disability insurance, and financial assistance programs. Social workers in this field are exposed to many populations including gay, lesbian, heterosexual, transgendered, and a variety of different ethnic populations.

AIDS Resource Center of Wisconsin (ARCW)

Internship placements available: Concurrent preferred, block possible
Number of internship placements available: one
Internship activities/workload description: Work with individuals who are HIV positive. Work with employers, Division of Vocational Rehabilitation, school system. Work with a variety of organizations, especially those that deal with public entitlement within a 13 county region. Work with community volunteers, medical personnel, clinics, and Social Security Administration.
Types of clients served: Male and female of various ages. Special populations: gay, lesbian, heterosexual, transgender, Latino, Native American, European Americans, African Americans, Hmong. Persons with HIV/AIDS.
Aging/gerontology/rehabilitation

Social workers provide services to the elderly to gain and maintain an appropriate standard of living and level of functioning. These services facilitate a greater level of independence and social interaction, as well as physical, and emotional well-being. Social workers have direct contact with the elderly by providing counseling to them and their families, arranging for income assistance, volunteer opportunities, transportation, and medical treatment. They also facilitate support groups and organize recreational activities. In addition, they are often involved in advocacy and policy planning for older adults.
Child and family welfare

Social workers work towards safe, nurturing environments for children by supporting and strengthening families. Intervention in a family may prevent a bad situation from becoming a crisis. Activities include assisting with housing, transportation, and income maintenance; as well as providing parenting techniques, money management skills, and homemaker services. Social workers also coordinate services provided by multiple sources and advocate for services that are not yet available. Clients may be struggling with issues such as domestic abuse, neglect, poverty, unemployment, addictions, and lack of resources.
Developmental disabilities

Social workers assist people who have cerebral palsy, autism, epilepsy, mental retardation, and other conditions in order to facilitate adjustment and social functioning. Services include counseling, case management, basic training, referral to community resources, occupational training and placement, assessing needs, and educational programming.
Domestic violence and sexual assault

Domestic violence and sexual assault are issues that affect their victims every day of their lives. These situations affect the way their victims communicate, interact, deal with and view their romantic partners, children, families, and society. While 90% of these victims are female, one should not forget the 10% that are male. Social workers may provide services such as court watch and legal advocacy, as well as facilitating crisis lines, transportation, and counseling. They may also work in shelters performing intakes, caring for children, and leading support groups. Social workers also act as case managers, as well as find available services and advocate for needed resources.
Employment/occupational services

Social workers assist in increasing job performance and satisfaction by improving efficiency, productivity, morale, and creativity in the company setting. Many social workers are employed at employee assistance programs, which they may own privately or unions and corporations may employee them as well. The social worker may work off-site or on-site, in an office setting or work directly at the place of business.
Health care

Social workers serve as a liaison between medical personnel, patients and their families. They work with patients at all levels of treatment including initial assessment of needs, tending to the physical and emotional necessities of the patient during treatment, discharge planning and post-hospitalization support. Hospitals, clinics, hospices, health maintenance organizations, group homes, and nursing homes are just some of the groups related to health care that may employ a social worker. The social workers assist medical and emotional treatment by providing grief counseling, education, performing research, and coordinating services.
International and out-of-area

International social workers get to deal with issues affecting various cultures. Social workers are involved in multiple tasks. They may work with refugee programs, international adoptions, relief programs, and in developing service delivery systems and development of international policy. Organizations such as the United Nations, the World Health Organization and the Red Cross all employ social workers. Traveling, language, and exposure to many cultures makes international social work an exciting and challenging field.

The Social Work Department has taken several steps to ensure that all students are exposed to and have an opportunity to work with minority populations. The social work program has begun to add a limited number of distance placements for a small number of students each semester. In recognition of the fact there are many diversity and policy practice focused agencies outside of the immediate geographic area of the social work program, and by taking advantage of newly emerging distance communication technologies, the social work department has been slowly adding a limited number of high quality placements that will be out of the immediate geographical area of the Chippewa Valley.

In addition, the faculty has determined that these placements are intended for highly motivated students who also have well-developed learning and career goals that mesh well with the distant field internship opportunities. Consequently, the out-of-area diversity and policy practice field placements have an additional and separate application and selection procedure that parallels the annual Internship Application and Orientation process.

Placements identified and utilized thus far include an international placement in a child-caring institution in South Africa, a site serving Hispanic/Latino secondary and post-secondary students in Green Bay, and a school social worker internship position in Saint Paul, MN, serving multi-cultural schools in Saint Paul, MN.
Justice and corrections

People enter the corrections arena as a result of predicaments such as addiction, poverty, abuse, inadequate education and other contributing factors. Due to this fact, the justice and corrections field of social work not only deals with the punishment aspect of the judiciary system, but also focuses on rehabilitation. A major role social workers take in this field is a probation and parole officer. In this role, they provide counseling on job training, addiction treatment, remedial classes, life skills and basic competencies. Social workers also testify in court as expert witnesses, make recommendations to judges, and work closely with their client's attorneys.
Mental health

Mental health social workers labor to enhance their client's strengths to better equip their clients to deal with their problems. Through counseling, social work professionals aid clients by providing crisis intervention. They evaluate client needs, coordinate services, raise community awareness, and provide educational programming. They also work with other organizations such as schools, police departments, judicial systems, social service agencies, and all levels of government.
Policy practice

Social workers in the field of policy practice analyze and assess the effectiveness of existing and proposed programs in order to ensure that these programs are meeting the needs of clients. By molding these programs, policy practice professionals influence the welfare of many who utilize social programs. They identify needs, conduct research to find effective ways to combat problems, and propose policies that have wide reaching effects. From education, to violence, to homelessness, to abuse, to mental illness, to health care, to adoption, and addictions; social workers involved with policy affect every aspect of humanity. Social workers may also form coalitions, develop networks of supporters, and lobby for current legislation.
School social work

School social workers provide the link between students, parents, schools, and the community. Working with other professionals in the schools, social workers address the physical, emotional, developmental, and educational needs of students. They provide intervention for students who are facing behavior problems, learning difficulties, emotional struggles, abuse, neglect, domestic violence, and other problems. School social workers also make home visit to assist families and assess the child's home environment.