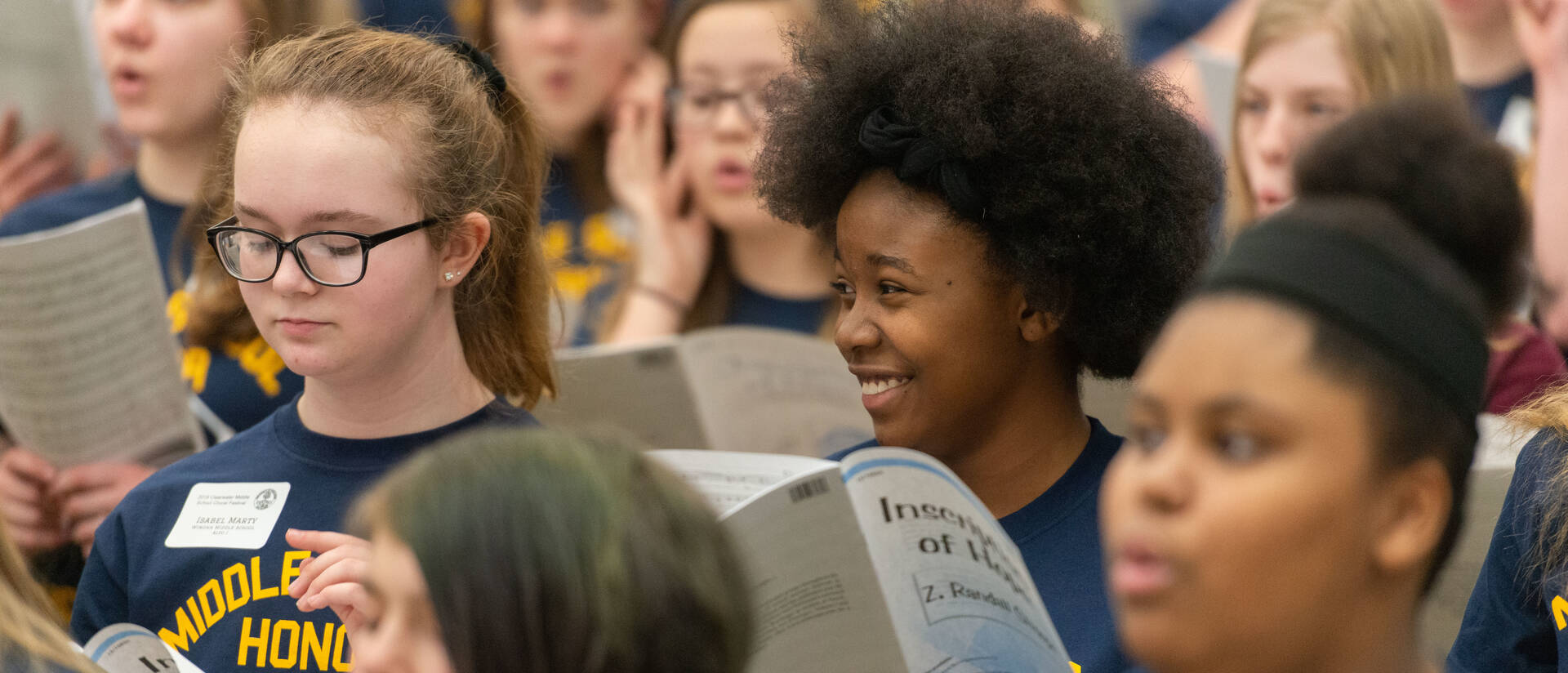 Middle School Honor Choir Clinician Bios
Here you can learn more about the members of the Middle School Honor Choir
Frank A. Watkins

Frank A. Watkins, a native of Omaha, Nebraska, taught secondary choral music in Texas for six years. He holds degrees in piano performance from Jackson State University (BM), the University of Arkansas (MM), and choral conducting from Northwestern University (MM) and Michigan State University (DMA). Watkins is in demand as guest conductor and clinician. Recent engagements include the 2013 Mid-Michigan Honor Choir, University of Nebraska Omaha Collegiate Choir Concert Series (2014), Dunn St. Croix Honor Choir (2015), Lakeland All-Conference Honor Choir (2015), University of Nebraska Omaha Middle School Honor Choir (2016), and the Eau Claire Chamber Orchestra (2016). Future engagements include the 2016 Great Northern Conference All- Conference Choir and the 2017 Big Nine Festival Honor Choir in Red Wing, MN. He has presented workshops on choral methods for the International Music and Christian Arts Conference, Michigan State University, and the Ohio State University. In 2015 he presented at both the Wisconsin Music Educators State Convention and the National Collegiate Choral Organization National Conference. Watkins joined the faculty of the University of Wisconsin-Eau Claire in 2014. In 2016, he was appointed Conductor and Music Director of the Eau Claire Chamber Orchestra. A dynamic young conductor, Watkins' love and passion are teaching. He believes that in order to educate, you must first inspire! It is his goal to make an impact…not just an impression on the lives of those that follow his baton.
Chris McGinley

Christopher G. McGinley is a dynamic conductor and music educator based in the Twin Cities where he pursues the DMA in conducting at the University of

Minnesota and directs music at Trinity Lutheran Congregation. He holds faculty positions at Augsburg University (music education) and the University of Wisconsin–Eau Claire (music education and directing the Women's Chorus, Symphonic Choir, and The Singing Statesmen). His choirs are noted for their vibrant and nuanced interpretations of works from diverse eras and genres. A strong advocate for community music, McGinley has served intergenerational choirs in Philadelphia, Wisconsin, and Oregon. He holds degrees in conducting and music education from the University of Oregon and University of Delaware, and pursued further studies in conducting at the Frost School of Music. His mentors include Kathy Saltzman Romey, Matthew Mehaffey, Karen Kennedy, Sharon Paul, and Paul Head.
G. Phillip Shoultz, III

Known for fostering community and inspiring action among people of all ages and abilities, G. Phillip Shoultz, III,

enjoys a multifaceted career as artist, educator, consultant, speaker and pastoral musician. Phillip is the associate artistic director of VocalEssence where his most visible impact is seen through his visionary leadership as founding conductor of the VocalEssence Singers Of This Age and through his engaging Take 5 with GPS daily livestream and series of instructional videos.

Phillip serves Westwood Lutheran Church as Cantor for Music, Worship, and the Arts. He is the principal Host for Young People's Concerts with the Minnesota Orchestra and frequently appears throughout the U.S. as a guest clinician, adjudicator, and consultant.

Expanding boundaries and creating wider access to the choral arts is one of Phillip's passions. Each year, he serves as mentor to educators through classroom visits and as an adjunct faculty member in the Graduate Music Education program at the University of St. Thomas. Additional post secondary teaching experiences include work at the University of Minnesota, Georgia State University, and the University of Georgia while he completed his studies.

The winner of the 2015 American Choral Directors Association Graduate Student Conducting Competition, Phillip appeared as a Conducting Fellow with the Oregon Bach Festival, Chorus America, Choral Music Experience Institute and several other summer programs. He has prepared choirs for performances in Canada, England, Estonia, Finland, France, Germany, Mexico, and Russia. In 2017, he was named as an ACDA International Conductors' Exchange Program Participant.

His service as a public school educator in Georgia garnered multiple Teacher of the Year honors. While there, he also served as Artistic Director to an adult community choir (Gwinnett Choral Guild) and a youth organization (Atlanta Institute for Musicianship and Singing), founding director of the Georgia Young Men's Ensemble, a part of the Grammy Award–winning Gwinnett Young Singers, and the Assistant Director for the professional chamber choir, Coro Vocati.

In the summer of 2020, Phillip created "Table for More," a consulting and conversation platform to help arts organizations, schools, and churches consider ways to create more belonging through equitable and inclusive practices. Phillip enjoys biking, boxing, and all things related to sports and food and believes in the transformative power of shared singing experiences. He lives in St Louis Park, Minnesota with his wife, Michelle and their two children (Malachi and Lydia Grace).