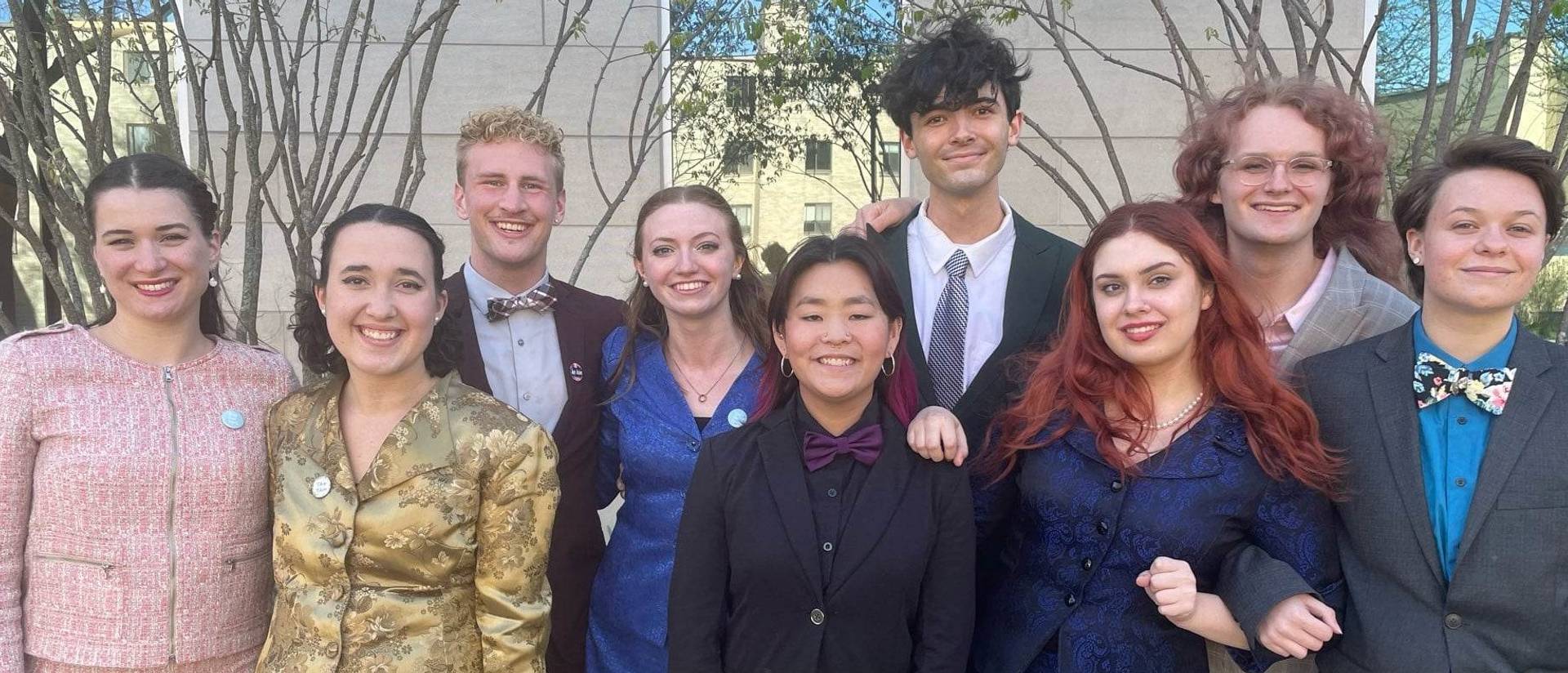 Do you like speaking to large audiences, researching topics you're passionate about, and creating a legacy that will forever be remembered? Then joining our forensics team could be the perfect choice. With over 15 national titles, 32 state championships, and an amazing alumni support system, our program is one of the best in the nation.
Who We Are
The UW-Eau Claire's Forensics team is a collegiate speech team which competes throughout the year at 29 different tournaments across the country from September to April. Our legacy dates back to 1916 at the founding of UW-Eau Claire and is one of the few programs nationwide to have competed in both the American Forensic Association National Speech Tournament (AFA-NST) and the National Forensics Association (NFA) national tournament every year since their founding.
The program has a long history and legacy that exists as the team's foundation, which is built upon every year by each new team and new talent. By joining UWEC Forensics, you'd be part of a co-curricular activity, gain various skills, and build lifelong friendships. Our members come from various backgrounds ranging from communication and journalism to theatre to computer science. No matter what your academic discipline is, we have a place for you on the forensics team.
While many of our members have a forensics background, we encourage any student interested to join, even if you've never competed at a forensics tournament before. We will coach, provide support, and help you reach your personal best while you're on the team. So what do you have to say? We're ready to hear you.
Coming into college, I knew I wanted to be an actuarial science major. At the same time, I had fallen in love with public speaking while on my high school's speech team. When I actually got here, I decided, why not try both? By being a part of the UWEC Forensics team, you develop skills and experience that will set you apart from any other applicant out there in a math or science field. I can honestly say that forensics has changed my life, and I owe my current job and career path to being a part of the forensics family.
What We Do
The UW-Eau Claire's Forensics team is a collegiate speech team which competes throughout the year at 29 different tournaments across the country from September to April. There are a total of 11 different events in which students participate in, including limited prep, public address, and interpretation events. Check out the Forensic Event Descriptions and find one that will be the right fit for you. No matter you are interested in, we can help you find a topic and format to find and hone your unique voice. Just check out some of the incredible topics our students have spoken on in recent years:
An After-dinner Speech on the neurodivergent accessibility in public events
A Communication Analysis on the excommunication of the Nativity School of Worcester
A Drama Interpretation on the regrets of conversion therapy leaders
A Duo Interpretation on the state of the modern day witch hunts in reproductive rights
An Informative Speech on do-it-yourself HRT
A Persuasive Speech on the the use of "overdose risk scores" for pain-relief prescriptions
A Poetry program on the struggles of newly minted adults who lost their teenage years to Covid-19
A Program Oral Interpretation on the legacy of the Boy Scouts of America
A Prose Interpretation on feminist rage as a response to patriarchal control
Whatever you're passionate about, we encourage you to find what you want to say and say it! The topics are limitless and whether you choose to be silly or serious, your voice will be heard.
Forensics has been a crucial component of my education and growth here at UWEC. Each speech that I hear teaches me more about equity and advocacy. Constructing my own speeches has taught me more about researching, writing and communication than I thought was possible in an activity.