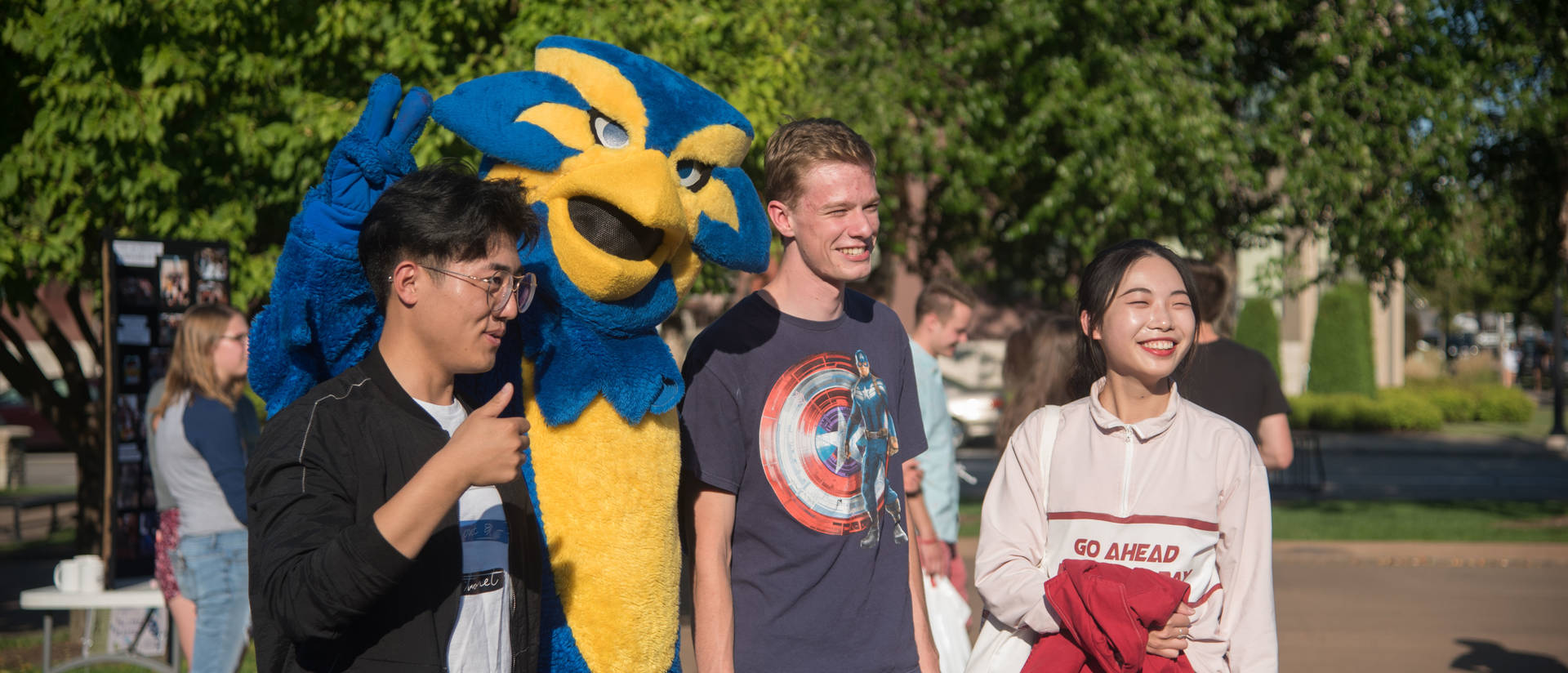 Some people are just super outgoing, have all the confidence in the world to walk into a crowd or a room and instantly start talking and feeling at ease. These people find change fun and exciting. And then there are the rest of us . . . face it, there are SO many changes for new freshmen, it can be a lot to handle. We get it.
The First Year Experience is designed to help. It is a way for new students to get connected to services, transition to college life at UW-Eau Claire and become part of the Blugold community, both in and out of the classroom.
A three-sided approach to success
The FYE program takes a three-layered approach to make the step to college life easier for new students — classroom experiences, online learning modules and campus events. We want students to feel at home not only in their residence hall, but also during class, during interactions with offices and services on campus and at the multitude of campus events where lasting connections can be made.
First Year Only courses

First Year Only (FYO) sections strictly enroll first year students. FYO courses will have a dedicated faculty member and a student mentor who is there to answer questions, announce upcoming events and help new students navigate UW-Eau Claire. These are typically 100 level courses spread across many disciplines, most fulfilling a liberal education category. See the courses listed below.
Online modules

FYE online modules are the perfect solution for the new student who has questions about a process or a policy but is so exhausted from studying and hiking the hill that leaving the comfort of the futon seems impossible. These handy modules are available whenever a student needs to become familiar with things like the library and resources, service learning, technology resources on campus, and much more.

The purpose of the modules is to ensure your success with academics, connect you to student services, and help you transition to college life. Each module takes less than 1 hour to complete and can be accessed anywhere you have internet. These modules are located on Canvas and include videos, discussion boards, and other materials to further assist you with your college experiences outside of the classroom. You will need a UWEC username and password to access Canvas.

Click here to begin to the Online Modules on topics such as:

Academic Advising and Registration
Academic Integrity
Adjusting to College Life
Equity, Diversity and Inclusiveness
Financial Literacy
Majors and Careers
Housing and Residence Life
Liberal Education
Mental Health
Registration Workshop
Service Learning
Student Collaborative Research
Study Strategies
Technology Resources
Time Management

Instructors who want access to the Bluprint for Blugold Online Modules, please contact Ryan Weichelt or Mary Hoffman.