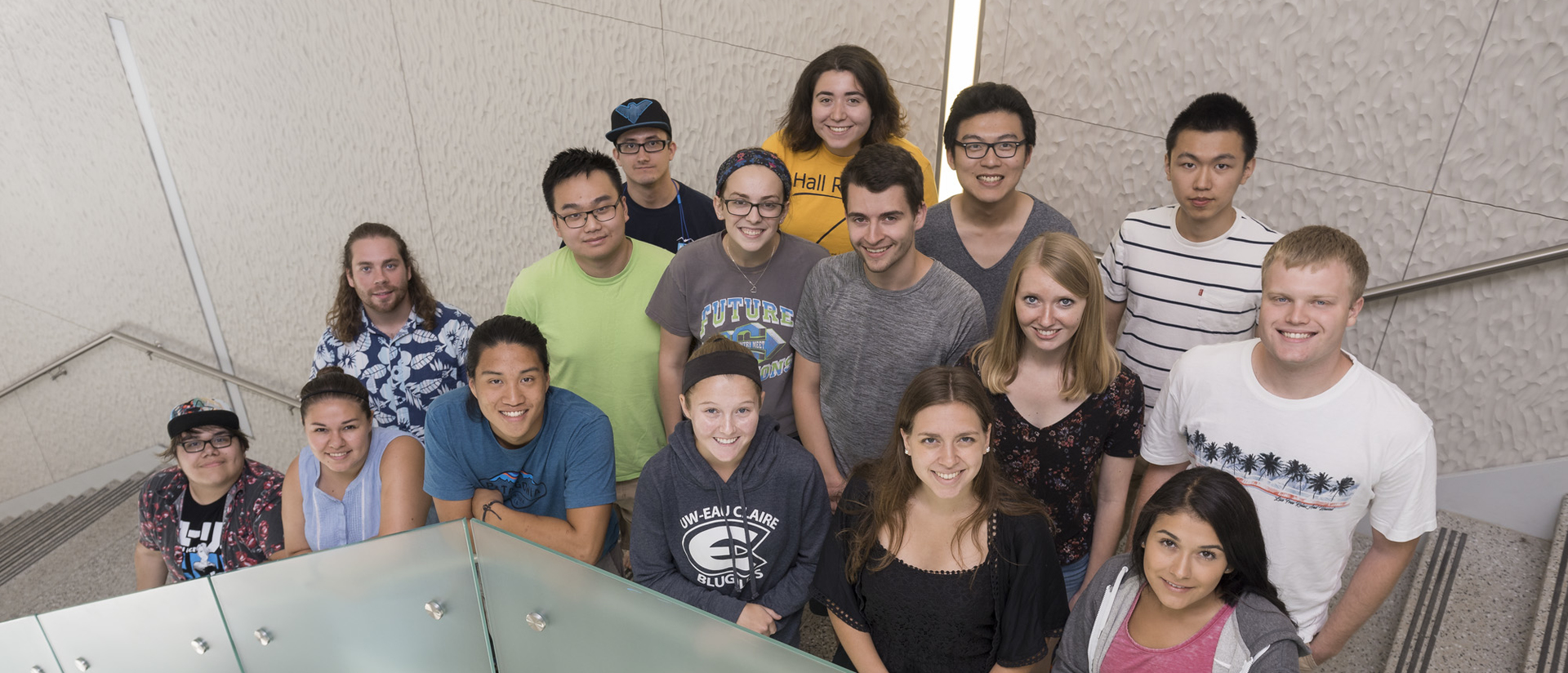 Tutors, Supplemental Instruction + more
When we say we want to increase retention and graduation rates, we mean it; and we provide the resources to prove it. Our students have every advantage and resource we can provide in an effort to increase student success. The Academic Skills Center (ASC) is one place to find many of these free programs and services, from tutoring to Supplemental Instruction(SI) and resources for college success.
Our Academic Skills Center is one of only two UW-System tutoring centers to be certified by the College Reading & Learning Association (CRLA). This tutor training prepares our tutors with a set of skills and practices recognized internationally by over 1100 certified programs around the globe. Find out more about the CRLA here.
Peer tutoring services
Our peer tutoring and Supplemental Instruction models are designed with you in mind — students often work best with other students, and this program has a proven record of success. Hundreds of students take advantage of free weekly tutoring sessions. Students work with the same tutor for these pre-scheduled weekly sessions, allowing for a relationship that builds over time and successfully tackles the struggles at hand in a personalized way.
And better still, all these incredible services are free of charge to students. Ensuring your success is our job, and this is a service UWEC is dedicated to providing to students.
Subjects tutored
economics
music therapy
geography
physics
Spanish
French
biology
chemistry
*may vary per semester
Supplemental Instruction
Supplemental Instruction (SI) is a program offered by the Academic Skills Center for students in select courses. The SI leaders attend all lectures for the courses in the program and facilitate sessions that allow you to:
review and discuss important concepts.
develop appropriate strategies for studying.
prepare for exams in peer led sessions.
engage in concepts with classmates.
All SI sessions are free. You may attend as many sessions as you wish, and there is no need to sign up for sessions in advance. As the schedule and line-up of leaders changes each semester, current students can find that information here.
As an SI leader, it's rewarding to see others succeed the way I did when I utilized the service. It benefits my studies because the fundamentals of chemistry are constantly reinforced — I have a deeper understanding because of Supplemental Instruction.
Jobs in ASC
In addition to being an incredible resource for students seeking help with coursework the Academic Skills Center also provides jobs to an average of 100 students each semester. Perhaps that could be you!
The requirements becoming a tutor or supplemental instructor for each individual subject matter areas vary, in general student who are hired for these jobs:
have experience tutoring.
maintain a B average.
are able to provide faculty references.
enjoy peer interaction.
have a track record of being consistently reliable.
are eligible for federal work-study.
Current students can find out more about applying through Career Services.
GEN courses
The Academic Skills Center's Developmental Education Program offers credit-bearing classes that introduce students to campus life, promote college learning strategies, and increase self-confidence. The following courses are offered:
GEN 100 Foundations for Academic Success

This 1 to 3-credit course assists students to make the most of their first year at UW-Eau Claire and lay a solid groundwork for continued success. Each course section is designed for special populations such as the Student Success Program, Students with Disabilities, and Student Support Services participants.
GEN 110 Strategies for Academic Success

This 2-credit course assists students in their academic, personal, and social development to improve academic performance and retention. Selected sections are designed for students experiencing academic difficulty but may also be taken by any students who want to improve study habits. No co-requisite course is required.
GEN 201 Student Success Seminar

This 2-credit course assists students returning to the university on probation after suspension who must regain good academic standing.

Enrollment requires pre-assignment permission from the Academic Skills Center or from the instructor.