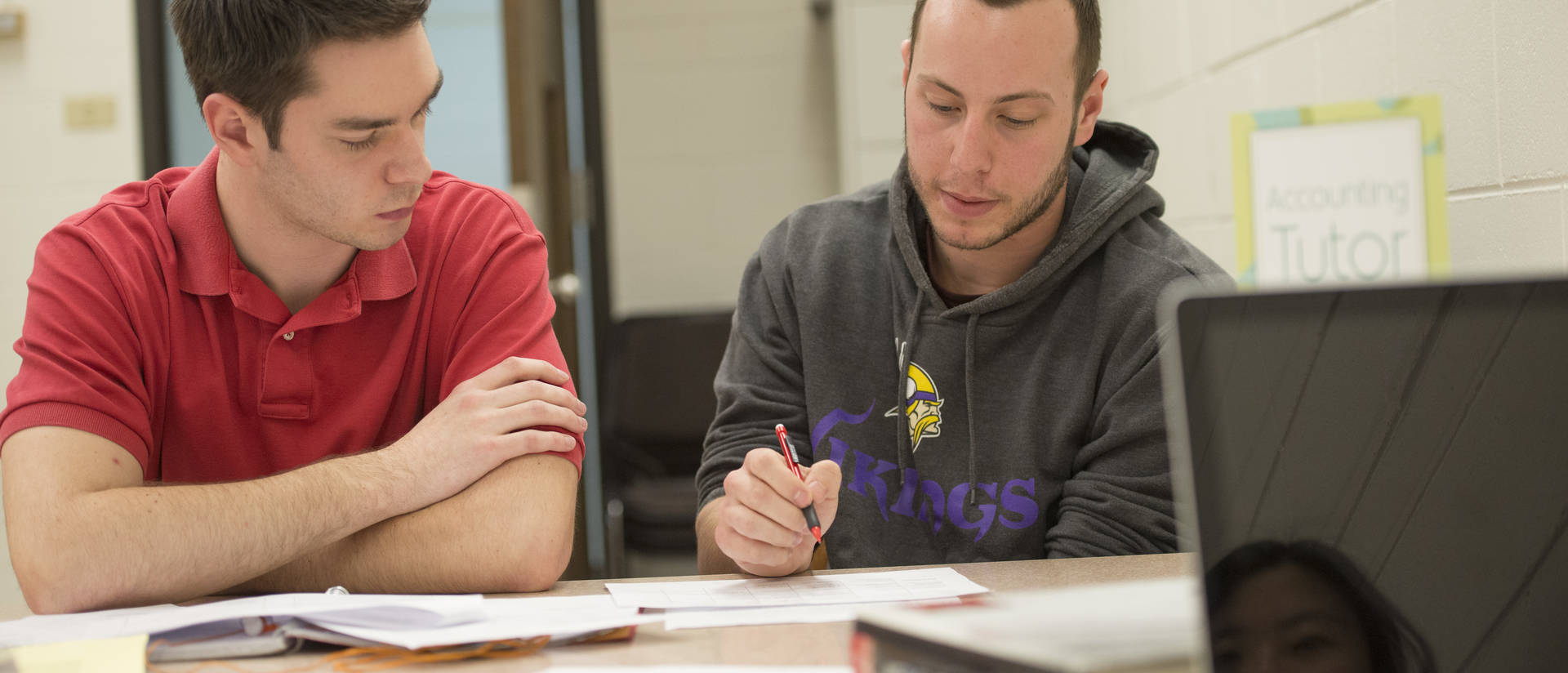 The Academic Skills Center offers once a week tutoring for all students in many language courses, physical science courses, and social science courses. Please see below for courses being offered this semester.
For students seeking help with their academic skills, we offer Peer Academic Coaching. See below for more information on this new program!
The Academic Skills Center is located in the Student Success Center in Centennial 2104. To find out about services we offer, please contact us by phone at 715-836-2200 or by email at ASC01@uwec.edu.
Biology
BIOL 105: General Biology
BIOL 151: Biology of Humans
Chemistry
CHEM 105 - General Chemistry I
CHEM 106 - General Chemistry I Lab
CHEM 109 - General Chemistry II
CHEM 150 - Survey of Biochemistry
Economics
ECON 103 - Principles of Microeconomics
ECON 104 - Principles of Macroeconomics
French
FREN 101 & 102 - Beginning French
FREN 201 & 202 - Intermediate French
Geography
GEOG 104 - The Physical Environment
GEOG 111 - Human Geography
Geology
GEOL 102 - Oceanography
Music
MUSI 110 - Music Appreciation
MUSI 141 - Theory Written I
MUSI 142 - Theory Aural I
MUSI 227 - Music History & Society I
MUSI 246 - Theory Written III
MUSI 247 - Theory Written III
Physics
PHYS 100 - Physical Science
PHYS 211 - General Physics
PHYS 212 - General Physics
Spanish
SPAN 101 - Beginning Spanish I
SPAN 102 - Beginning Spanish II
SPAN 201 - Intermediate Spanish I
SPAN 202 - Intermediate Spanish II
Japanese
Japanese 101 - Beginning Japanese l
Japanese 102 - Beginning Japanese ll
Japanese 201 - Intermediate Japanese l
Japanese 202 - Intermediate Japanese ll
Peer Academic Coaching
The Academic Skills Center is now offering Peer Academic Coaching. Available to all UWEC students, these hour-long meetings offer students an opportunity work with a trained peer to improve a variety of academic skills, including time management, study skills, note-taking, and reading comprehension. For more information or to schedule a session, contact Dr. Jack Reid (ReidJM@uwec.edu).
Ideas for help when tutoring isn't available
Contact a member at the front desk in the Student Success Center by phone or email at 715-836-2200 or email at ASC01@uwec.edu. We may be able to refer you to other services available on campus.
Check to see if your course has Supplemental Instruction.
See your course professor during office hours. Professors hold office hours specifically to meet with students and are available to assist you.
Search your textbook title on the Internet. Many publishers have additional resources available to assist students using their textbooks.
Stop by the academic department office to inquire about any available tutoring or resources to assist students. Some departments or student groups offer drop-in tutoring hours.
See the free resources available at Khan Academy at https://www.khanacademy.org/.
Start your own study group with people in your class. The library has study rooms available.
If your course struggles are related to test performance, difficulty with textbook reading, or insufficient
note-taking skills, ask the Academic Skills Center about Academic Coaching.