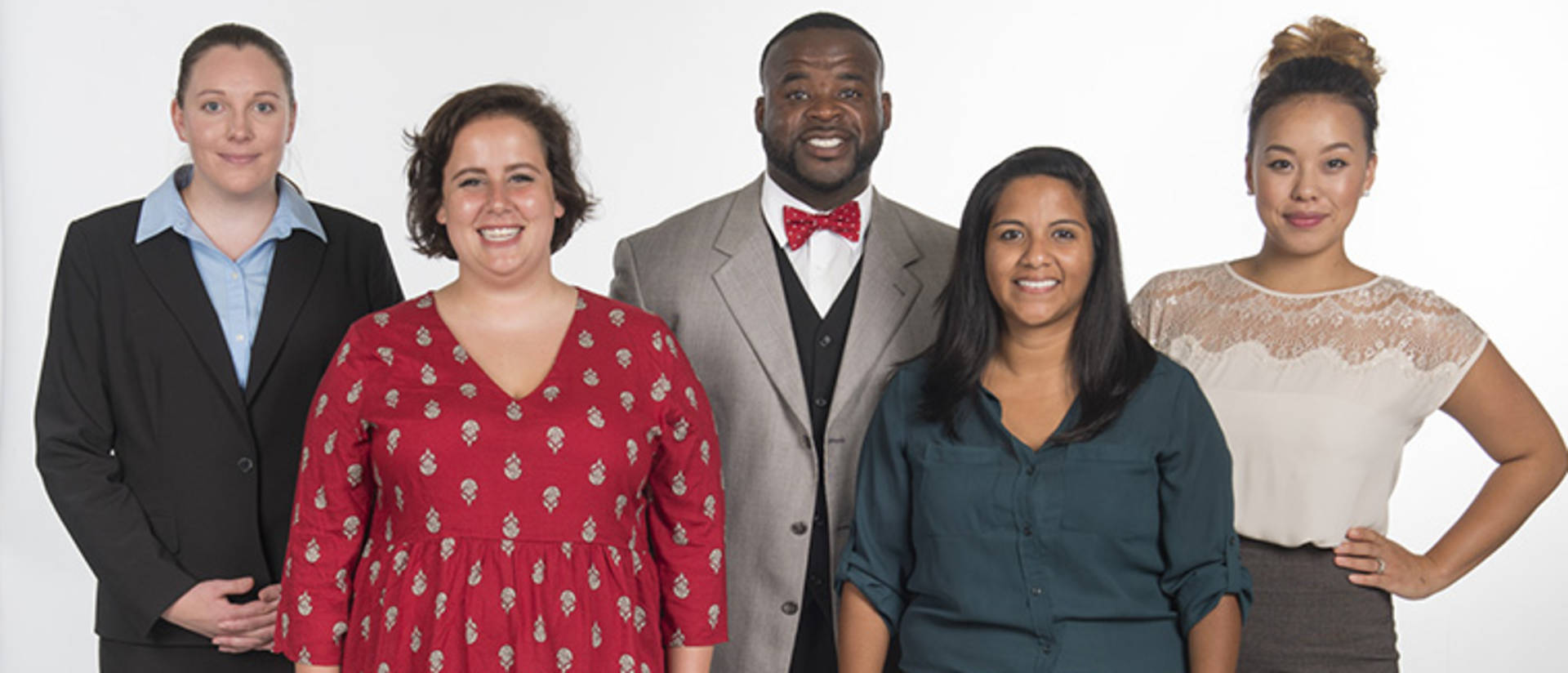 Learn how to put your best foot forward with these tips for professional and business casual dress.
Business Professional
Wearing a suit to your interview is highly recommended.
Make sure to have a neutral suit (black, navy blue, dark grey, or brown)
You may wear a skirt or pants.
Under your suit, a nice button-up collared shirt or blouse. White or other neutral colors is recommended
Don't forget a tie! We recommend a solid color or basic striped pattern.
Coordinate your shoes and belt to match. (Ex. Wear black shoes with a black belt)
Match your socks to your suit. A few nice pairs of dress socks are a worthwhile investment. Closed toed shoes are the best option and small heels or flats are recommended.
A skirt should sit right at or below the knee.
It is best to wear tights or nylons with your skirt. Matching your tights with your shoes or wearing nude are the best options.
Make sure your clothing is clean and wrinkle-free.
Avoid clothing with plunging or revealing necklines.
Business Casual
A button-up collared dress shirt or blouse in white or other neutral colors is recommended.
Avoid revealing and plunging necklines.
Skirts should sit right at or below the knee.
Solid or stripped ties are great options.
Your belt will be visible so it is important that it matches the color of your shoes.
Match the color of your socks with your pants.
We recommend solid colors or simple patterns.
Make sure your shoes compliment your outfit color
Tie your knot a medium size and have your tie rest at your belt.
Avoid tying a fancy knot, keep it medium.
Keep all accessories in your outfit the same color
Make sure your dress shirt and pants are clean and wrinkle-free
Hairstyle is well combed, pulled back and professional
Accessories
Complement your natural features by using neutral lip stick colors and eye shadows
Avoid heavy eye liner and mascara. Also avoid glitter, neon, or metallic eye shadows
Wear a classic necklaces such as pearls, a gold or silver fine chain. Wear studded earing matching your necklace
Only wear one or two rings and a simple bracelet or nice watch.
Avoid bangles, hanging earrings or statement necklaces
Make sure your hair is trimmed
If your hair is longer keep it out of your face by pinning or pulling it back
Make sure facial hair is brushed and trimmed appropriately
If the company has guidelines about hair length and style follow them. This is a great chance to reflect company standards!