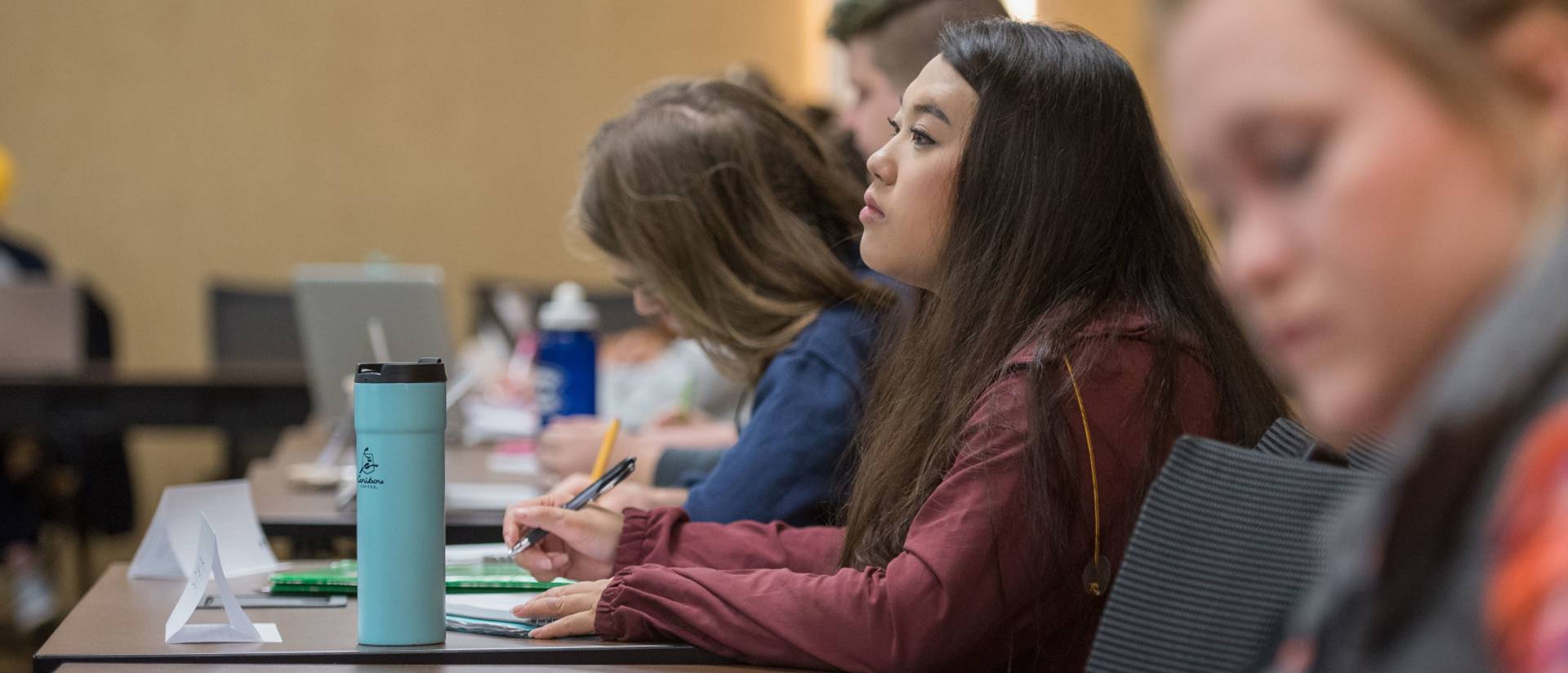 Explore the women's, gender, and sexuality studies bachelor's degree program at UW-Eau Claire
UW-Eau Claire's Women's, Gender, and Sexuality Studies (WGSS) bachelor's degree program will encourage you to think critically about how systems such as colonialism and patriarchy produce unequal power dynamics that shape how race, class, gender, sexuality, and ethnicity, among other social categories, are understood and experienced. The WGSS major equips students with theories and research methods for advancing equity, diversity, inclusivity and creating a more socially just world.
The WGSS degree at UWEC is the only of its kind in Northwestern Wisconsin. Its diverse offerings are rooted in social justice advocacy and introduce students to research on women's activism and feminist theories, LGBTQ+ identities and experiences and Hmong histories and communities. During coursework, you may learn about LGBTQ+ activist movements. Domestic immersion programs include studying the achievements of women leaders involved in the American Civil Rights Movement through a 10-day excursion to historically significant locations in the U.S. South. Additional opportunities include a winterim study abroad trip to India, where you will learn about gender in relation to Indian law and public policy.
To further prepare you for your chosen career, all WGSS majors are required to do an internship before graduating. You may work collaboratively with community nonprofits or campus organizations such as the Black and Brown Womyn Power Coalition, the Chippewa Valley LGBTQ+ Community Center, the Community Table, the Eau Claire City-County Health Department, the Family Support Center/Center for Awareness of Sexual Assault (CASA), Western Wisconsin Dairyland, the Intersectional Women's Center, and the Gender and Sexuality Resource Center while conducting critical research along the way.
The interdisciplinary and critical perspectives learned in WGSS courses enrich all fields of study, so graduates are well-prepared to do work in a variety of fields. Graduates of the program have gone on to pursue careers ranging from writing for feminist and LGBTQ publications to owning small businesses to organizing community outreach programs for diverse and marginalized populations to pursuing a graduate degree in a variety of fields. No matter your path, you'll find that a degree in WGSS benefits both you and your community.
Why women's, gender, and sexuality studies at UW-Eau Claire?
Internship and volunteer opportunities. Students studying Women's, Gender, and Sexuality Studies have the opportunity to gain real-world experience — while helping others — through local internships, volunteer work and service-learning projects.
Impactful learning. While pursuing your studies, you'll participate as a leader in advancing equity, diversity and inclusivity initiatives. Your interdisciplinary education will include learning about women's history, LGBTQ+ history/community/politics, global and transnational feminist perspectives, cross-cultural dynamics and social justice activism. This first-hand experience not only leads to real change but also gives you an inside look at what you'll be doing with your degree.
Collaborative student-faculty research. All UWEC students are highly encouraged to participate in undergraduate research. You may choose to study topics that relate to your career goals or those that need to be better understood or addressed.
Preparation for what's next. Courses throughout the major are socially and personally relevant, preparing you for meaningful work following graduation. Through projects, discussions, and presentations, you'll explore the intersections among sexism, racism, classism, heterosexism, cisgenderism, ableism, ageism, and other forms of oppression, as well strategies for resisting oppressions, fostering diverse and conscientious communities, and developing sustainable and equitable social, political, and economic resources. The WGSS degree is known for shaping engaged citizens and producing successful agents of change.
Connection to local employers. Annual on-campus Career Conferences and a Non-Profit and Government Career Fair bring potential employers right to you. These events are excellent opportunities to network and submit your resume for current and future job openings.
Women's, gender, and sexuality studies program details
Program length: four years
Offered: in person
Campus: Eau Claire
This major requires a minor or certificate.
This program is also available as a minor and certificate. 
Students majoring in this program may choose either a Bachelor of Arts (BA) or Bachelor of Science (BS) degree.
Student organizations
College Feminists
PRIDE
Women Uniting and Fighting
What can I do with a women's, gender, and sexuality studies degree from UWEC?
The WGSS program is a site of social change and activism as much as theory. The goal of the field is to develop critical feminist methodologies and theories, providing students with the resources to employ intersectional and transnational analyses effectively while also integrating theory with activism whenever possible and advocating for social justice.
The interdisciplinary and critical perspectives learned in the program enrich all fields of study, so graduates are well-prepared to do work in a variety of fields. With a WGSS degree, you can pursue career in education, women's rights organizations, gender, and sexuality institutes, LGBTQIA+ resource centers, universities, non-profit organizations, women, and international development, health and social services, public service, philanthropy, business, media, government agencies, hospitals, newspapers and more.
Where are women's, gender, and sexuality studies alumni now?
Adolescent reproductive health educator, Deschutes County Health Services
Assistant director, Hoard Historical Museum
Associate director, UWEC's Gender and Sexuality Resource Center
Associate professor, Winona State University
City council member, City of Eau Claire
Domestic violence program director, Family Support Center
Mission support associate, YWCA Southeast Wisconsin
Prevention specialist, AIDS Resource Center of Wisconsin
Youth advocate, Rainbow House
Women's, gender, and sexuality studies careers
Human rights advocate
Multicultural students' services centers
EDI (Equity, Diversity, and Inclusion)-related positions
Sexual violence victims' and survivors' advocate
Refugee crisis center worker
Health clinic coordinator
Journalist
Archivist
Union organizer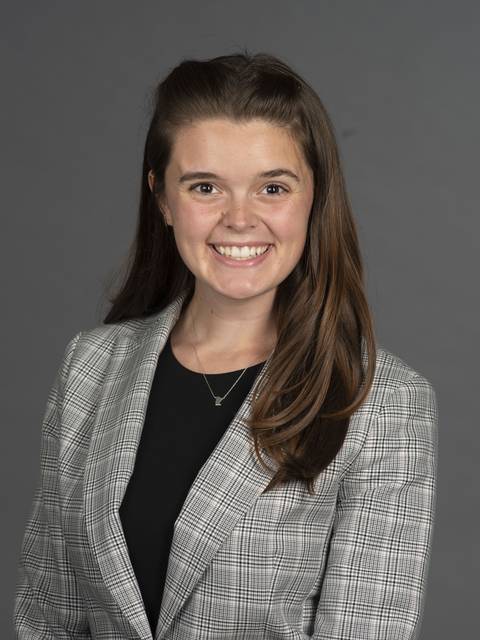 UWEC faculty empowered us to fight for what we believe in and to make a difference in our community. They helped me find my voice and value. I would not be the activist I am in an industry I love without the encouragement and support of a team of experienced and passionate professors.
Women's, gender, and sexuality studies bachelor's degree program curriculum
Women's, gender, and sexuality studies is an interdisciplinary major that draws from the humanities, social sciences, arts and natural sciences. Curriculum within the program will help you to make important connections between your learning, your own life and the globally interconnected world. Coursework will encourage you to advocate for racial, gender and other forms of social justice — both on campus and in the larger community — and examine the lived experiences of marginalized groups impacted by systems of power.
Most WGSS courses incorporate small and/or large group discussions as well as opportunities for critical reflection and self-assessment. Classes also allow for the collection of interviews and oral histories with community activists and members of elder generations. Through individual and group presentations, you will help lead the facilitation of course materials, learning and teaching alongside your classmates.
Half of the credits required to complete the degree come from course electives, giving you the ability to customize your education. Explore courses related to gender and religion, history, health, literature, psychology and politics. This flexibility allows you to study the topics that interest you and align with your career goals.
What classes do women's, gender, and sexuality studies majors take?
Your classes may cover topics like:
Introduction to feminist theories
Feminist analysis and practices
Indigenous theory and methodologies
Social justice practicum
Transnational feminism
Women of color feminisms
Learn more about the women's, gender, and sexuality studies major in the UWEC course catalog.
Learn more about the women's, gender, and sexuality studies minor in the UWEC course catalog.
Learn more about the women's, gender, and sexuality studies certificate in the UWEC course catalog.
Related programs at UW-Eau Claire
Thinking about a bachelor's degree in women's, gender, and sexuality studies? Here are other programs you may be interested in exploring.