Explore the rehabilitation science bachelor's degree program at UW-Eau Claire
The University of Wisconsin-Eau Claire's rehabilitation science degree is an excellent choice for those interested in kinesiology and providing care for special populations, such as older adults, individuals with disabilities and those with chronic health conditions. The first degree of its kind in the UW System, the growing major will prepare you for success in a variety of careers, including physical therapy, occupational therapy and chiropractic care.
Throughout the program, you'll learn the physiological basis of human movement and the functional changes in body systems. Comprehensive coursework, presentations and projects will introduce you to special topics and areas of focus within the field, such as corrective exercise programming, clinical exercise physiology, exercise physiology laboratory assessment, research, and adapted physical activity for populations with disabilities.
The kinesiology department prides itself on providing students with opportunities to apply what they've learned in the classroom to real-world situations. As part of the program's curriculum, you'll participate in various practica at local hospitals and clinics, gaining real, professional experience along the way. Work with P.R.I.D.E (Physical Activity and Recreation for Individuals with Disabilities in the Eau Claire Area), Community Fitness, or Cancer Recovery and Fitness outreach programs offered on campus will further provide you with critical skills and valuable connections.
Our 3+2 program option lets you earn both your bachelor's degree in rehabilitation science (pre-athletic training concentration) and master's degree in athletic training in only five years. This accelerated format allows you to start your master's level coursework in your fourth year, saving you time and money and getting you into the field more quickly!
Graduates leave the program prepared to demonstrate and teach patients how to best care for themselves and to promote physical activity as an essential component of a healthy lifestyle. Equipped with the knowledge, tools and experience necessary to provide effective health care, you'll graduate ready to improve the quality of life for all your future patients.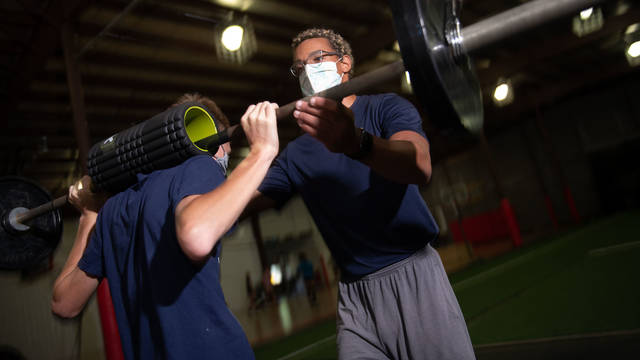 Why rehabilitation science at UW-Eau Claire?
Relevant student organizations. On-campus student organizations — like the Pre-Physical & Occupational Therapy Club and the Pre-Chiropractic Club — connect students like you who are also interested in careers in health and rehabilitation. These extracurriculars are an excellent way to volunteer, job shadow and learn about potential graduate schools and employers.
Innovative facilities. UW-Eau Claire is one of only a few schools of its size with a career center dedicated to supporting pre-professional health studies. The William J. and Marian A. Klish Health Careers Center offers one-on-one advising, opportunities to meet with professional school admissions representatives, connections to health-related clinical research, and volunteer opportunities and workshops designed to build effective tools for career development and competitive applications.
Research opportunities. A master collaborative research agreement between UW-Eau Claire and Mayo Clinic Health System provides unique research opportunities for rehabilitation science majors. Previous students have gone on to submit their findings to scholarly journals, like the International Journal of Research in Exercise Physiology and the International Journal of Exercise Science — two peer-reviewed journals founded for the purpose of publishing undergraduate student research and providing undergraduates with valuable experience in the peer-review and publication process.
Connection to local employers. Meeting potential employers and gaining a better understanding of the different types of careers available to you is a critical component of all kinesiology programs. To help you explore career paths, we host an annual Nursing & Health Care Professional Fair, an on-campus career fair specific for those looking to enter the healthcare field. This event is an excellent opportunity to make connections and submit your resume for current and future job openings.
Rehabilitation science program details
Program length: four years
Offered: in person
Campus: Eau Claire
This major does not require a minor.
Students majoring in this program will earn a Bachelor of Science (BS) degree.
Student organizations
Kinesiology Club
Pre-Physical & Occupational Therapy Club
Pre-Chiropractic Club
What can I do with a rehabilitation science degree from UWEC?
The rehabilitation science major provides a clear path for students to continue their education in graduate or medical school. Coursework within the rehabilitation science program prepares students for professional certification in the fields of chronic disease management, senior fitness or physical activity programming for populations with disabilities. Students typically pursue certifications from the American College of Sports Medicine, National Strength and Conditioning Association, National Academy of Sports Medicine or American Council on Exercise.
Graduates also have the option to immediately enter the workforce, pursuing careers in medical-based fitness centers, cardiac rehabilitation programs, gerontology/senior fitness programs and community centers.
Rehabilitation science jobs
Physical therapist
Occupational therapist
Chiropractor
Certified prosthetist/orthotist
Rehabilitation technology specialist
Certified special population specialist
The kinesiology department goes above and beyond for their students and believes in our potential. I truly believe I had the best college experience, which has set me up for an even better career. UW-Eau Claire gave me the tools to accomplish all the goals that I had dreamed of!
Rehabilitation science bachelor's degree program curriculum
Rooted in kinesiology and physiology, our comprehensive curriculum will prepare you for responsibilities involving the development of physical activity programs for individuals of varying ages, disabilities and special needs. Coursework provides a broad, liberal arts education with classes in chemistry, biology, physics and psychology. Faculty experts will also help you learn best practices and keep up on the industry's latest techniques.
Those wishing to declare a pre-physical therapy, pre-occupational therapy or pre-chiropractic career path may find that majoring in rehabilitation science is beneficial. Graduates of the program find they are well prepared for the unique challenges and demands of a career in rehabilitation and therapeutic exercise.
What classes do rehabilitation science majors take?
Your classes may cover topics like:
Adapted physical activity
Anatomical kinesiology
Cancer recovery and fitness
Exercise physiology
Human anatomy and physiology
Motor development
Rehabilitation science
Learn more about the comprehensive rehabilitation science major in the UWEC course catalog.
Related programs at UW-Eau Claire
Thinking about a bachelor's degree in rehabilitation science? Here are other programs you may be interested in exploring.