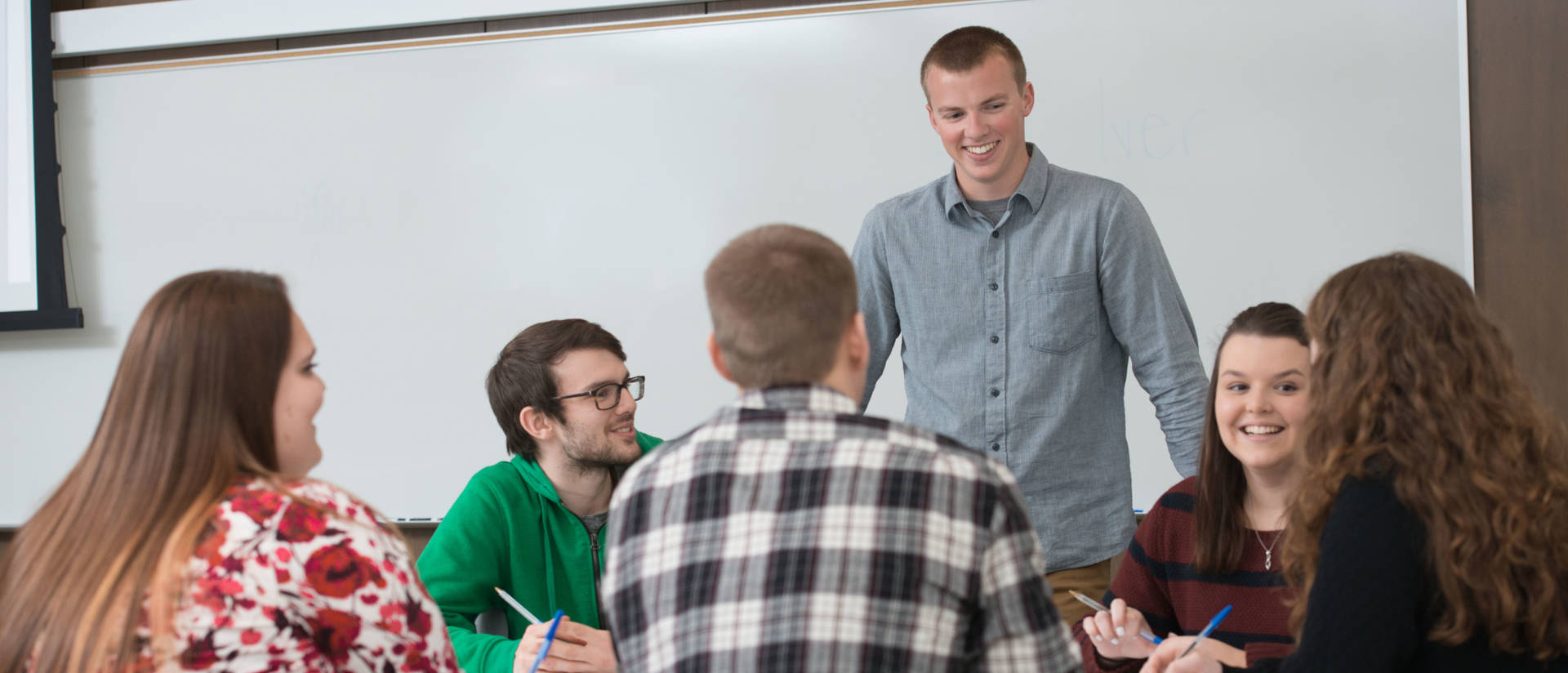 Explore pre-medicine at UW-Eau Claire
By declaring yourself pre-medicine at the University of Wisconsin-Eau Claire, you are taking the next step toward working in the medical field. We offer a rigorous curriculum and experiential learning opportunities that will prepare you not only for saving lives but making a difference in the health care industry. Pre-medicine is not a major at UW-Eau Claire, but rather a declaration of your intention to continue your education and enroll in medical school.
There are a number of majors to choose from that will enrich your education, and because medical school admissions committees consider applicants from a wide variety of academic backgrounds, there is no "official" pre-med major. Instead, students are expected to have completed the core group of pre-med courses, including the basic preparatory work for the Medical College Admission Test (MCAT), during their undergraduate program. This means that you can choose the major that is most relevant to your interests and goals and still complete the necessary prerequisites.
At UW-Eau Claire, more than your coursework will set you apart. You can take part in undergraduate research, job shadowing and other exciting opportunities made available through our collaboration with Mayo Clinic. Certain skills and experiences like those found here are typically favored of medical school applicants, in addition to a competitive GPA. Many medical schools also emphasize science aptitude and expect strong communication skills. Our exceptional advisors and faculty members — including pre-health peer advisors — are aware of medical school requirements and will do everything they can to support you during your time at UWEC.
Doctors play an important role in improving the health of individuals, families and communities. Often on the front lines of the health care system, an excellent education is the foundation of an impactful and successful career. Begin yours at UW-Eau Claire.
Incredible scholarship opportunities
Pre-med students are invited to apply for the Blugold Biomedical Innovator Program, which awards 10 Blugolds with a $32,000 scholarship, one-on-one mentorship and direct involvement in a research project beginning their first semester at UWEC. Recipients also have access to exclusive Mayo internships and job-shadow programs.
Why be pre-medicine at UW-Eau Claire?
Valuable community partnerships. UW-Eau Claire pre-med students benefit from several major medical facilities in the region that provide the area with not only state-of-the-art, quality health care, but also shadowing and internship opportunities. UWEC specifically has strong ties to Mayo Clinic, Marshfield Clinic and Sacred Heart Hospital, as well as smaller health care facilities like the Chippewa Valley Free Clinic.
Research opportunities. As the top master's-level university for undergraduate research, opportunities to explore and discover are endless. Many of our students work directly with faculty and local professionals on groundbreaking research projects, driving innovation and making real improvements to the world around us. Students may also choose to take their research experience a step further by presenting their findings at both regional and national conferences.
Excellent career preparation. There are countless opportunities to connect with professionals in the field and learn real-world skills before graduation. Participate in medical school fairs, case competitions, Mayo College of Medicine and Science programming and so much more.
Innovative facilities. UW-Eau Claire is one of only a few schools of its size with a career center dedicated to supporting pre-med students. The William J. and Marian A. Klish Health Careers Center offers one-on-one pre-med advising, opportunities to meet with admissions representatives from professional schools, and participate in workshops designed to build effective tools for career development and competitive applications.
Relevant student organizations. On-campus student organizations — like the Pre-Professional Health Club — connect students like you who are also interested in a medical career. These extracurriculars are an excellent way to learn from guest speakers, engage in volunteer work and tour graduate programs in the region.
Pre-medicine program details
Offered: in person
Campus: Eau Claire
Students are able to choose a major and/or minor that best aligns with their career goals.
UWEC student organizations related to pre-medicine
Pre-Professional Health Clu
Biology Club
American Chemical Society-Student Affiliate (ACS-SA)
Women and Gender Minorities in STEM
What's next after completing the pre-medicine program?
After earning your undergraduate degree from UWEC, your next step toward becoming a doctor is enrolling in medical school. There are currently around 136 allopathic medical schools — offering the M.D. degree — and 26 osteopathic medical schools — offering the D.O. degree — in the United States, each taking four years to complete. The first two years consist of classroom and laboratory work in the basic sciences; the final two years are devoted to clinical training. M.D.s and D.O.s enter a residency program of three or more years directly after medical school to gain advanced clinical training in their specialty.
UW-Eau Claire is known nationally for its strong biology and chemistry programs and has a long history of producing skilled graduates regularly accepted to medical school. In fact, UWEC's acceptance rate for students applying to medical school is above the national average.
The majority of UW-Eau Claire graduates attend the University of Wisconsin School of Medicine and Public Health, Medical College of Wisconsin, Mayo Clinic Alix School of Medicine or the University of Minnesota Medical School. Others have attended various private medical schools or schools of osteopathic medicine all around the country.
What can I do with an M.D. or D.O.?
A doctor of medicine (M.D.) or a doctor of osteopathic medicine (D.O.) diagnoses, treats and prevents disease and delivers care. Physicians may go on to choose medical specialties such as allergy and immunology, anesthesiology, dermatology, emergency medicine, family medicine, neurology, obstetrics, pathology, pediatrics, psychiatry and so much more.
I knew that I wanted to go to medical school, and the faculty at UWEC showed me how I was going to make that happen in the best way possible. UW-Eau Claire will take an undergrad anywhere they want to go. The school revolves around its undergrads, and that is not always the case at the bigger schools.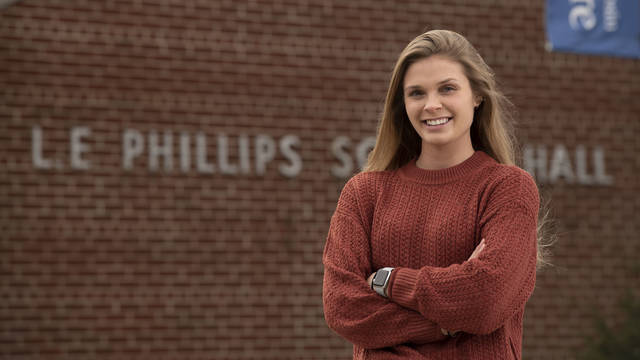 The pre-med curriculum at UWEC consists of courses needed to meet the entrance requirements for the majority of medical schools and to prepare you for the Medical College Admission Test (MCAT). This standardized exam is required for admission to nearly all medical schools. The exam consists of four parts: biological and biochemical foundations of living systems; chemical and physical foundations of biological systems; psychological, social and biological foundations of behavior; and critical analysis and reasoning skills; and is taken in the spring semester or summer following the junior or senior year.
Medical schools also often look for significant health-related and service experiences, such as medical research, job shadowing or internships. UWEC's curriculum is intentionally designed to offer pre-med students these types of real-world experiences prior to graduation. Pre-med students are also eligible to participate in study abroad opportunities, programming UWEC is nationally known for. An international experience can complement and enhance both your general program of study and your pre-health interests. Moreover, fluency in a language other than English and cross-cultural experience can enhance your application to a health professional school.
What classes do pre-medicine students take?
Students interested in a career in medicine may focus on these topics during their undergraduate career:
Trigonometry, calculus and statistics
Inorganic and organic chemistry
Biochemistry
Physics
Biology
Molecular and cell biology
Ethics of healthcare
Topics in virology and immunology
Neurobiology
Animal physiology
Endocrinology
Learn more about pre-medicine in the UWEC course catalog.
Related programs at UW-Eau Claire
Programs that would best support a career in medicine include: