Master of Business Administration
Graduate Program
Explore the online master of business administration program at UW-Eau Claire
Take your business education and career to the next level with a master's in business administration from the University of Wisconsin-Eau Claire, offered through the University of Wisconsin MBA Consortium. Accredited by the Association to Advance Collegiate Schools of Business (AACSB) — a prestigious rating earned by less than 5% of the world's business programs — our renowned online program allows you to complete the degree when it's convenient for you.
Throughout the program you'll develop your leadership skills, learn strategies for managing the day-to-day operations of an organization and discuss how global agreements and changing technologies affect the conduct of business. Classes cover a variety of topics, allowing you to explore new industries or build on previous experience.
U.S. News & World Report has ranked the University of Wisconsin MBA Consortium program among the top 10 programs in the nation in its Best Online MBA Programs rankings. We take pride in the quality and innovative style of our program. Our faculty are trained in how to best teach online classes, and class sizes are kept small to encourage a personalized education.
Our graduates come from a wide variety of industries, so no matter what your background is our master's in business administration degree is designed for you.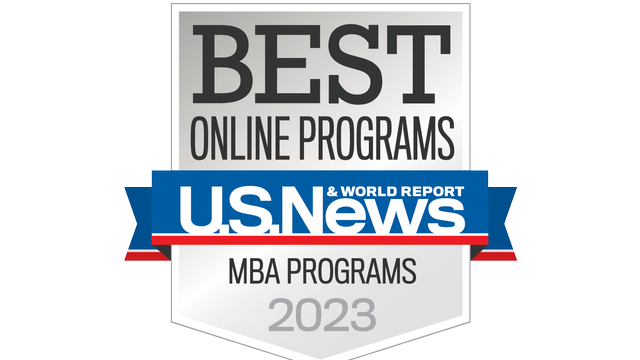 Why complete my master of business administration degree at UW-Eau Claire?
Program flexibility. Many of our students work full-time jobs, juggling busy schedules and families. With this in mind, all of our courses are offered completely online, with no campus visits required. In addition, you have seven years from the date of enrollment to complete your degree, allowing you to complete the program at your own pace.
Electives designed to fit your career. While some MBA programs only offer preselected courses, here you can choose electives that align with your personal ambitions and interests. Choose from courses oriented around communication, leadership, marketing, international business and more.
Diversity in the classroom. Our students come from a variety of backgrounds and industries, averaging over twelve years of work experience before beginning the program. Students represent over 38 states and 75% have non-business undergraduate degrees, meaning no matter your location or education, you will fit right in.
MBA program details
Program length: 2.5-3 years
Offered: 100% online
Credits: 36
Cost: $825 per credit
Average class size: 28
Students will earn a Master of Business Administration (MBA) degree.
Your classmates at a glance
Average age: 36
Average undergraduate GPA: 3.3
75% have non-business undergrad degree
27% have another advanced degree
Accreditation information
The University of Wisconsin MBA Consortium is accredited by the Association to Advance Collegiate Schools of Business (AACSB International). Wisconsin is a SARA state (State Authorization Reciprocity Agreement) and the University of Wisconsin-Eau Claire is a SARA-approved institution.
What can I do with a master of business administration degree from UWEC?
Graduates of the MBA program leave with enhanced skills, additional tools and more connections, well-prepared to advance their career. With a well-rounded and diverse curriculum, our alumni can be found in a variety of roles and industries, including academia, finance, healthcare, technology and communications.
Where are MBA alumni now?
National promotions manager, General Motors Corp., Michigan
Economist, U.S. Government, Wisconsin
Assistant professor of management, University of Washington, Washington
Computer operations manager, Madeline Island Ferry Line, Wisconsin
News editor, Business Wire, Arizona
The instructors and fellow classmates were exceptional to study from and learn with. I found that every professor genuinely wants to help us gain more understanding and competence on the concepts being studied. They are open to suggestions, flexible, and very willing to share real-world experiences.
Master of business administration degree curriculum
Our highly accredited program expands on your foundation in business, with a focus on building leadership and organization strategy skills. The comprehensive courses will allow you to build on existing experience and prepare you for management and leadership roles, making you an even more qualified and sought-after candidate. Electives, including classes focused on health care administration and project management, allow you to take courses that are relevant to you and your career goals.
What classes do master of business administration students take?
Your classes may cover topics like:
Competing strategically in a global environment
Developing new products and services
Economic and statistical analysis
Financial analysis
Leading a dynamic and diverse workforce
Navigating change amid uncertainty
Learn more about the master of business administration degree in the UWEC course catalog.
Learn more about the UW MBA Consortium curriculum and electives.
Baccalaureate degree from a regionally accredited college or university.
Cumulative undergraduate grade point average of at least 2.75 (on a 4.0 scale). Note: If your GPA is lower than 2.75, we may still consider your application but you should consider submitting Optional Materials.
Please feel free to send any questions to mba@uwec.edu.
Related programs at UW-Eau Claire
Thinking about a master's degree in business administration? Here are other programs you may be interested in exploring.