Gain real life experiences.
Have you ever heard that employers want to hire someone with experience? But how do you get experience if you can't get a job? Get ahead of the game by landing an internship and gain valuable experience that you can show off on your résumé.

Before The Internship
PLAN AHEAD
Most College of Business internships are completed in three to eight months. If you are interested in pursuing a full-time internship, you will need to set aside a semester and/or summer for the experience. Part-time internships are also available.
GET GOALS FOR THE EXPERIENCE
Work with your program's internship coordinator to develop clear and specific goals for your internship experience. What would I like to learn during my internship? How will this internship and my coursework prepare me for a successful career?
FINDING AN INTERNSHIP
UW-Eau Claire Career Services maintains a database of employers interested in hiring business interns in Handshake. As you search for an internship, be aware of the requirements for an internship to be approved for credit or transcript recording.
APPLICATION PROCESS
Update your resume. Include a cover letter indicating the position for which you are applying, a summary of your strengths, and information as to how the employer can contact you.
Register on Handshake so potential internship providers can find you there.
THE INTERVIEW
Before an interview, try to anticipate the questions you might be asked during the interview. Do research about the company or organization to learn more about them. Find out how the interviewer expects you to dress.
After an interview, follow up with the employer and send thank you notes. Check your voicemails and e-mail regularly, and promptly follow-up on any messages you receive.
Internship Approval
To earn university credit for the internship or to have the internship recorded on your transcript as a non-credit learning experience, the position must be approved by the department chair or other authorized approver.
You should contact the department to secure this approval prior to registering for the internship course and performing the work experience.
Department approval requires a written job description and supervisor contact information. The position should involve relevant, professional work experiences that are appropriate to the discipline, provide value to the hosting organization, and engage the student in a college-level learning experience.
The supervisor will provide mentoring and guidance during the internship and will submit an evaluation of student performance at the end of the internship.
Internships at for-profit organizations must pay at least the minimum wage.
Provided other requirements are met, the college will approve unpaid internships in public sector and non-profit charitable organizations, where the intern volunteers without expectation or compensation.
Specific course activities are required in order to earn university credit for the internship. You will discuss these requirements when you secure the initial department approval to register for the associated internship course.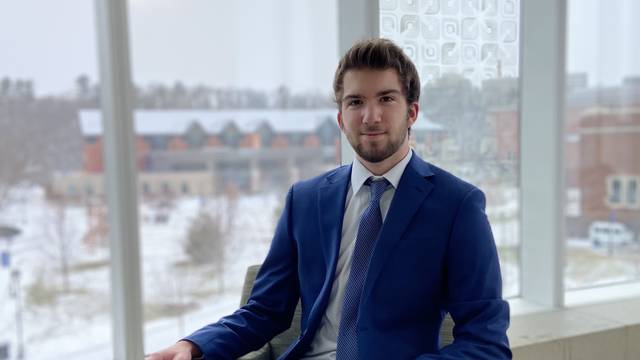 Earning Credit For Your Internship
To be recorded on your transcript, non-credit internships only require that the internship be approved by the department prior to the work experience and the final supervisor evaluation indicates acceptable performance on the job.
Additional activities are required to earn university credit for your internship. These activities will vary across departments in the College of Business and may depend on the type of position at hand.
COURSE REGISTRATION
All for-credit internships require you to register for the appropriate internship course. Permission to register for this course is granted when your internship is approved by the department. You must register for the course prior to the start of your credit-bearing internship experience. Your internship MUST include 120 hours of work experience for every credit you are registered for (3 credits is the maximum number of credit hours).
SUPERVISOR EVALUATION
A supervisor evaluation is required for all credit internships as well as non-credit internships to be recorded on the university transcript. The evaluation is administered online. Students should ensure that their supervisor has completed the evaluation prior to the end of the internship.
Credit internships include the following activities:
Journal or Log

The journal or log is a way for you to document your internship contributions, achievements, and gains in knowledge and skills. The components might vary but could include a self-reflection on your own strengths and weaknesses as well as strategies for leveraging strengths and overcoming weaknesses. You might also be asked to document how you are integrating the knowledge gained in your university coursework with the internship experience.
Online Discussions

Your organization's internship program will most likely arrange opportunities for you to meet with interns from other universities. Additionally, during your internship, you may participate in online discussions with other College of Business interns working at a variety of different companies. These discussions give you the opportunity to share your own experiences and expand your learning by hearing about the experiences of the other interns.
Internship Site Visit

The department chair, internship coordinator, or other university personnel may conduct a site visit during your internship. The site visit provides university faculty and staff the opportunity to discuss the position and your performance with employees.
Project

For marketing (general marketing/analytics/sales) and operations/supply chain internships, it is required to complete a project that is related to your internship. I'm sure your first question is, what is the project? That's a great question! And the answer is everyone's favorite - it really depends on your internship. You may be working on a project related to branding, planning and/or executing an event, helping write a social media or mobile marketing strategy, pulling and analyzing data, putting together a training manual, etc. Any of those projects would qualify for the project you will submit for this internship class. If your organization doesn't have you working on a specific project you can suggest a project that will complement your skills and provide value to the organization.

Project format: Varies

Examples: Report (strategy document, summary of event planning and/or execution, data and recommendation summary, etc.); Presentation; Manual
Final Paper

The term paper provides a cumulative report on your internship learning experiences. See the department chair or internship coordinator for the suggested content and outline. The paper should be submitted by the end of the term associated with the internship credit registration.
Department internship and practicum information