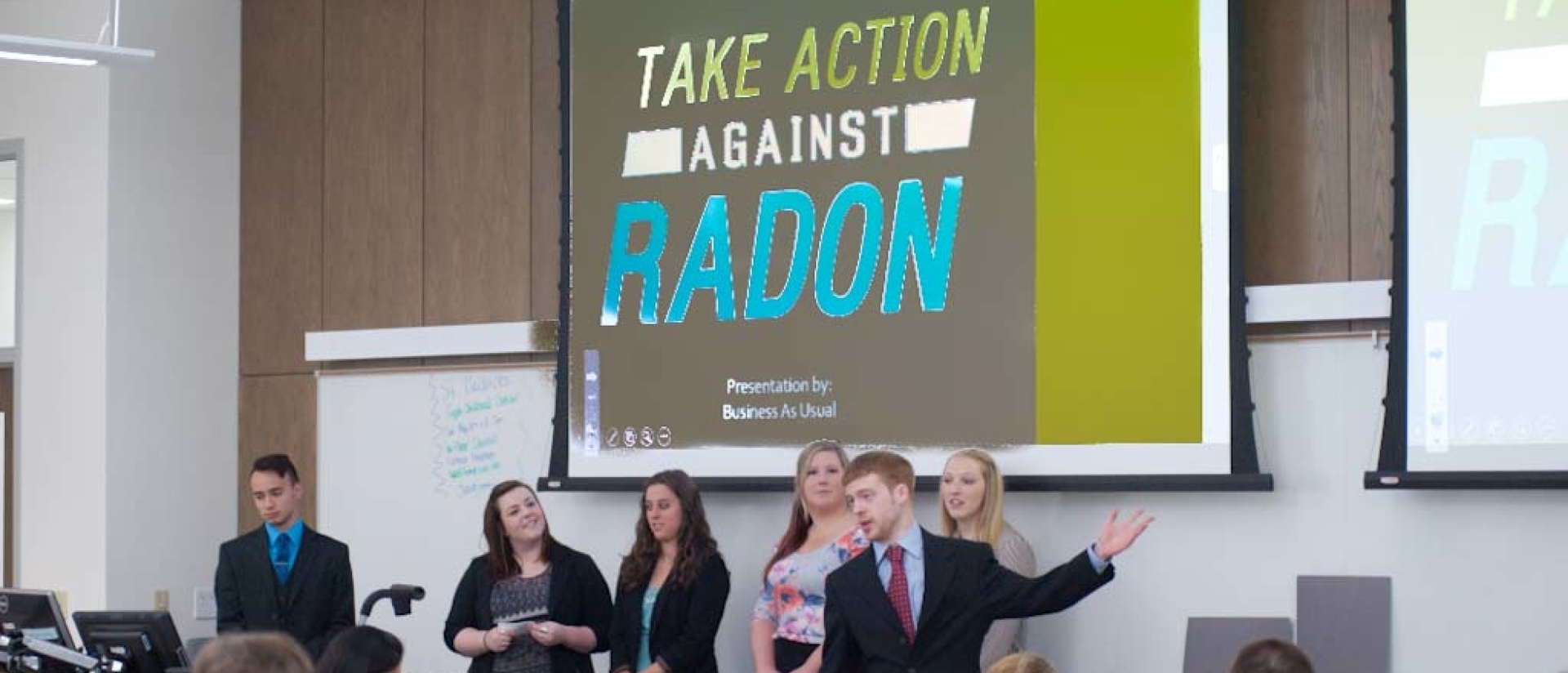 Working with the business community
Each year, hundreds of students from the College of Business get the chance to further their learning experience and bring value to the community by working with local and national businesses. Students aren't the only ones who benefit from this opportunity, your business or organization will gain fresh ideas and unique perspectives from our students.
Get help with a project
Each semester there are a number of courses that work on applied class projects to help businesses and organizations. Student teams work closely with you to determine the needs of your business and are supervised by their instructors through the project. If you are interested in taking advantage of this great opportunity contact Ann Rupnow, College of Business Entrepreneurship and Economic Development coordinator, by early August for the fall semester or by early December for spring semester.
Acct 423, Advanced Tax Accounting
Fall or spring semester
Students research specific questions related to business taxes. Organizations will receive a student-prepared research memorandum with potential courses of action the business may explore with a tax attorney or accountant.
Acct 430, Accounting Information Systems
Fall semester
Students analyze business processes and internal controls with a focus on accounting information, including flow charting and written narratives. Organizations will receive a detailed dataflow diagrams and written recommendations for improved internal controls.
Bcom 306, Advanced Business Writing
Fall or spring semester
Students write formal reports and other documents to investigate and solve organizational issues and user test processes and instructions.
Bcom 491, Special Topics-Crafting Persuasive Proposals
Fall or spring semester
Students write sales proposals, project proposals, grant proposals, marketing documentation, and other persuasive communication for organizations.
IS 290, Introduction to Database Applications
Fall or spring semester
An introduction to database applications created by end users. Student will learn to construct a database, user interface, and reports to summarize data.
IS 310, Systems Analysis and Design
Fall or spring semester
Students design information systems for profit and nonprofit clients in the community.
IS 460, Seminar in Information Systems
Fall or spring semester
Senior IS students design and develop information systems for profit and nonprofit clients in the community. Project examples include creation of web sites, networks, databases, software applications and information systems, strategic plans, and IS training and documentation.
Mgmt 414, Small Business Consulting
Spring semester
Student teams develop comprehensive business plans for a small business. Appropriate clients have been in business for two or more years and have two or more employees. Previous clients come from a variety of industries and have had anywhere from two to 60+ employees.

Mgmt 461, Lean Manufacturing Systems and Concepts
Fall or spring semester
Student teams complete a semester-long project in a manufacturing or service-oriented organization. Clients determine the scope, goals and desired outcomes in consultation with the instructor. Projects may involve 5S, value stream mapping, kaizen, A3 analysis, setup time reduction, batch size and inventory level reduction, as well as pull system and/or continuous flow implementation.

Mgmt 494, Topics in Leadership
Spring semester
Students work as project managers to develop and/or implement a project of particular interest to a non-profit organization.
Mktg 332, Marketing Communications and Promotion Analysis
Fall or spring semester
Student teams work with a business, non-profit or governmental organization on a semester-long promotional campaign. Ideal clients are those looking for new ideas to promote their organization, increase awareness of existing products/services, or change current perception toward the business (brand revitalization).

Mktg 334, Marketing Research
Fall or spring semester
Students develop and conduct a market research study for a local business, non-profit, or governmental organization.

Mktg 490, Advanced Sales Topics
Spring semester
Students hone their sales skills by selling actual products or services for a local non-profit. 100% of the profits from the students' sales efforts go directly towards the non-profit organization's operating budget.
Hire a Biz Blugold
If your business or organization could use another person around the office who has new ideas and a great work ethic, consider hiring an intern from the College of Business. Not only will your business reap the benefits, but you will be providing students with real-world experiences that will help them for their futures. To learn how you can create an internship in the College of Business contact Alyssa Slaby, Career Counselor, in Advising, Retention + Career Center.
Be our guest
Does your organization have an interesting topic or case study that you want to share with our students? Come to campus and provide the "topic of the day" in a course and take advantage of this unique opportunity to get feedback from students. Explore the general topics listed below. Click on a topic to send an email to the appropriate contact to learn how to become a guest speaker.