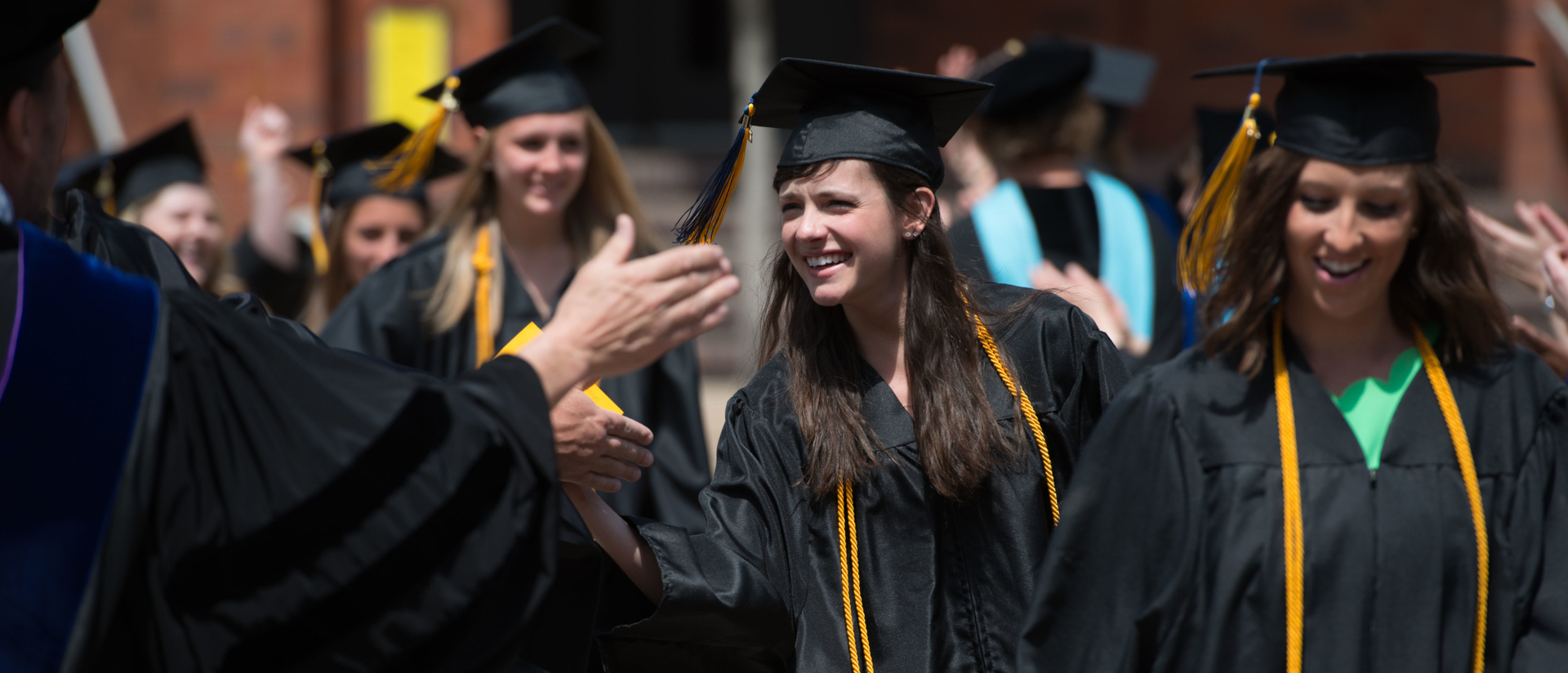 The University of Wisconsin-Eau Claire College of Business prepares students for success through an inclusive, engaged, and experiential education.
Our Vision
The College of Business aspires to be a leader in preparing students to succeed by providing innovative teaching, distinctive academic programs, and community engagement while strengthening our foundation of respect and inclusion.
Values
We value:
Students and put them first in everything we do.
Every decision in the college is made with our students at the center.
Equity, diversity, and inclusion.
A community that fully embraces and is committed to EDI is central in providing our students a valuable education.
Engaging experiences.
Interactive experiences help ensure our students are ready to step into a professional career.
Innovative, experiential curriculum.
Staying on the cutting edge of business education and industry changes provides the best experience possible for our students.
A collegial and supportive work environment.
A healthy work culture encourages our faculty and staff to work together and help one another, providing a positive experience.
Continual development of faculty and staff.
Providing development, research, and professional opportunities encourages and allows our faculty and staff to continually build their knowledge and expertise.
Community, industry, alumni, and campus partnerships.
Intentional partnerships and relationships inform our degree offerings and enhance opportunities for our students, faculty, staff, and community.
MBA Program Student Code of Conduct

Many private companies and public institutions have policies regarding the ethical (and legal) conduct of their employees. Along those lines, the University of Wisconsin–Eau Claire's MBA Program has developed a set of standards or expectations for faculty teaching in the program and for students taking
courses in the program.

It would be nice to think that in today's world such policies were not needed; but sadly that is not the case. There are people who do things they shouldn't. Even though we know that each year, nearly all of the students who take classes do so in an honest fashion, we have learned that there is a small percentage who don't act in a responsible fashion. This small group of 'adult' students attempt to work in a manner that takes advantage of the system, their classmates, and their instructors for personal gain.

We want all of our faculty and students to represent themselves in an honest or ethical manner—and we want to let them know of our expectations.

The UW-Eau Claire MBA Student Code of Conduct includes items that reference ethical behavior, items intended to increase awareness of processes within the MBA and items that clarify terms.

I am responsible to obtain all the materials required for the class before the class begins.

I recognize that purchases from suppliers other than the UWEC bookstore often result in delays, wrong editions, and missing supplemental material.
I realize that custom packages of readings are available only through the UW-Eau Claire bookstore.
I will not ask for special allowances from the instructor because I do not have my course materials on time.

I am responsible to meet the technological requirements of the program.

I will verify that my computer functionality, ISP capabilities, and software meet the University and Consortium requirements (the requirements are stated on the Web pages for the MBA Foundation and Consortium).
I will take advantage of the D2L Overview provided within my course.
I will take time to preview the course before it begins to become comfortable navigating within it.

I recognize that this is a graduate-level program and I will work accordingly.

I will make the time commitment necessary to read materials thoughtfully.
I will make meaningful contributions to discussions that will benefit my classmates.
I will complete assignments and projects with thoroughness and pride in my work.

I will interact with my classmates and my instructors in a timely, professional, and responsible
manner.

I will read the course syllabus and calendar so that I am aware of deadlines.
I understand that I must "contribute" to discussions on a regular basis rather than make all my entries just before the final deadline.
I will avoid derogatory comments and overly critical responses.

I will turn all work in on time and recognize that there will be consequences for late submissions.

I recognize that individual instructors will determine the particular consequences for late submissions.
If I must submit an assignment late, I will notify the instructor and accept the consequences associated with the late work.

I accept responsibility to do my own work.

I realize that plagiarism is the act of submitting the words or ideas of someone else as if they were my own.
Whenever I have taken the words or ideas from an article, a Web page, or another student, I will identify that source.
I realize that plagiarism can result in my failing the assignment or the course itself.

I realize that many classes involve teamwork and I accept the responsibilities associated with team membership.

I will do my share of the work taking on a leadership role when appropriate.
I will meet internal project deadlines as set by my team so that we can effectively meet the team deadline set by the instructor.

I recognize the importance of course evaluations and will complete the Web survey that I will be directed to via e-mail during the final week of each class.

If I must withdraw from a course for any reason, I will do so through the appropriate channels.

I will withdraw through the registrar's office at UW-Eau Claire
I will notify the course instructor of my intentions.
I will notify any groups I have been assigned to within the course of my intentions.

I understand that UW-Eau Claire's MBA Program follows the student academic disciplinary procedures as established by the UW System Board of Regents (UWS Chapter 14; http://www.legis.state.wi.us/rsb/code/uws/uws.html)
Our Learning Competencies
Learning Competencies and Outcomes for Undergraduate Students

Written and Oral Communication: Students will be effective communicators

Students will be exemplary business writers.
Students will be excellent oral communicators.

Teamwork: Students will be effective team members

Team members will demonstrate constructive behaviors.*
Teams will maintain effective team processes.*
Students will be able to self-assess their effectiveness as a team member.
Team members will demonstrate how teams should function for effective decision making.

* Constructive behaviors include following through, developing standards, respecting one another, being open, being fair and trustworthy, contributing new ideas, and being accountable to each other.
* Effective team processes include setting goals, establishing roles, setting expectations, being self-aware, and planning/balancing workload.

Problem Solving: Students will be effective problem solvers

Students will solve problems.

BBA Common Body of Knowledge: Students will demonstrate discipline-specific knowledge

Accounting

Students will interpret financial statements in business decisions.

Information Systems

Students will create Excel workbook incorporating formulas, formatting, and data manipulation between worksheets.
Students will apply personal computer security skills in a Windows operating system.

Finance

Students will identify and calculate appropriate measures of risk.

Marketing

Students will identify the marketing mix and its associated components.
Students will identify what is market segmentation and the common bases used to segment consumer markets.

Operations Management

Students will critically evaluate the strategic implications of alternative process designs.
Students will identify the purpose of each element of the production planning hierarchy.

Strategy

Students will be able to apply knowledge and skills learned across all functional business areas when developing firm's strategy.

Adopted Spring 2014
Revised 12/2018, 11/2019, 03/2020, 05/2020, 10/2020
MBA Learning Goals

UW MBA Consortium Degree

Upon completion of the program, students will be able to demonstrate the knowledge and skills necessary to be effective leaders who can do the following in a global and domestic context:

Lead a diverse and inclusive organization.
Demonstrate a sense of social and ethical responsibility.
Identify and evaluate market opportunity.
Create and sustain competitive advantages.
Communicate effectively in organizations.
Use critical thinking and analytical reasoning to make informed business decisions.
Create and maintain a dynamic vision for personal and professional development.