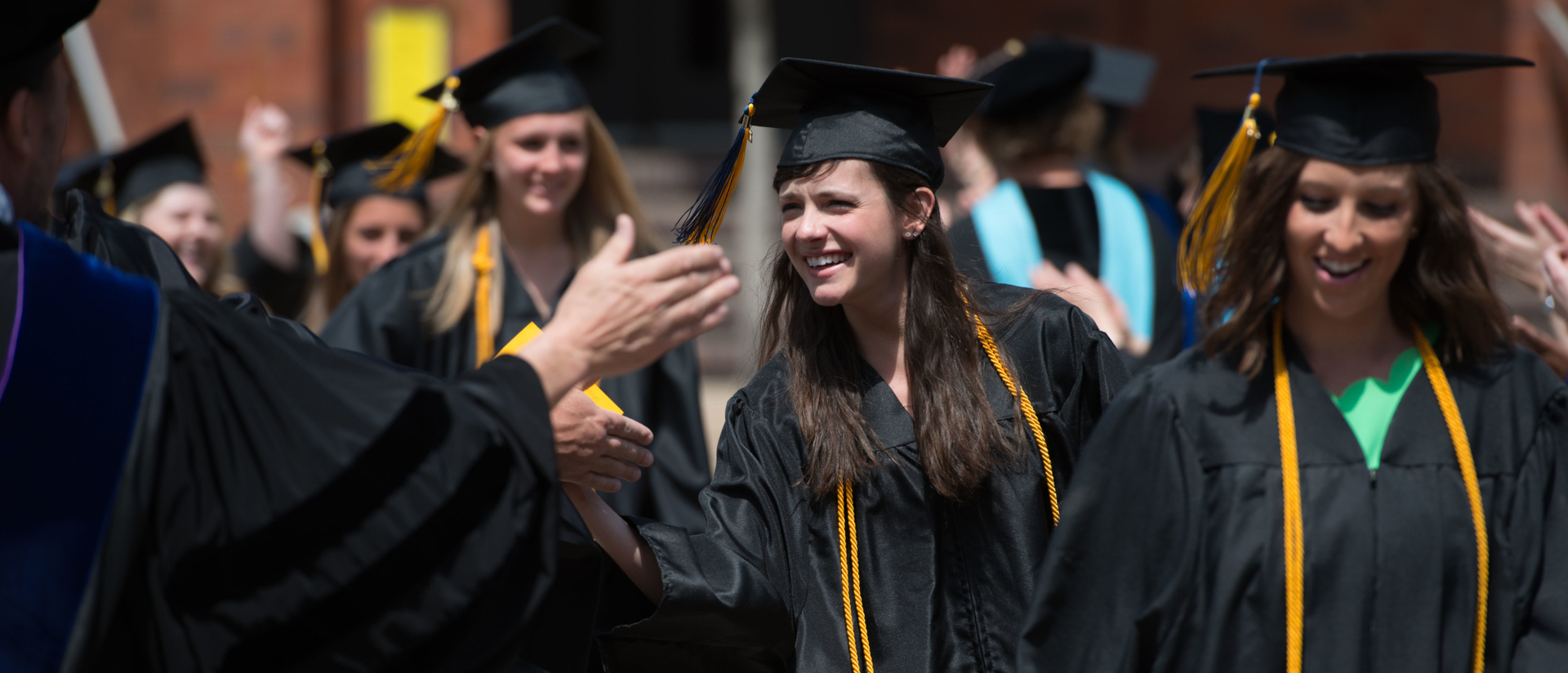 The University of Wisconsin-Eau Claire College of Business prepares students for success through an inclusive, engaged, and experiential education.
Our Vision
The College of Business aspires to be a leader in preparing students to succeed by providing innovative teaching, distinctive academic programs, and community engagement while strengthening our foundation of respect and inclusion.
Values
We value:
Students and put them first in everything we do.
Every decision in the college is made with our students at the center.
Equity, diversity, and inclusion.
A community that fully embraces and is committed to EDI is central in providing our students a valuable education.
Engaging experiences.
Interactive experiences help ensure our students are ready to step into a professional career.
Innovative, experiential curriculum.
Staying on the cutting edge of business education and industry changes provides the best experience possible for our students.
A collegial and supportive work environment.
A healthy work culture encourages our faculty and staff to work together and help one another, providing a positive experience.
Continual development of faculty and staff.
Providing development, research, and professional opportunities encourages and allows our faculty and staff to continually build their knowledge and expertise.
Community, industry, alumni, and campus partnerships.
Intentional partnerships and relationships inform our degree offerings and enhance opportunities for our students, faculty, staff, and community.
Our Learning Competencies
Learning Competencies and Outcomes for Undergraduate Students

Written and Oral Communication: Students will be effective communicators

Students will be exemplary business writers.
Students will be excellent oral communicators.

Problem Solving: Students will be effective problem solvers

Students will solve problems.

BBA Common Body of Knowledge: Students will demonstrate discipline-specific knowledge

Accounting

Students will interpret financial statements in business decisions.

Information Systems

Students will create Excel workbook incorporating formulas, formatting, and data manipulation between worksheets.
Students will apply personal computer security skills in a Windows operating system.

Finance

Students will identify and calculate appropriate measures of risk.

Marketing

Students will identify the marketing mix and its associated components.
Students will identify what is market segmentation and the common bases used to segment consumer markets.

Operations Management

Students will critically evaluate the strategic implications of alternative process designs.
Students will apply the principles of inventory management to establish inventory policies.

Strategy

Students will be able to apply knowledge and skills learned across all functional business areas when developing firm's strategy.

Adopted Spring 2014
Revised 12/2018, 11/2019, 03/2020, 05/2020, 10/2020
MBA Learning Goals

UW MBA Consortium Degree

Upon completion of the program, students will be able to demonstrate the knowledge and skills necessary to be effective leaders who can do the following in a global and domestic context:

Lead a diverse and inclusive organization.
Demonstrate a sense of social and ethical responsibility.
Identify and evaluate market opportunity.
Create and sustain competitive advantages.
Communicate effectively in organizations.
Use critical thinking and analytical reasoning to make informed business decisions.
Create and maintain a dynamic vision for personal and professional development.