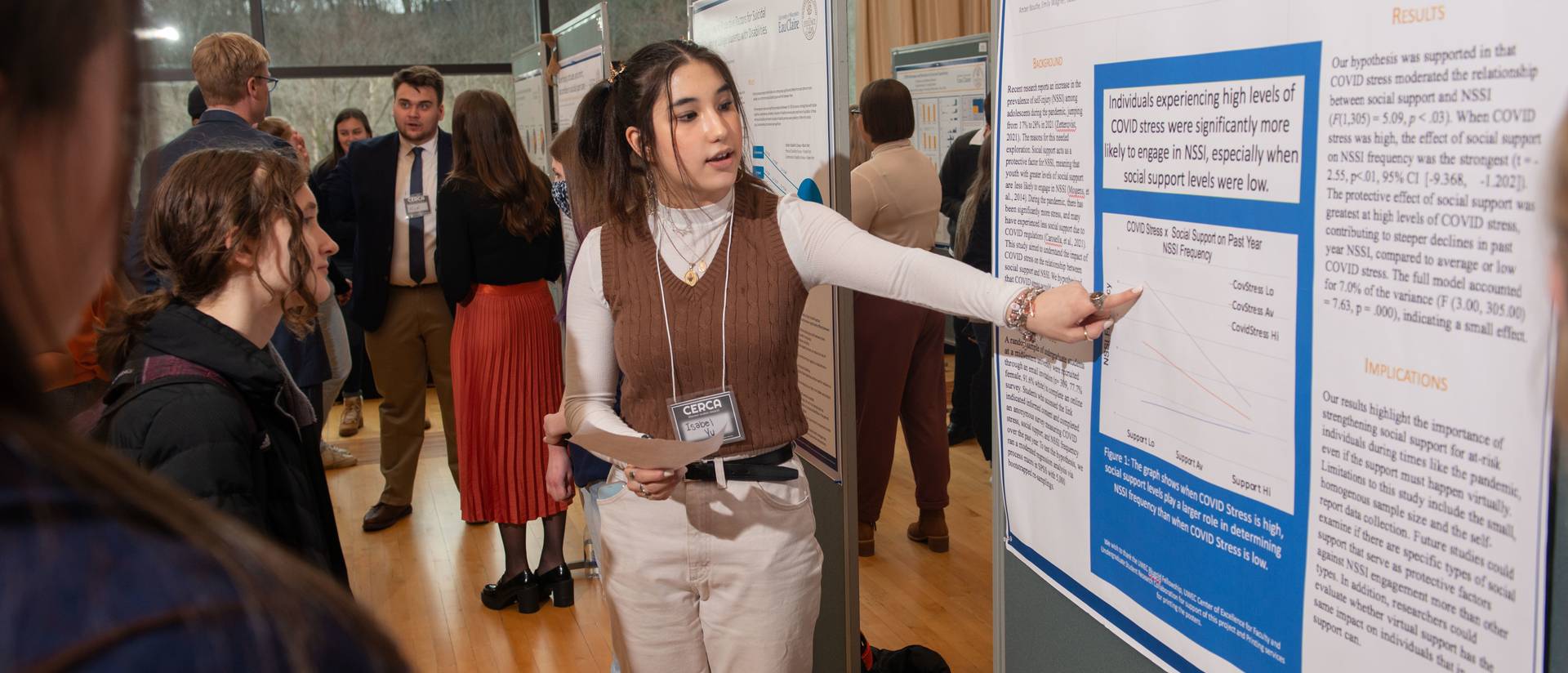 Celebration of Excellence in Research + Creative Activity
UW-Eau Claire's annual Celebration of Excellence in Research and Creative Activity (CERCA) gives undergraduate and graduate students the opportunity to present the results of their research and creative activity. The event highlights student research accomplishments and contributions to the academic community.
CERCA will be back at UW-Eau Claire for 2024! April 22-25, 2024.
Background

UW-Eau Claire's Celebration of Excellence in Research and Creative Activity (CERCA) is designed to give UW-Eau Claire and UW-Eau Claire-Barron County students the opportunity to present the results of their research and scholarly creative activity. The event highlights student research accomplishments and contributions to the academic community. CERCA encourages the dissemination of research results from all disciplines represented at the university.

The first UW-Eau Claire student research event, known as Student Research Day, was in 1992 with 60 posters presented. Since 1992, the event has expanded and evolved. In 2020, CERCA highlighted 236 poster presentations and 19 recorded presentations from 30 departments and programs were explored on Canvas by 957 enrollees. CERCA continues to grow every year.
Eligibility

Any UW-Eau Claire or UW-Eau Claire-Barron County student engaged in collaborative or independent research or scholarly creative work is eligible to apply. Chippewa Valley Technical College students are also welcome. Researchers in all disciplines are encouraged to apply.

All projects must make new knowledge by building from previous knowledge or creating new perspectives.

Your presentation should explain how your project meets this definition. This definition is intentionally broad in order to encompass all the scholarship that takes place on campus. For example:

A kinesiology project examining the effects that a short term dynamic core exercise program may have on agility.
A research project that critically examines how scholars perceive the role of Virgil through a survey of scholarship on The Divine Comedy in English.
An art project inspired by relational art, a field within contemporary art.
A geography project analyzing the land use/land cover changes in the lower Chippewa River watershed.
A critical performance of G.B. Viotti transcribed for two bassoons in order to examine how aspects of Classical musical style translate across instrumental genres.
A research project studying the effect of cyber bullying on school climate.
Assessment of research needs with a community partner and plan for implementation.
Application Process

The application process can be broken down into 3 key parts:

Write your abstract following per the ORSP Abstract Writing Guide and work with your mentor to polish it.
Decide on a presentation format.
Submit your application for the mentor's final approval.
Mentor submits the application to ORSP.

1. Write your abstract
A key component to your CERCA application is your abstract (200 words maximum). For details on writing your abstract, please read the Abstract Writing Guide.

An abstract summarizes the important qualities of your project. Successful abstracts, in every discipline, will typically achieve four key goals:

State your research question, aim, or scholarly goal. (~1 sentence)
Contextualize your project within existing knowledge or ideas. (~1 sentence)
Describe the methods or approach you used or will use. (~2 sentences)
Describe your main conclusions, outcomes, products, or recommendations or expected outcomes. (~2 sentences)
If eligible for the Mayo Choice Award, beyond your abstract, please add a brief explanation of how your research will improve patient outcomes. This explanation will not count towards the 200 word abstract maximum.

Your CERCA abstract should:

Be 200 words or less (not including the names of participants, title, and faculty mentors).
Be pasted into your CERCA application.
OR be upload as a Microsoft Word document if your text includes any special characters or italics and/or if formatting has been lost by the form. LaTex users may attach a pdf to guide the formatting of mathematical characters. Include title and authors in attached versions.

Since your CERCA abstract will be published, it is important to:

Use terminology that will be clear to a general, non-expert audience.
Define abbreviations not universally understood upon first use (include the abbreviation in parentheses immediately after you first use the term; thereafter you can use the abbreviation).
Be concise and strive for clarity.
Carefully proofread your work.

For More Focused Assistance with Your Abstract

The Center for Writing Excellence (CWE) is here to support your CERCA project. We encourage you to schedule an online appointment to meet virtually, in "real-time," with a CWE Writing Assistant. You can schedule an appointment at uwec.mywconline.com. If you experience any difficulty when setting up an appointment, or if you have additional questions, please do not hesitate to call us at 715-836-2644.

When you meet your Writing Assistant, they can help you:

Prepare your oral presentation—from writing your talk to delivering it orally.
Address questions related to organization and clarity of content on your poster or presentations slides
Discuss ways to tighten and polish your writing, at the sentence level.
And more!

**Please note that the CWE takes a conversational approach (not an editorial one). Further, for technical questions related to formatting of your poster, please contact Learning Technology Services (LTS).

View a video of Dr. Rylander presenting an abstract writing workshop:

2. Decide on a presentation format
In addition to attaching your abstract, you will need to decide which presentation format will best suit your research. CERCA has historically supported four presentation formats:

i. CERCA Presentation: A 42" X 46" poster displayed for 2 days with one 2 hour presentation per poster. At least one presenter should be present during their assigned presentation time. Poster design workshops will be available through LTS in spring semester. CERCA presentations will be split up by the project's faculty mentor's department. Space for poster presentations is limited, and therefore, is first-come, first-served. We are able to provide tables and access to electrical outlets.

Note: your poster will be hung from a poster board, and therefore, you will not require a table to hold your poster. Please email cerca@uwec.edu if you need access to an electrical outlet and/or a bistro table.

*Additional Note: If your presentation is being nominated for the Provost's Honors Symposium, there is no need to also submit to CERCA. If not accepted to the PHS it will be automatically included in CERCA.

ii. Oral Presentation: Oral presentations are 12 minutes plus 3 minutes for discussion. These will be grouped by topic. The presentation rooms are equipped with computers and projectors. Creative writing presentations should present a research context alongside other work. Please email cerca@uwec.edu if you require any other accommodations or have questions.

iii. Art or Other Display with Explanation: For presenting art, hands-on demonstrations, or anything else not conducive to a 'poster only' format, your display should include text explaining the research context for your creative work. Most displays create a poster alongside their display. Materials should be on display for 2 days with an assigned 2-hour presentation time. At least one presenter should be present during this time.

Please describe what kind of area you will require. Include specific details such as:

Table size
Space or resources for presenting 2D or 3D art
Floor area
Electrical access
If a standard 42"X46" poster board will be needed
If you require a secure area to store materials overnight
What your display hopes to achieve, and why you need these accommodations

Please note: We are unable to provide laptops, computers, or similar technology. You may visit McIntyre Library Student Equipment Checkout for details on renting equipment. If you are presenting a video or film, a "Performance of Film with Lecture" may better fit your needs. We will do our best to accommodate any and all requests. Email cerca@uwec.edu to discuss any unusual accommodations you might require.

iv. Performance or Film with Lecture: Typically 25 minutes for a musical or theatrical performance or original film which includes a contextualizing lecture. (Please note that this is not designed for an extended oral session.) We will do our best to accommodate any needs including using Woodland Theatre and making arrangements for audio equipment or instruments. Please describe your performance or film with lecture. Include type of performance or film, estimated space required, equipment needs, estimated length of performance or film and lecture, etc. Please contact cerca@uwec.edu to discuss details or any unusual accommodations required.

3. Submit your application
The Celebration of Excellence in Research and Creative Activity application is processed in BP Logix. To start an application, the lead student will need to log into BP Logix, (1) select Start New form and (2) choose ORSP as the department. From there, (3) select "Celebration of Excellence in Research and Creative Activity". A new form should open.

To edit, submit, or resubmit a form you have previously started or a form which has been returned to you, access the form from the My Tasks tab. Once you have submitted a form, it will be viewable from the View Forms In Process tab and will no longer appear in your My Tasks tab. Please visit the Using eForms and BP Logix page for a detailed explanation of the e-form system.

Your application will also require a faculty mentor to sign off on your application. For independent research (research that wasn't performed with a faculty mentor), the applicant must find a faculty mentor to sign off on their project.

Projects with multiple co-authors

The CERCA form is set up so that the lead student author submits a single application. Student co-authors should not submit a second application and do not need to formally approve the form. Once the lead student author submits the form, it will be sent to the faculty mentor for approval or revision before being sent to ORSP. Due to technical limitations, co-authors will not receive notification of approval and cannot edit or view the form themselves. The lead student is responsible for communicating with co-authors, and correctly including their names on the form.

Publishing

If you are presenting a poster or display with poster, UW-Eau Claire would like to publish your poster in an online, searchable database called MINDS@UW. To publish a poster, both the lead student author and faculty mentor will need to sign off on permission in the application.

Still need help?

Please visit the Using eForms and BP Logix. If you have questions or need further assistance, please contact ORSP at 715-836-3405 or email cerca@uwec.edu.

The Registration E-form can be found here:

Students/ Staff may locate form: https://eform.uwec.edu / Log in / Start New Task / ORSP

Deadline for Application: March 1, 2024

NCUR 2023 will be happening at UWEC from April 13 - 15, so CERCA will not take place. Abstract submission and registration for NCUR will open Fall of 2022.
Creating a Poster

Poster Preparation: Sign up for a Poster Design Workshop through LTS; or contact training@uwec.edu to request individual training.

Poster Size: The recommended sizing for CERCA posters is 42" x 46" (portrait or landscape).

Poster Design: Each poster should list the title of the project, the student's name, the faculty mentor's name, and the department's name at the top. The acknowledgments section should mention the source(s) of your research funding and University Printing Services (for printing the poster). Posters should also include the UW-Eau Claire brand and wordmark in agreement with the University Communications Graphic Standards Guide.

Poster Templates: For current poster templates, go here and log in with your UW-Eau Claire username and password.

Poster Printing: See the poster printing policy. Posters need to be submitted at least 5 business days in advance.
General campus visitors to the UW-Eau Claire campus can obtain a free visitor parking permit by contacting the Flesch Family Welcome Center, 715-836-2544, Monday-Friday 7:15am to 4:30pm, 127 Roosevelt Avenue.
* A campus visitor is defined as anyone that is not a current UW-Eau Claire or UW-Eau Claire-Barron County faculty, staff or student.
Current UW-Eau Claire or UW-Eau Claire Barron County faculty, staff or students parking on campus need to purchase a university permit or AMP timed parking.
For additional parking details visit [uwec.ly/parking]uwec.ly/parking or contact Blugold Central at 715-836-3000.
CERCA Abstract Books 1994-Present
CERCA Posters Archived on Minds@UW
The WiSys Quick Pitch Competition
The WiSys Quick Pitch Competition aims to encourage innovative and entrepreneurial thinking at UW comprehensive campuses. Participating students are empowered to consider the impact of the research they are currently undertaking or other innovative ideas they may have and how such ideas could ultimately benefit the local economy (e.g. development of a new product, technology, or service) and/or society (e.g. changes in public policy and/or benefits to the environment).
Besides cash prizes for winning teams in Science & Technology and Social Sciences & Humanities (including education, arts, and business), students learn to communicate their findings in an accessible way, sharpening important communication and presentation skills.
Register online through the CERCA application. If you are not participating in CERCA, you may register for WiSys here. Further information is also available on the WiSys Quick Pitch website.