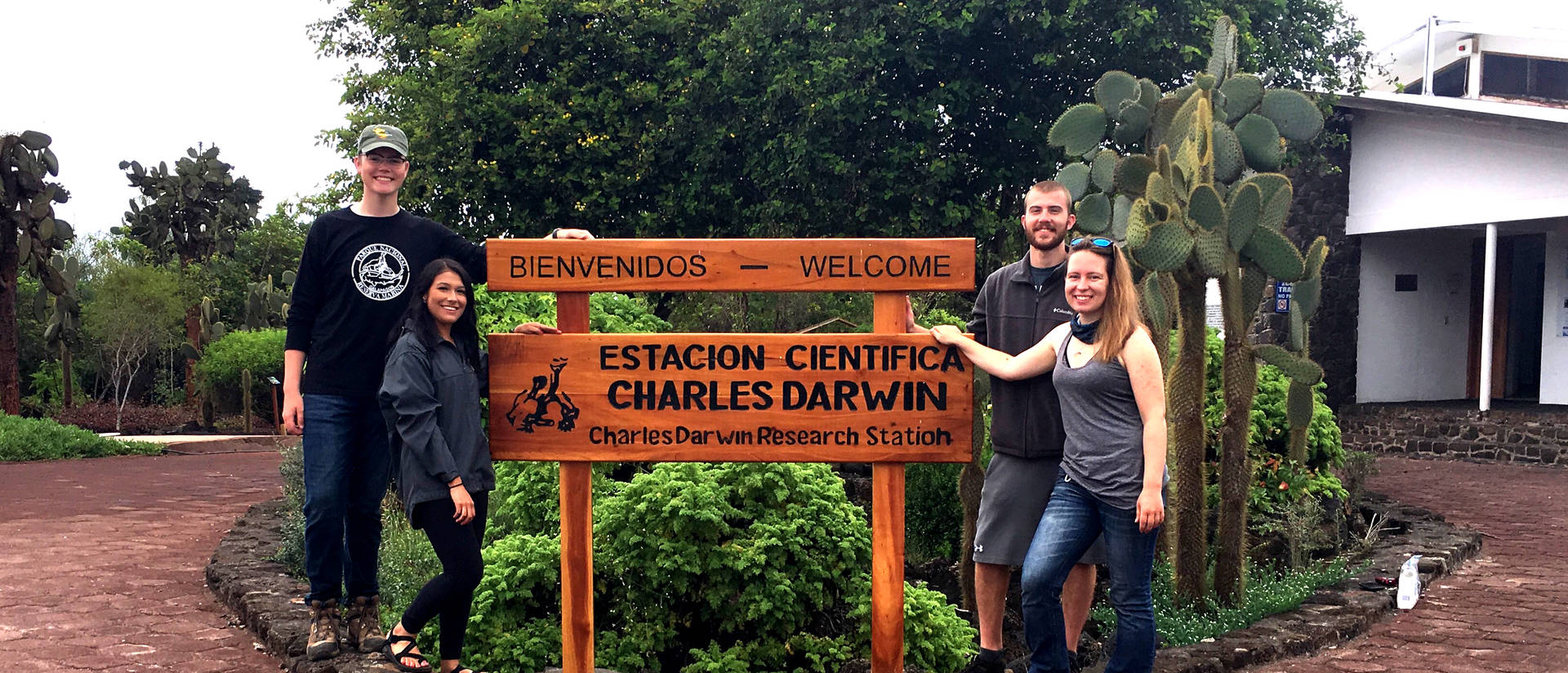 Research around the world
The International Fellows Program capitalizes on the strengths and success of high-impact practices and supports international student-faculty field research.
The International Fellows Program for Research, Service, and Creative Activity is made possible by a multi-year Blugold Commitment Grant. This innovative program is coordinated by the Intercultural Immersion Coordinator in collaboration with the Center for International Education, the Office of Research and Sponsored Programs and the Center for Service-Learning.
Summer 2022 Projects
Title: Summer Internship at the Charles Darwin Research Station; Galapagos, Ecuador
Faculty: Kelly Murray (Biology) and Wil Taylor (Biology Emeritus)
Students: Anakah Denison, McKenna Klopfer, David May, and Jason Trzebiatowski, Jr.
Abstract: In addition to being a UNESCO World Heritage Site, the Galapagos Islands is the birthplace of modern biology and a mecca for world-class scientists conducting research in evolutionary biology, island biogeography, marine science, and other disciplines. UWEC students will have a unique opportunity to work at the Charles Darwin Research Station, side-by-side with top scientists, in research projects with various specific themes.
Title: French Hmong Studies; Savigny-le-Temple, France
Faculty: Kong Pha (Women's, Gender, and Sexuality Studies) and Jesse Yang (IMC)
Students: Julia Lee and Malee Yang
Abstract: The Critical Hmong Studies program at UW‐Eau Claire has provided the forum for students to question, reflect, and request more information to understand the context of Hmong people as a minority group undergoing rapid socio‐cultural changes in the world. Our UW‐Eau Claire Hmong students have experienced a loss of identity and culture with being an ethnic minority in the U.S. The significance of this research will help enlarge the narratives of Hmong people in France, how their economic, health, social networking situations relates to our student researchers' academic studies. This research will help our UWEC Hmong students connect with and explore Hmong identity, culture, and assimilation in a context different from that of the Hmong in the United States.
Title: Comparative Study of US Racisms and Anti-Roma Racism in Hungary
Faculty: Jonathan McCombs and Gloria Howerton (both Geography and Anthropology)
Students: Rosa Gomez, Gurpreet Singh, Noucee Thao, and Ciara Thorns
Abstract: This research project seeks to understand the similarities and differences between US racism and anti-Roma ("Gypsy") racism in Europe by asking students of color to engage in a participatory action research project working with Roma youth at a summer school program in Budapest, Hungary. Students will be asked to use auto-ethnographic and participant observation methodologies to help better understand the similarities and differences between anti-Roma racism and US-based racisms.
Title: Imaging Holocaust and Coastal Environments: Latvia and Lithuania
Faculty: Harry Jol (Geography and Anthropology)
Students: Mikoy Barrow, Delia Ihinger, Taylor Phillips, Isabel Radtke, and Wirkus Tristan
Abstract: Many Holocaust, archaeological, and geomorphic site investigations lack a tool that will provide an image of the subsurface in a noninvasive and non-destructive manner. As a leader in educating undergraduate students on the use of ground penetrating radar (GPR) to better understand the subsurface, UWEC has been invited to collaborate with several Latvian and Lithuanian organizations and conduct original research at multiple sites. This student-faculty international joint research project will obtain non-invasive GPR and UAV data at sensitive and significant Holocaust, archaeological, and geomorphic sites.
Winterim 2023 Projects
Title: New Compositions for Reducing Stress and Creating Positive Emotions; Melbourne and Sydney, Australia
Faculty: Chia-Yu Hsu (Music + Theatre)
Students: TBD
Abstract: This project is a pilot qualitative study in Australia to create music that reduces stress and anxiety, and creates positive emotion. Students will study and discuss with the music therapy team at the Royal Children's Hospital and Dr. Cathy Crock, who founded the Hush Foundation in Melbourne, Australia, to focus on using music to create a better environment for patients. Students and then create new compositions based on the study and perform them at retirement centers in Melbourne and Sydney.