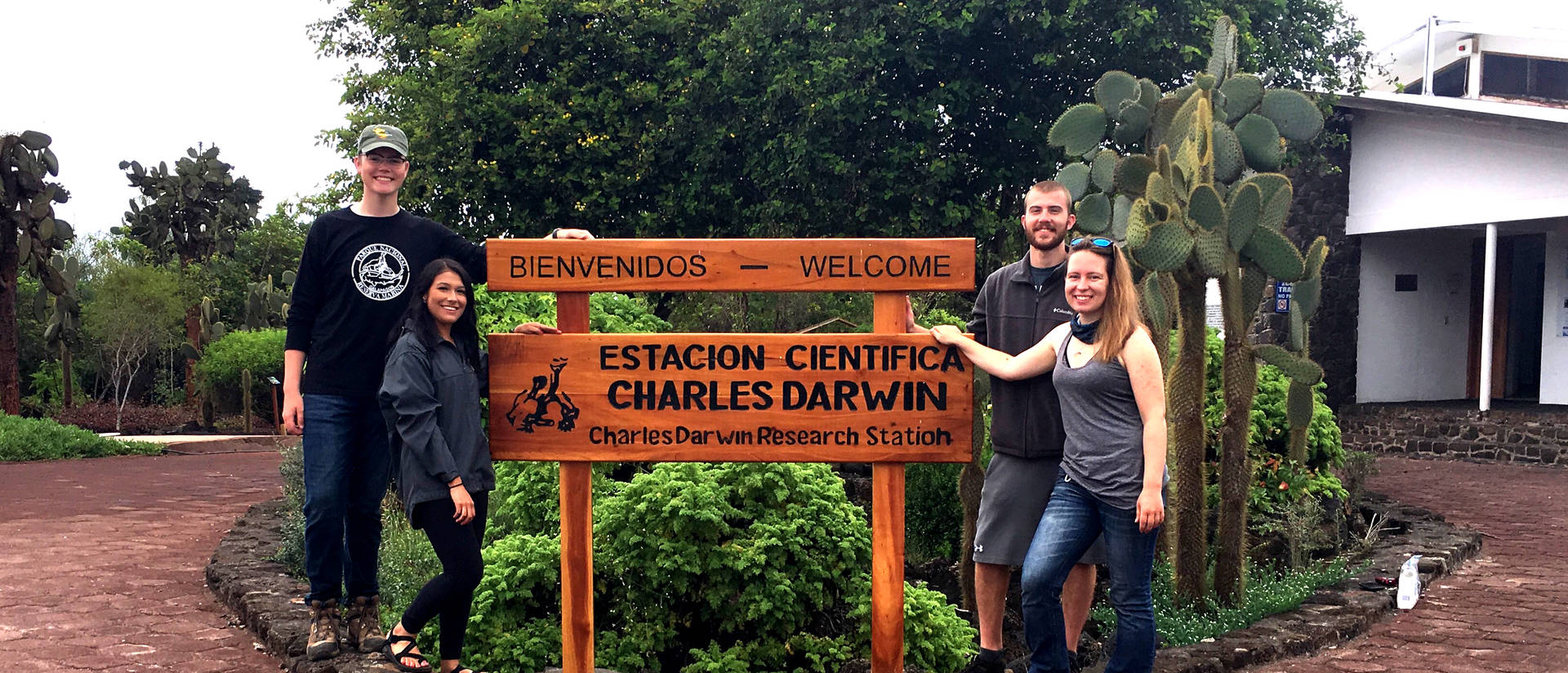 Research around the world
The International Fellows Program capitalizes on the strengths and success of high-impact practices and supports international student-faculty field research.
The International Fellows Program for Research, Service, and Creative Activity is made possible by a multi-year Blugold Commitment Grant. This innovative program is coordinated by the Intercultural Immersion Coordinator in collaboration with the Center for International Education, the Office of Research and Sponsored Programs and the Center for Service-Learning.
Summer 2023 Projects
Title: Summer Internship at the Charles Darwin Research Station; Galapagos, Ecuador
Faculty: Kelly Murray (Biology) and Wil Taylor (Biology Emeritus)
Students: Max Brenna, Jordan Hildebrandt, David Lee, and Ciara Pearson.
Abstract: In addition to being a UNESCO World Heritage Site, the Galapagos Islands is the birthplace of modern biology and a mecca for world-class scientists conducting research in evolutionary biology, island biogeography, marine science, and other disciplines. UWEC students will have a unique opportunity to work at the Charles Darwin Research Station, side-by-side with top scientists, in research projects with various specific themes.
Title: Imaging Holocaust and Coastal Environments: Latvia and Lithuania
Faculty: Harry Jol (Geography and Anthropology) and Martin Goettl (Geography and Anthropology)
Students: Jake Cipar, Lauren Claas, Lydia Kruse, Sasha Kvasnik, and Amik Redland.
Abstract: Many Holocaust, archaeological, and geomorphic site investigations lack a tool that will provide an image of the subsurface in a noninvasive and non-destructive manner. As a leader in educating undergraduate students on the use of ground penetrating radar (GPR) to better understand the subsurface, UWEC has been invited to collaborate with several Latvian and Lithuanian organizations and conduct original research at multiple sites. This student-faculty international joint research project will obtain non-invasive GPR and UAV data at sensitive and significant Holocaust, archaeological, and geomorphic sites.
Title: Geomorphic Landscapes in Aotearoa | New Zealand: mātauranga Māori (Māori knowledge) and Subsurface Imaging
Faculty: Harry Jol (Geography and Anthropology)
Students: Zachary Blackert, Maggie Guetschow, and Katherine Vandenberg.
Abstract: While conducting geomorphic research (study of earth surface processes and resultant landforms) the students will be instructed on and experience the biculturalism of Aotearoa | New Zealand. Until the 1980s New Zealand was unofficially monocultural, with government policies favoring Pākehā (white European) culture. Since then, the Māori renaissance has led to a renewed emphasis on biculturalism, based on the partnership established between Māori and the Crown by the Treaty of Waitangi. Today geoscience research in Aotearoa | New Zealand (and slowly within the US) has adopted this bicultural perspective. Students will conduct their original research at select geomorphic sites (coastal, aeolian/windblown, glacial, fluvial/river and tectonically active landscapes) with in-country partners from the Te Whare Wānanga o Waitaha | University of Canterbury and other in-country organizations/institutes.
Title: How the COVID-Pandemic Affects Capital Markets in South Korea
Faculty: Hyoseok David Hwang (Accounting and Finance)
Students: Moon Cheah, Honglock Choi, and Abbey Lawrence.
Abstract: South Korea is one of the leading and well-developed financial markets in Asia, where 2,356 business are listed in KRX (Korea Exchange), and 1,577 firms are traded on KOSDAQ (Korean Securities Dealers Automated Quotations). The active and dynamic Korean capital markets helped to advance the Korean economy to be one of the biggest economies in Asia as well as globally. However, when Covid-19 hit South Korea, the Korean government imposes strict restrictions on business activities to prevent its rapid spread, which affected the Korean financial markets significantly, especially public offerings. The goal of this research project is to investigate the impacts of the Covid-19 pandemic on public offering markets in South Korean and understand the potential market mechanisms that direct the markets overall.